Daunted by the idea of grilling fish? Don't be! Here's everything you need to know for great grilled fish every time.
In my experience, a lot of people find cooking fish tricky. It can become dry and flavorless. It can stick. It can fall apart. And battling all those things on a grill? For many, that's a deal-breaker.
But I'm here to tell you it's absolutely possible to make great grilled fish—salmon, yes, but also white types of fishes. As I said in my Grilled Salmon recipe, there are just a few things to keep in mind.
Scroll down to read more about how it all comes together or click here to jump straight down to the recipe.
Choose The Right Fish To Grill
The thinner and leaner the fish, the more it's likely to dry out, stick, and fall apart. So flounder, for example, isn't a good choice for the grill. But sablefish, sturgeon, and Chilean sea bass are. I used black cod for the photo, also a good choice.
Firmer, meatier fishes like halibut, swordfish, and albacore tuna can also work on the grill even though they're relatively lean. But I prefer fattier ones because, in addition to being less likely to stick, they tend to be tastier too.
For more about types of white fish, read this post about Kinds of White Fish.
How To Avoid Fish Sticking
For any type of cooking, it's a good idea to follow the steps below. For grilling fish, it's essential.
First, bring your food to room temperature, at least on the surface. For most foods, that might mean letting them sit on the countertop for 30 to 60 minutes. But for fish, which is more delicate, I might stick to 30 or 40 minutes.
Second, preheat your cooking surface. For a grill, that means letting the grate preheat over a high flame for a good 10 minutes. Then, give it a thorough brushing to get rid of any debris. The cleaner and smoother the cooking surface, the less likely food will stick to it.
Third, preheat your fat. For a grill, that means oiling the grate. I use a pair of tongs and a wadded paper towel to swab on high-heat cooking oil. Do this right before cooking—the grate is so hot and the coating of oil is so thin, the oil will preheat almost immediately.
Fourth, also right before cooking, coat your fish with fat, to give it even more insurance against sticking.
If you've done all those things—brought your fish to room temperature, preheated your grate, cleaned and oiled it, and oiled your fish—the only reason your fish will stick is if it hasn't developed a nice crust yet. In other words, if you try and lift a corner with a pair of tongs or a spatula and the fish resists, leave it be and try again in 30 to 60 seconds.
Serving Grilled Fish
My recipe includes a dollop of fresh tomato salsa on top. But you could also serve your grilled fish draped with a little pesto, romesco sauce, or Italian salsa verde. Or you can use store bought salsa.
You can even add some tortillas and shredded lettuce or cabbage and enjoy your Grilled Fish with Tomato Salsa as grilled fish tacos. 🙂
Print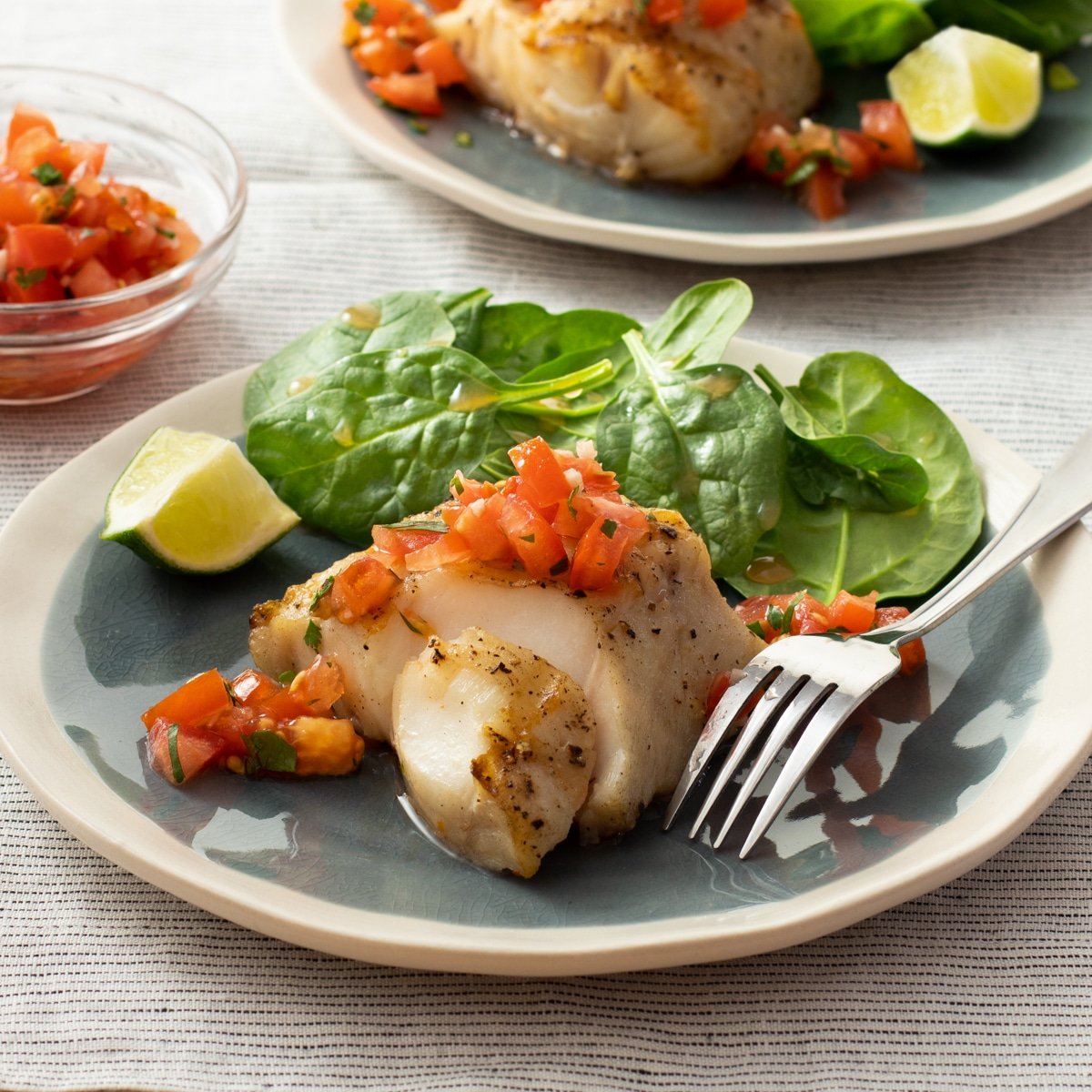 Grilled Fish with Tomato Salsa Recipe
Contributor: Jill Silverman Hough
Daunted by the idea of grilling fish? Don't be! Here's everything you need to know for great grilled fish every time.
Listen to learn how to make this recipe, along with some great tips from Christine:
Author:

Prep Time:

20 minutes

Cook Time:

10 minutes

Total Time:

30 minutes

Yield:

4

servings

1

x

Category:

Entrée

Method:

Grilled

Cuisine:

American
1

and

1/4

cups diced tomatoes

2 Tbsp

. chopped fresh cilantro

2

cloves garlic, minced

2 tsp

. fresh lime juice, plus more to taste

4

(5-6 oz.) white fish fillets, ideally a fattier kind (for example, sablefish, sturgeon, or Chilean sea bass), about 3/4-in. thick

2 Tbsp

. olive oil

1/2

tsp. salt, plus more to taste

1/2

tsp. pepper
In a medium bowl, combine the tomatoes, cilantro, garlic, and lime juice. Add salt and more lime juice to taste. Set aside.
Prepare a grill for direct cooking over medium-high heat.
Brush the fish with the olive oil and sprinkle with the salt and pepper.
Lightly oil the grate and arrange the fish on top. Close the lid (for a gas grill) and cook until barely opaque throughout, about 4 minutes per side.
Serve the fish with the salsa.
Love this recipe? I'd appreciate it if you could scroll down and add a *5 star rating* to help others know they'll love it as well!