Grilled salmon—yes, please! Here's how to make sure it comes out juicy, tender, and delicious every time.
Grilled salmon is one of the things I most look forward to every summer. In my house, we have it about once a week.
But cooking grilled salmon can be challenging. Why? Because salmon fillets are relatively thin and relatively lean—two things that make it tend to a) stick to the grill, and b) become dry and overcooked.
So here's how to avoid both.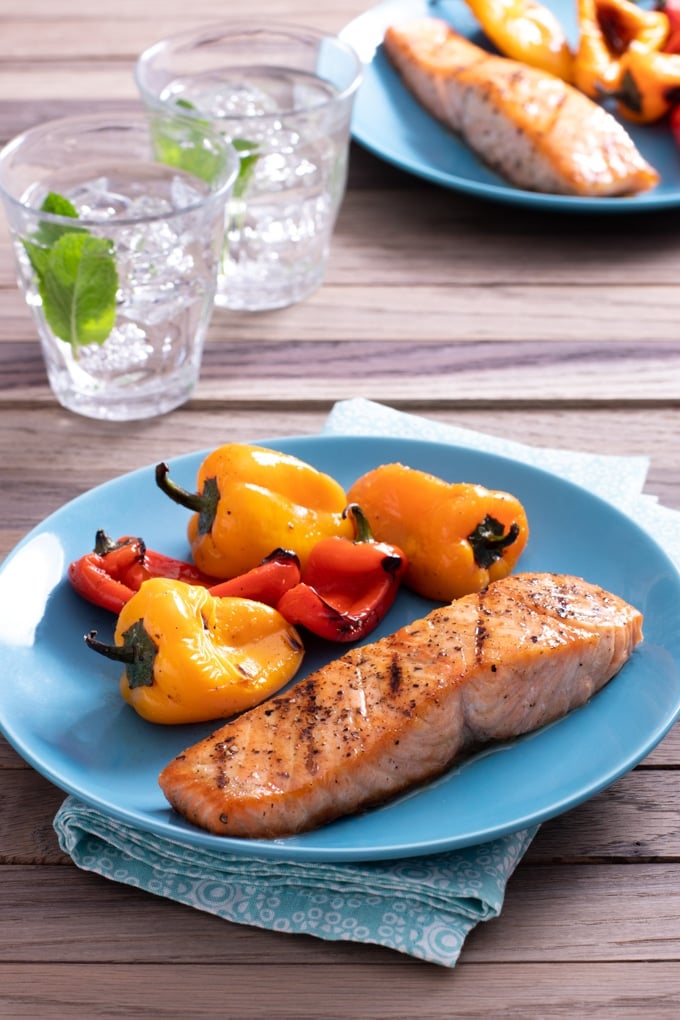 How To Keep Salmon From Sticking
This method will actually keep all your food from sticking, whether you're cooking on the grill or in a pan on the stovetop.
First, preheat your cooking surface. For a grill, that means letting the grate sit over the flame or burner for a good 10 minutes. At that point, it's also time to clean it to get rid of any debris.
Next, preheat your fat. For a grill, that means oiling the grate. I use a pair of tongs and a folded-up paper towel dipped in high-heat cooking oil. Because the grate is so hot and the coat of oil is so thin, the fat will get hot almost immediately.
Finally, add salmon that's not cold. In other words, bring your salmon—or anything else you're grilling—to room temperature before putting it on the grate. For salmon fillets, that will mean taking them out of the refrigerator 30 to 40 minutes ahead of time.
If you've done all those things—gotten the grate good and hot, oiled it up, and added not-cold food—the only reason your salmon will stick is if it hasn't developed a nice crust yet. In other words, if you try to slip your spatula under a corner and it resists, your salmon is telling you to chill for 30 to 60 seconds and try again.
Bonus tip: In addition to oiling the grate, it doesn't hurt to oil the salmon itself.
Avoiding Overcooking
Even though it's fatty for a fish, salmon is still relatively lean for a protein. That means the slightest bit of overcooking can yield fillets that are dry.
What to do? One, cook only until the salmon is barely opaque throughout. Maybe even a little less. If you're checking by touch that means your salmon feels barely firm—definitely not rigid and maybe even a little like Jell-O just under the surface. (Here's more on how to tell when meat is done by touch.)
And two, if your seafood store has more than one kind of salmon, ask for whichever is fattiest. Fattier fish will be more likely to stay juicy. It'll also be tastier and less likely to stick.
Ta da! Easy, juicy, tender, delicious grilled salmon every time.
Print
Grilled Salmon
Contributor: Jill Silverman Hough
Grilled salmon—yes, please! Here's how to make sure it comes out juicy, tender, and delicious every time.
Author:

Prep Time:

5 minutes

Cook Time:

10 minutes

Total Time:

15 minutes

Yield:

4

servings

1

x

Category:

Fish

Method:

Grilling

Cuisine:

American
4

(5-6 oz.) salmon fillets, about

3/4

-inch thick, without or without skin

1

and 1/2 Tbsp. olive oil

1/2 tsp

. pepper

1/2 tsp

. salt
Instructions
Prepare a grill for direct cooking over medium-high heat.
Brush the salmon on both sides with the olive oil and sprinkle with the salt and pepper.
Lightly oil the grate and arrange the salmon on top. Close the lid (for a gas grill) and cook until barely opaque throughout, about 4 minutes per side.