If you love seafood, this is the pasta for you, brimming with clams, mussels, fish, scallops, and shrimp!
When I lived in San Francisco, there was a North Beach restaurant that my husband and I frequented and where I almost always ordered the Seafood Pasta. We've since moved from the city, but that doesn't mean I can't enjoy the dish—I just make it at home.
And you can too. Seafood Pasta is easy and comes together quickly. In fact, the hardest thing about it is sourcing the ingredients, but even that isn't difficult if you have a decent fishmonger where you live. (For more about buying seafood, see How to Choose Fish Fillets.)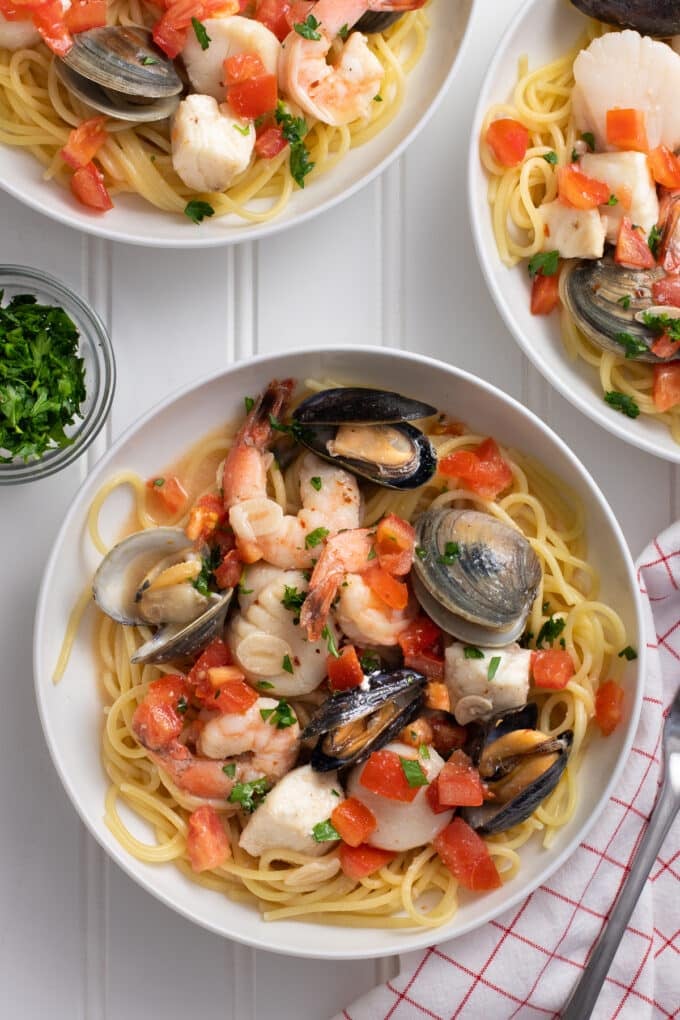 How To Make Seafood Pasta
It all starts with a quick sauté of garlic and red pepper flakes. The red pepper doesn't make the dish spicy as much as it provides a background warmth to the otherwise light sauce.
Then you add clam juice and wine, and in a couple of batches, all of the various seafood. My seafood pasta recipe uses clams, mussels, fish, scallops, and shrimp. The liquid, plus a lid on the skillet, gently steams the seafood and cooks it through in just a few minutes.
Off the heat, use a slotted spoon to arrange the seafood on top of cooked pasta. Then stir chopped tomatoes and, most importantly, butter into what's left behind in the skillet. The butter balances the tangy wine and briny clam juice plus makes the sauce thicker, silkier, and yummier.
Pour the sauce over your plated pasta and it's dinner time.
Making Seafood Pasta Your Own
The simplicity of the recipe means you can definitely play around with it.
Don't like mussels or scallops or any of the other seafood in the recipe? Skip it and add a little more of one you do like. Ditto for any seafood you can't find.
Like things with a little more or less heat or garlic? Adjust those ingredients to your taste.
Instead of (or in addition to) the tomatoes, you can also add some tomato paste to the initial sauté. Or you could add some fresh or canned tomatoes to the cooking liquid, creating more of a tomato sauce for your Seafood Pasta. It'd also be nice topped with chopped fresh basil instead of parsley—or with a combination of both.
Since this post is part of a series about types of white fish, let's also talk about what kind of fish to use. I like a firmer, meatier type like halibut, sturgeon, or swordfish because it'll be less likely to break into bits during the cooking process. That said, you can pretty much use any type of fish you like—even salmon will work in this recipe.
On the side, some garlic bread and a Caesar Salad. And it'll be just like you're in North Beach.
Print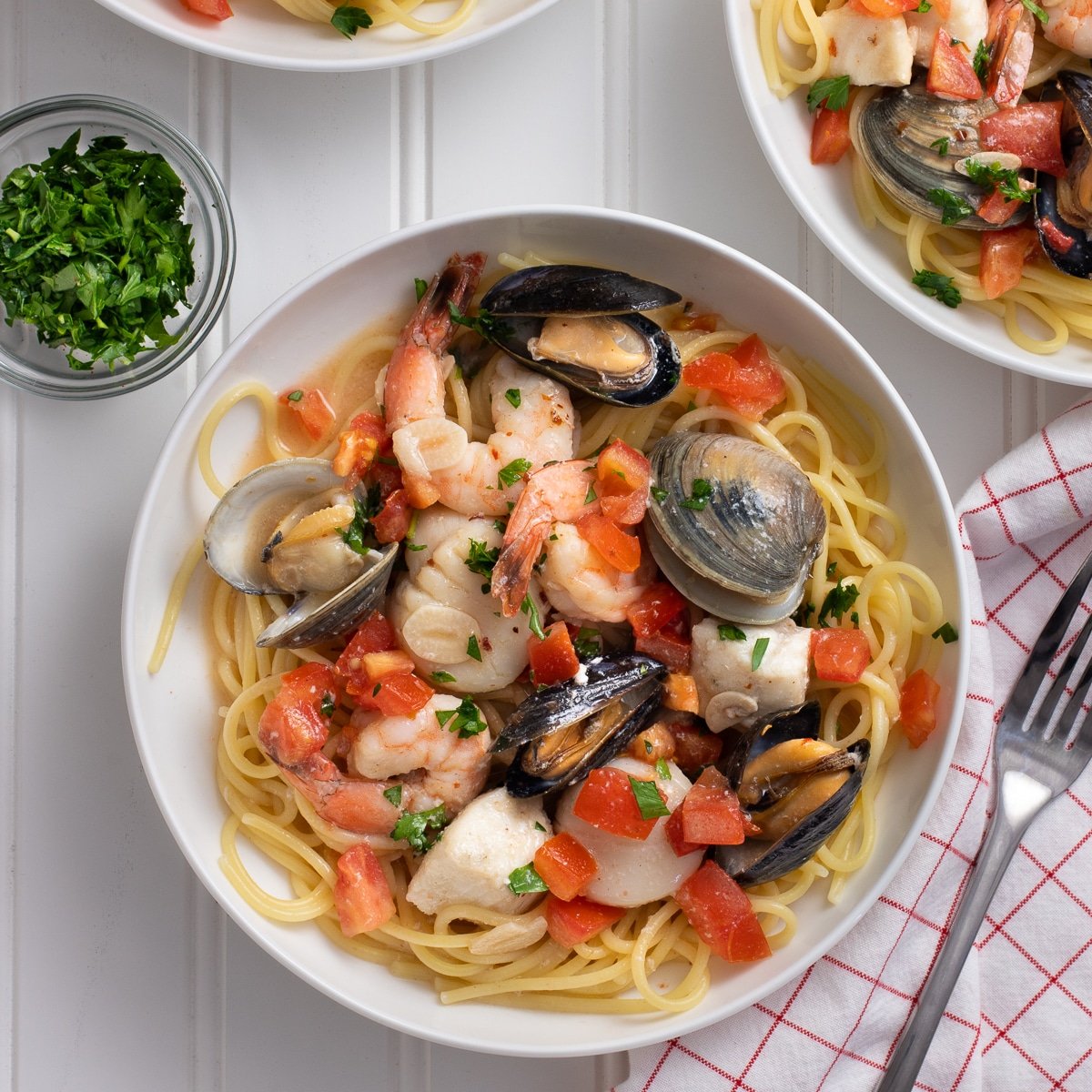 Seafood Pasta
Contributor: Jill Silverman Hough
If you love seafood, this is the pasta for you, brimming with clams, mussels, fish, scallops, and shrimp!
Listen to learn how to make this recipe, along with some great tips from Christine:
Author:

Prep Time:

25 minutes

Cook Time:

20 minutes

Total Time:

45 minutes

Yield:

4

servings

1

x

Category:

Entrée

Method:

Stovetop

Cuisine:

American
12

oz

. spaghetti, or other favorite pasta

3 Tbsp

. olive oil

4

cloves garlic, thinly sliced

1/2

tsp. red pepper flakes

12

small clams, scrubbed

12

mussels, scrubbed and debearded

1/3

cup bottled clam juice

1/2

tsp. salt, plus more to taste

1/2

cup dry white wine, divided

6

oz

. firm white fish fillets, such as halibut, sturgeon, or swordfish, or a combination, cut into 1-in. pieces

6

oz

. sea scallops (see note)

6

oz

. large raw shrimp, peeled and deveined

1

cup

diced tomatoes or drained canned diced tomatoes

4 Tbsp

. (

1/2

stick) butter, cut into

3

or

4

pieces

2 Tbsp

. chopped fresh parsley
Instructions
Cook the pasta according to package directions.
Meanwhile, in a large skillet over medium-high heat, warm the olive oil. Add the garlic and red pepper flakes and cook, stirring occasionally, for 30 seconds.
Add the clams, mussels, clam juice, salt, and 1/4 cup of the wine and bring to a boil. Reduce to a simmer, cover, and cook for 2 minutes.
Add the fish, scallops, and shrimp. Increase the heat to medium-high and return to a boil. Reduce to a simmer, recover, and cook until the mus­sels and clams are open and the fish, scallops, and shrimp are cooked through, 4 to 6 minutes (discard any clams or mussels that don't open). Remove from the heat.
Drain the pasta and transfer it to a serving bowl or to individual bowls. Use a slotted spoon to arrange the seafood on top.
Add the tomatoes, butter, and remaining 1/4 cup of wine to skillet and stir until the butter melts (put the skillet over very low heat if the butter isn't melting). Add more salt to taste.
Spoon the sauce over the seafood and sprinkle with the parsley.
Notes
Note: Sea scallops are 1 1/2 to 2 inches large, as opposed to bay scallops, which are about 1/2 inch.