Find out the science behind ceviche and how to make it at home. Includes tips for type of fish, length of marinade time and doing make-ahead ceviche.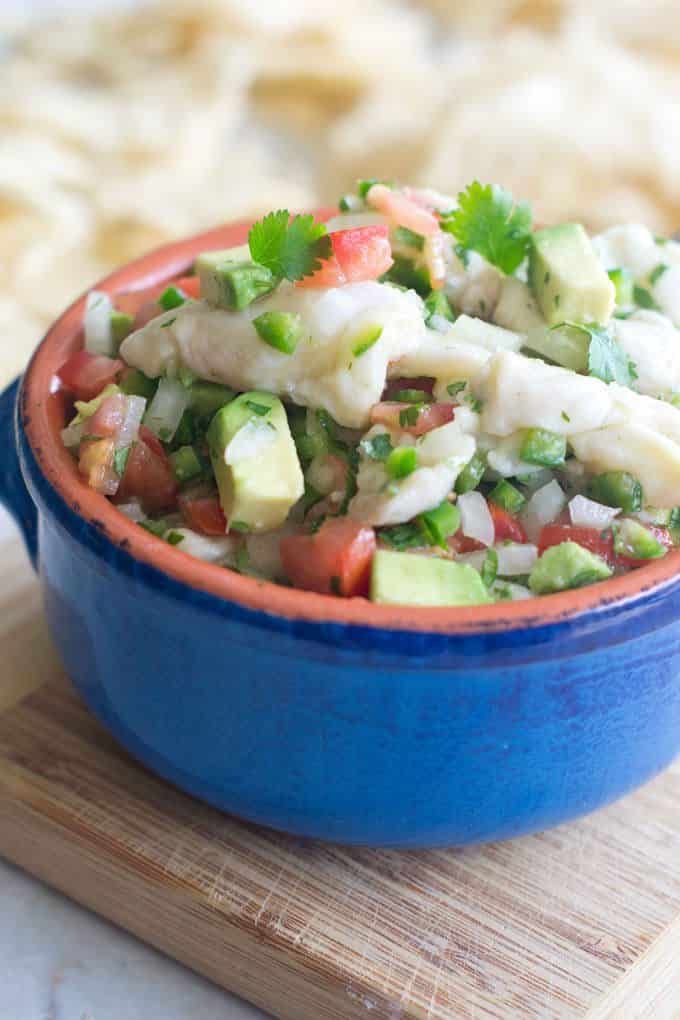 I've heard it said that ceviche is fish that is cooked using citrus juice. This isn't entirely true since the definition of to cook involves heat. There is no heat used when making ceviche so it is technically incorrect to call it cooked.
Instead, what happens with ceviche is called denaturing. This is a chemical process that changes the proteins in the fish to make it firm and opaque, appearing as though it was cooked. (Note that to cook something is also a form of denaturing. That is, cooking and bathing in citric acid are both processes that alter the chemical and physical properties of food).
How to Make Ceviche
To make ceviche you marinate fish for a fairly short time in citric acid. We went with a combination of lemon and lime juice. We also put some minced onion in there for added flavor.
After it has marinated, you get to add in some other ingredients. We always add some kind of hot pepper to ours, either jalapenos or red chilies, minced. I also liked chopped tomato, avocado and a good bit of cilantro. Freshly squeezed orange juice and some olive oil usually find their way into the mix. And a nice bit of salt. Don't forget the salt.
You can add other seasonings too. Cracked black pepper, smoked paprika and chili powder are all good options.
How long do you marinate the fish for when making ceviche?
You want it to just be opaque and starting to "cook" through. You don't want it actually flaking and falling apart. For fish sliced 1/4 inch thin, as we've done, 20-30 minutes is ideal. Marinate the ceviche in the fridge and then serve as soon as it's ready.
Some people marinate the fish a lot longer than we have recommended. If you like the fish a little drier and fully flaky, then you can marinate for much longer, an hour or even more. But if you like it firmer, think slightly flaky on the outside with a firmer sushi-style texture in the middle, then don't go more than 30 minutes.
What kind of fish should you use?
It really depends on what is freshest on the day you're making your ceviche. Go to your shop and ask the fishmonger. Tell them you want a firm white ocean fish that is as fresh as possible. Grouper, sea bass and sole are great choices.
A Tip for Ceviche at a Dinner Party
Ceviche is not a make-ahead dish, at least not if you like yours on the firmer side. If you like it flakier, you can marinade for longer and then it is a natural make ahead option.
Instead, to do make-ahead ceviche, you can get everything ready ahead of time. Slice your fish and get it back on ice in the fridge. Chop your onion and jalapenos. Juice your lemons, limes and oranges. Cut up the tomatoes and avocados.
30 minutes before serving the ceviche, toss the fish with the lemon, lime and onion. Put it in the fridge. Then add your other ingredients, top with cilantro and serve. It's pretty easy, really. And pretty impressive too. Well done, you!
Print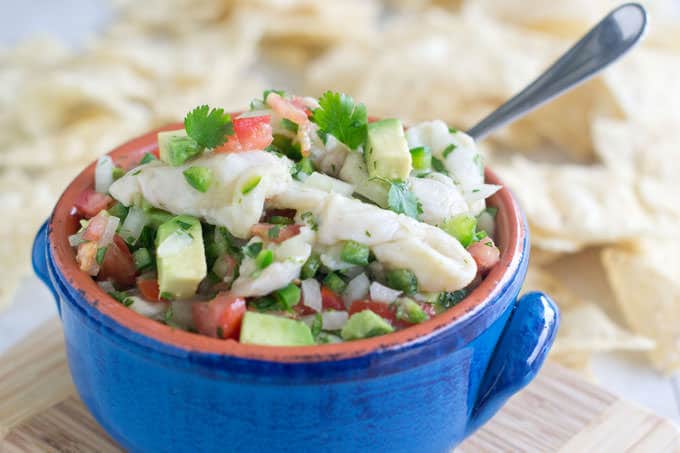 How To Make Ceviche
Contributor: Christine Pittman
Author:

Prep Time:

10 minutes

Cook Time:

20 minutes

Total Time:

30 minutes

Yield:

4

servings

1

x

Category:

Entrée

Method:

No-Cook

Cuisine:

Mexican
1

lb. firm white ocean fish like grouper, sea bass or sole, in 1-inch pices sliced 1/4 inch thick

½ cup

lime juice

½ cup

lemon juice

1

medium sweet onion, small dice or sliced very thinly

1

large avocado, pitted and diced

1

large tomato, diced

1

jalapeno, seeds and ribs removed then minced

¼ cup

chopped cilantro (more for garnish)

2 Tbsp

. orange juice

1 Tbsp

. olive oil

¼ tsp

. salt
Tortilla chips
Instructions
In a medium bowl combine the fish, lemon and lime juices and onion. Put it in the fridge and let it marinade for 20-30 minutes, until the fish looks cooked on the outside but still has a firm sushi-style texture in the middle.
Drain. Add avocado, tomato, jalapeno, cilantro, orange juice, olive oil and salt. Stir gently. Garnish with more cilantro and serve immediately with tortilla chips on the side.