Use this tri-tip marinade recipe for wonderful flavor and juicy meat. I've got suggestions for how to cook the tri-tip too!
You can whip up this amazing tri-tip marinade in minutes. The marinating time has a range, making it flexible enough to fit in your busy schedule. Scroll down to read more about how it all comes together or click here to jump straight down to the recipe.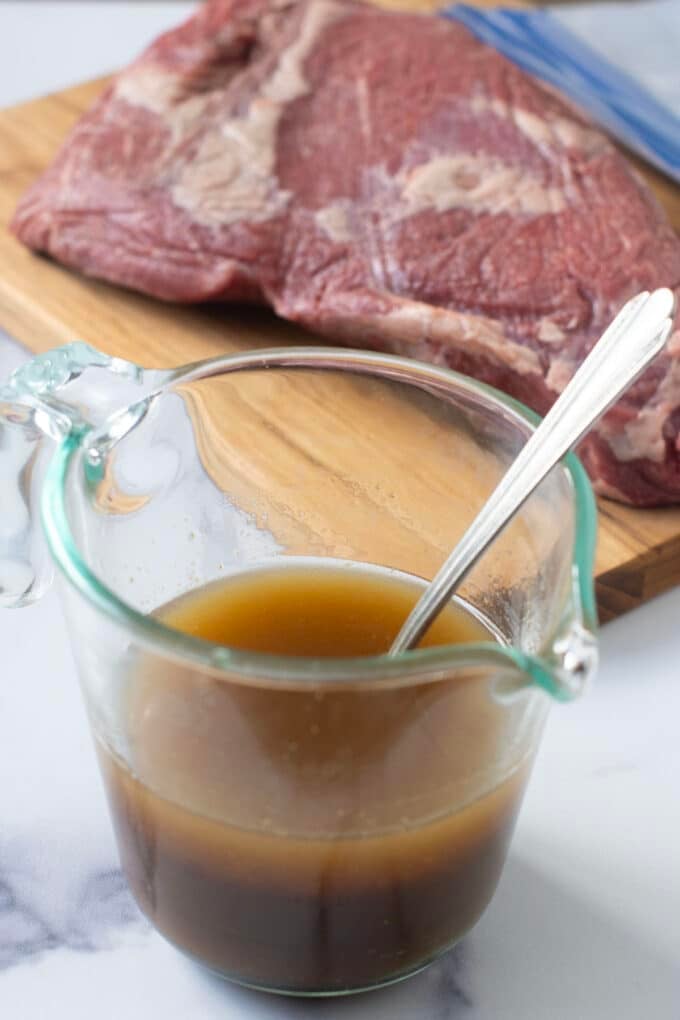 What Is Tri-Tip?
Tri-tip is a large cut of beef from the bottom sirloin that is a triangular shape. While sometimes called a tri-tip steak, it's really more of a roast as it's usually 2-3 pounds. This means that a tri-tip can be prepared whole to serve several people, as opposed to cooking individual steaks. Starting with a delicious marinade is a great way to ensure tender and flavorful meat.
Ingredients For Tri-Tip Marinade
There's no herbs in my tri-tip marinade recipe, such as oregano or rosemary, like many other tri-tip marinades call for. I tried it and the flavor didn't really penetrate and make a difference in the final result.
Instead, I went with strong flavors that do get through, like onion powder and garlic powder. You can use fresh of these but really, they don't travel as well into the meat as the powdered flavor.
I put the lemon zest as well as the lemon juice because the lemon zest has a lot of flavor. If you're juicing a lemon, why not zest it first? But, if you're using bottled juice, don't worry about skipping the zest.
The Dijon mustard is in there mostly to help the marinade emulsify, not so much for flavor. Any kind of mustard can be used if you don't have Dijon in the fridge. If you're whisking the marinade and it isn't staying together (as in, the oil is rising above the other liquids), try adding a bit more mustard and then whisking some more.
You'll notice that between the tablespoon of salt and 2 tablespoons of soy sauce, there's quite a bit of salt in this marinade. That's because it's acting partly as a brine and partly as a marinade. The salt actually helps carry the flavor right into the meat, instead of it staying mostly on the surface.
How To Marinate Tri-Tip
Add all the marinade ingredients into a medium bowl and whisk them together to combine. Put your tri-tip roast into a large zip-top bag and then pour in the marinade. You want to squeeze as much air as possible and then seal the bag.
This may seem like not enough marinade for such a large piece of meat. But, if you marinate it in a zip-top bag and use the water vacuum technique shown in the video below, it works great. If you don't want to use a zip-top bag, double the recipe and use a deep baking dish or bowl to make sure the tri-top is completely covered.
Video: Remove Air From Bag For Better Marinating
How Long Should I Marinate Tri-Tip?
As mentioned, this marinade recipe has a lot of salt and acts a bit like a brine as well as a marinade. Marinating for 4 hours is the optimum amount of time, but it can be left for as little as 2 and as long as 12.
How To Cook Tri-Tip
After marinating the tri tip, if you're grilling it or roasting it (without searing it in a skillet first), don't wipe it off or rinse it off. Just pull it out of the marinade and shake it off a bit before grilling. If you're going to cook it in a skillet, you'll want to wipe it off a bit so that the sugar doesn't burn.
Note that because there's lots of salt in there, you should not season the tri tip before cooking it, even if you wipe off marinade. It will be salty enough.
You can follow my Grilled Tri-Tip Recipe or my Perfect Pan-Roasted Tri-Tip. I also highly suggest you read through my tips for How to Cut Tri-Tip because the grain on this cut of meat can be a little tricky and you want to make sure you end up with tender slices.
More Amazing Marinade Recipes
Podcast Episode About Grilling Tri-Tip
Listen to me explain briefly about how to make grilled Tri-Tip, with some great tips along the way, by clicking the play button below:
Listen to more Recipe of the Day episodes here.
Print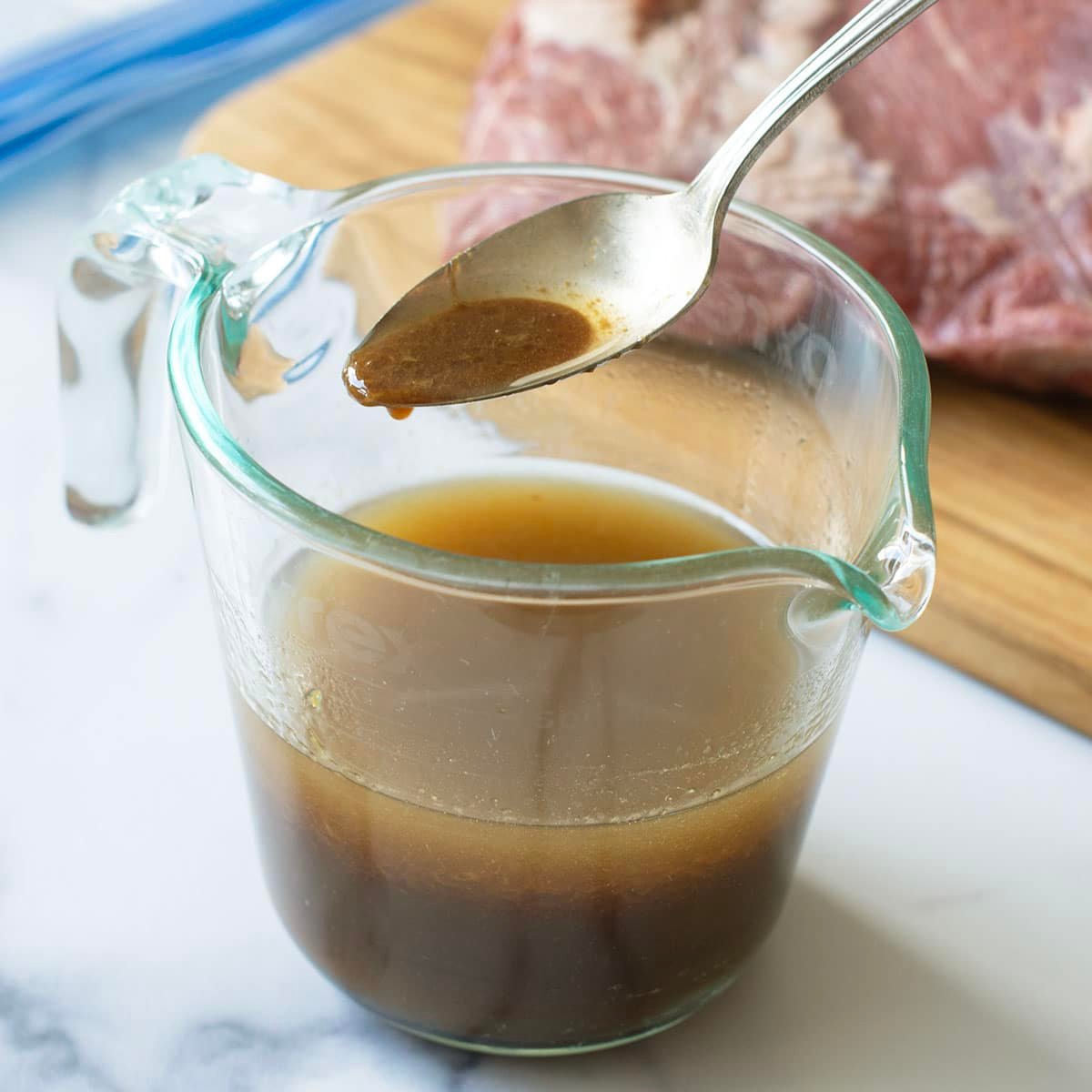 Tri-Tip Marinade Recipe
Contributor: Christine Pittman
Author:

Prep Time:

10 minutes

Marinate:

4 hours

Cook Time:

0 minutes

Total Time:

4 hours 10 minutes

Yield:

6

servings

1

x

Category:

Marinade

Method:

Mix

Cuisine:

American
1/2

cup olive oil

1

lemon, zested and juiced

2 Tbsp

. brown sugar

2 Tbsp

. red wine vinegar

2 Tbsp

. soy sauce

1 Tbsp

. Worcestershire sauce

1 Tbsp

. Dijon mustard

1 Tbsp

. salt

1 tsp

. garlic powder

1 tsp

. onion powder

2

to

2

and

1/2

lb. tri-tip steak
Measure all of the ingredients into a medium bowl and whisk them together.
Put your tri-tip steak into large ziptop bag. Pour in the marinade. Squeeze as much air out of the bag as possible and then seal it.
Refrigerate the tri-tip in the marinade for 2 to 12 hours (4 hours is the optimum amount of time).
Remove tri-tip from bag and shake off excess marinade. Discard marinade.
If you're pan-searing the tri-tip, wipe off as much marinade as possible so that it doesn't burn in the pan. If grilling or oven-roasting the tri-tip, you do not need to wipe it off before cooking.
Love this recipe? I'd appreciate it if you could scroll down and add a *5 star rating* to help others know they'll love it as well!