My all-purpose Steak Marinade adds a tangy, garlicky flavor to steak before grilling or pan-frying.
Learn what goes into making the best steak marinade for flavorful, juicy steaks every time. In addition to the oil and vinegar, I like to include garlic and onion and whatever other seasonings make sense for the meal that day.
Scroll down to read more about how it all comes together or click here to jump straight down to the recipe.
Difference Between A Brine And A Marinade
A brine is a mixture of water or a water-based liquid with a high concentration of salt added to it, and sometimes aromatics, used to infuse moisture into the protein. Depending on the salt concentration, proteins can be submerged in a brine for as little as 15 minutes, and as long as overnight.
Marinating, which contains very little or no salt, is used for adding flavor to proteins. Marinades often contain an acid, too, like a vinegar or citrus juice, along with aromatics like fresh garlic, onion, and herbs.
While a brine is meant to penetrate deeply, a marinade typically just flavors the surface of a protein. Even when vinegar is used, the marinade will only penetrate 1/16 to ⅛ of an inch into the protein when left overnight.
Many steak marinade recipes include soy sauce, but it's not an ingredient I like to use for steak. It's so salty, and large amounts of soy sauce in a marinade turns the marinade into a brine. Read more about that and get my comparison of results here.
What Ingredients Do I Need For A Steak Marinade?
Many recipes call for oregano or Italian seasoning to be added to the marinade. This is great if you're cooking Italian-flavored steak every time. I much prefer to keep my steak marinade base neutral, using just oil, vinegar, salt, pepper, garlic and onions so that I can change it up with different herbs and spices depending on what I'm serving with the steak.
Unlike a salad dressing, the steak marinade has equal parts oil and vinegar. The oil helps the fat-soluble molecules in the garlic and ground pepper bloom. The vinegar adds just enough penetrating power to help the oil, salt, and aromatics coat the outside of the steak.
Depending on what you'll be serving with the steak, other varieties of vinegar can be used in place of the red wine vinegar. Try balsamic vinegar, apple cider vinegar, and raspberry vinegar to name a few, each with its own distinctive flavor.
How To Make A The Best Steak Marinade Recipe
To make the Steak Marinade, add the oil, vinegar, salt, pepper, smashed garlic, and sliced onions to a large jar with a tight-fitting lid. The jar makes mixing easier (because the jar can just be shaken), but everything can also be mixed in a bowl or resealable bag if you don't have a jar.
Cover the jar and shake vigorously until the oil and vinegar are emulsified and the mixture appears thickened. If using a bowl, whisk everything until well combined, or if using a bag, seal the bag and shake well. The marinade can be stored at room temperature for about five hours, or refrigerated for up to seven days, covered. It can also be frozen for up to three months.
For a different marinade recipe, try my Tri-Tip Marinade that I use for those delicious steak roasts.
Marinating Your Steak
This can be used to marinate any cut of steak you prefer. It will have a more prominent flavor in smaller cuts since it's only affecting the outer 1/8-inch. This marinade is best for steaks that are less than 2-inches thick. I tested this recipe out with a New York strip steak.
To use the steak marinade, pour the marinade into a shallow container or resealable bag and add the steak. Marinate the steak for as little as 20 minutes or as long as four hours, it's totally up to you. Since it's not acting a brine, you don't have to worry about it becoming too salty if it's spending a few hours marinating.
Remove the steak from the marinade and cook according to the recipe you're following. There's no need to drain the steak or pat dry beforehand. Our sister site, COOKtheSTORY has cooking instructions for all sorts of cuts and methods – skirt steak, flank steak, filet mignon, and more!
Podcast Episode About Making Marinaded Steak
Listen to me explain briefly about how to marinade steak, along with some other great tips, by clicking the play button below:
Listen to more Recipe of the Day episodes here.
Print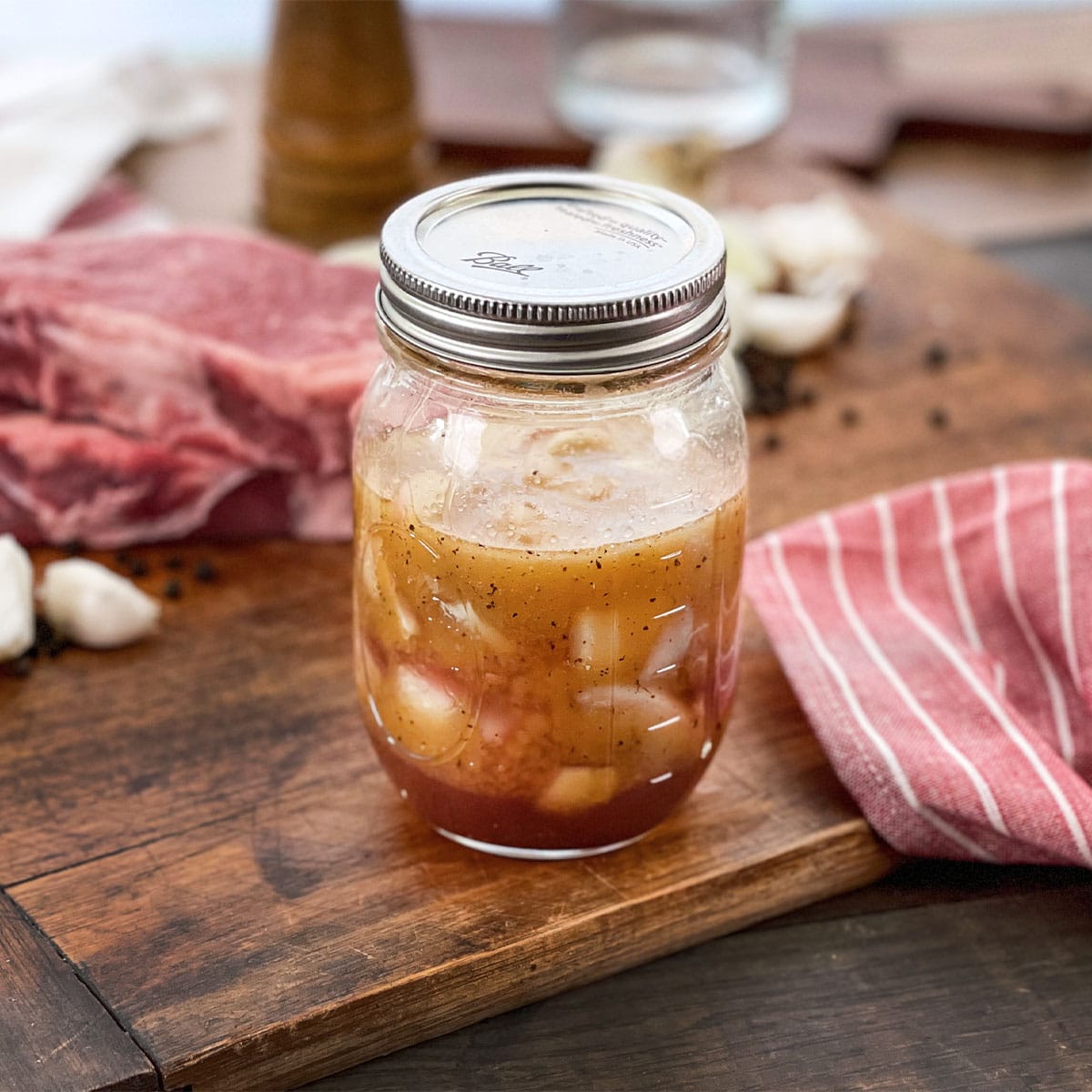 Steak Marinade
Contributor: Christine Pittman
Author:

Prep Time:

10 minutes

Cook Time:

0 minutes

Total Time:

10 minutes

Yield:

4

servings

1

x

Category:

Marinade

Method:

Mix

Cuisine:

American
1/2 cup

olive oil

1/2 cup

red wine vinegar

2 tsp

. salt

1/2 tsp

. ground black pepper

3

garlic cloves, peeled, smashed

1/2

yellow onion, peeled, roughly chopped
In a large jar with a tight-fitting lid add olive oil, red wine vinegar, salt, pepper, garlic, and onion. 

Cover jar and shake vigorously until oil and vinegar are emulsified.

Store the marinade at room temperature up to 5 hours, or refrigerate up to 7 days, covered.

When ready to use, marinate steak for 20 minutes to 4 hours and then cook using desired recipe.
Love this recipe? I'd appreciate it if you could scroll down and add a *5 star rating* to help others know they'll love it as well!