Looking to marinade steak with soy sauce? Check out the results of my testing first.
You may have noticed that lots of marinade recipes, especially for steak, include soy sauce as a primary ingredient. But what exactly is it doing and is it a pro or con? I decided to do some research and testing to find out.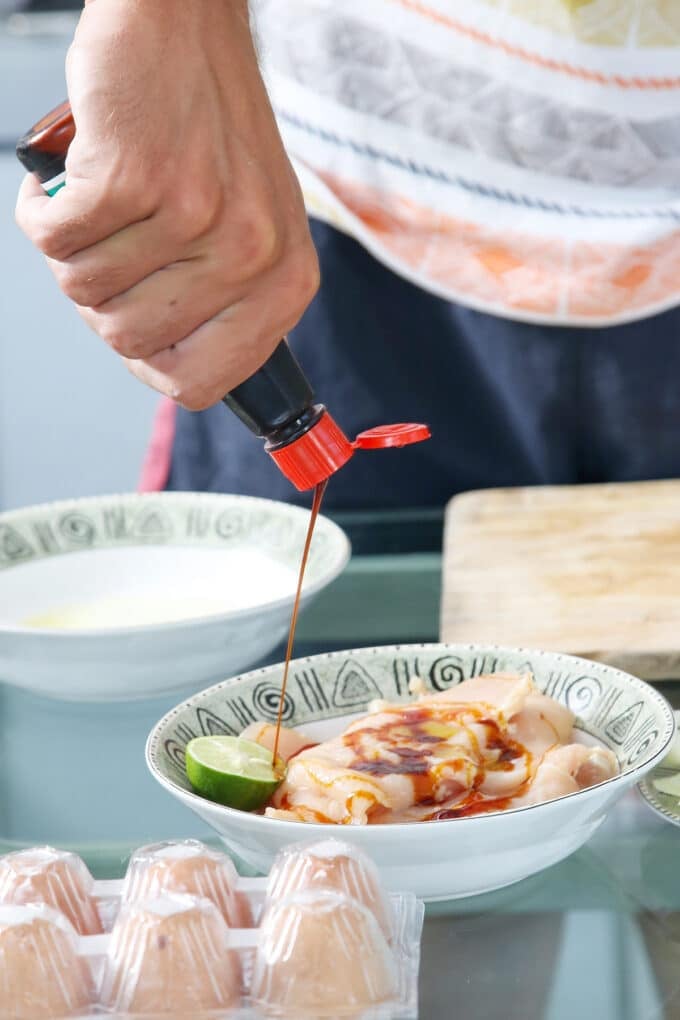 What Could Soy Sauce Do In A Marinade?
I first saw soy sauce in a steak marinade back in the 1990s though I suspect it was around longer than that. I was confused back then because I'd been told not to salt meat for long before cooking it because that draws out moisture. Soy sauce has a lot of salt in it, and so it didn't make sense to me back then.
Since then, I've learned a lot more about salt and how it can be used to actually make meat more juicy and tender. You can see my work on brining in general, on dry-brining, and my extensive experiment on brining chicken breasts here.
With that newer knowledge, I wondered if the soy sauce that confused me back in the 90s was actually working like a brine. So of course, I had to dig in and find out. My results are below, but the quick summary is that soy sauce is not an ideal ingredient in marinades because it actually does draw the moisture out of the steak. People therefore likely include soy sauce in marinades for the flavor, not for the effects.
Comparing Steak Marinades With And Without Soy Sauce
Before Cooking The Steaks
The steak on the left was marinated in my Steak Marinade, which does not contain soy sauce but does contain a small amount of salt. The steak on the right was marinated in a soy sauce-based marinade. Both steaks were marinated for 2 hours. You can see that both marinades have only penetrated just below each steak's surface. What you can't see, however, is the loss of moisture in the steak marinated in soy.
After Cooking The Steaks
Both steaks were pan-fried to an internal temperature of 135°F (medium). The steak on the left is the one that was in my steak marinade. The steak on the right was marinated in the soy marinade. You can see that the steak on the left looks juicier than the one on the right. And, it tasted juicier as well.
Conclusion: Don't Put Soy Sauce In Marinades
So, having a soy-sauce-based marinade did not make the steak juicier. I suspect that it's because the concentration of salt is not as high as a brine, and so the steaks didn't brine, and instead, the salt drew the moisture out.
One might argue that the 2 hours wasn't long enough to test. However, the chicken breast brine experiments that I mentioned above found a very noticeable effect after 30 minutes, a great effect after 60 minutes, and that 2 hours was nearly too long for chicken breasts to be in a brine (they were too salty and their texture was starting to turn to that similar of lunchmeat). The 2 hours for the steaks is therefore definitely long enough for a brining effect to have occurred if it was going to. I am therefore concluding that the soy sauce is not acting as a brine in marinades, but that it instead does draw out moisture.
Other reasons that you might not want to put soy sauce in a marinade is that some people are allergic to it, it's a processed food, and it's more expensive that just using some salt.
What If You Like Soy Sauce In Your Marinade?
When it comes to cooking, I'm not going to tell you to stop doing something that you like. However, it is worth giving a bit of thought to this.
If you use a soy sauce marinade and like it, it's possible that it's not making your meat juicier, and is possibly even making it less juicy. The fact that you like it could therefore be just that you enjoy the flavor that it's adding. You could therefore try reducing the amount of soy sauce in your marinade so that it is flavoring but not so salty that it's drawing out moisture. Or, you could try a soy-sauce-based glaze that you add to steaks as they're cooking, or a dipping sauce for after they're done. I am already imagining a mixture of melted butter and soy sauce melting onto a cooked steak. So good!
If you use soy sauce in your marinades and love it, please comment below and tell me about it, how you think it works, and what you love about it. This was a first experiment investigating this issue and I'd love to have input about more ways that we can test it.
Thanks and have a great day! -Christine