Make your own homemade turkey seasoning. It can be used for so much more than just the Thanksgiving roast!
Note: Below you'll find a recipe for a full 1/2 cup (4oz.) batch of turkey seasoning. In addition, in case you just want to make a little bit, we've also given a recipe below that makes a small batch of just 2 tablespoons. We hope you find this helpful!
Of all the types of poultry, turkey, in my opinion, is the most mild-tasting. This can be a good thing and a bad thing. On one hand, it really opens the door for some aggressive seasoning options, but without this, turkey often has no pronounced flavor.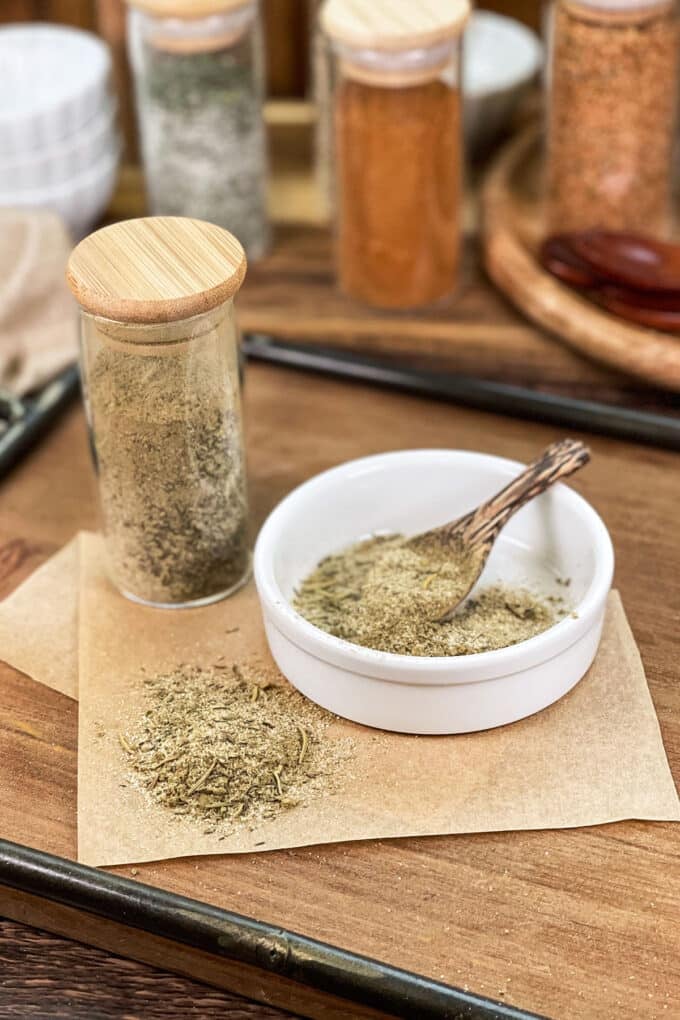 What's In Turkey Seasoning?
Because turkey can support robust flavors, turkey seasoning is a little different than regular poultry seasoning. While it does contain some of the same herbs and spices as poultry seasoning, like sage and thyme, it also incorporates onion powder and garlic powder to help elevate the otherwise very mild flavor of the turkey. The onion and garlic also help to better season any pan drippings for sauces and gravies.
Rubbed sage or ground sage is important to use instead of dried sage leaves because the smaller size of the rubbed or ground will mix better with the other ingredients. Sage can become a strong flavor, so you'll want to be sure it's well combined with everything else.
Ground rosemary is preferred in this recipe, however, if only the dried leaves are available, try to crush them in a mortar and pestle or mini food processor to break up the large pieces of the leaves.
I did not add salt and pepper to this base mix so that it would be super versatile, but I'll be sharing suggested amounts for those as well below.
To make the turkey seasoning, whisk together the onion powder, sage, marjoram, oregano, thyme, garlic powder, and rosemary until well combined. Transfer the mixture to an airtight glass or ceramic container, and store for up to three months in a cool, dry, dark place.
How To Season A Whole Turkey
If you're using this as a turkey rub and you haven't brined your turkey, you'll want to add 1 tablespoon of salt and 1 teaspoon of black pepper to the full batch recipe below. You'll then use 2-3 tablespoons of the seasoning blend on a 12-14 pound turkey.
You can combine the turkey seasoning mix with two sticks (1/2 cup per stick) of softened, unsalted butter. The seasoned butter can then be rubbed inside the cavity, under the skin of the turkey, and all around the outside of the bird. Another option is to brush the turkey with some olive oil and rub in the seasoning blend all over the bird, inside and out. You can get complete instructions on how to roast your turkey here.
Making a Small Batch of Turkey Seasoning
If you want a full batch of turkey seasoning in your pantry that you can grab and use whenever, then scroll down to make the full recipe. However, if you just want a small batch to use right now in a recipe that calls for it, or, if you just want to know approximately how much of each ingredient to add directly to something that you're cooking, I have the info for you here.
Here is how to make 2 tablespoons of turkey seasoning, which is a good amount to season a 12-14 pound turkey. You'll need to add some salt and pepper to the turkey as well (about 2 teaspoons of salt and 1/2 teaspoon of pepper).
To Make 2 Tablespoons of Turkey Seasoning, Combine:

• 1 and 1/2 tsp. onion powder
• 1 and 1/2 tsp. dried sage
• 3/4 tsp. dried marjoram
• 3/4 tsp. dried oregano
• 3/4 tsp. dried thyme
• 3/4 tsp. garlic powder
• 3/4 tsp. dried rosemary
To Add Directly to the Food You're Cooking: Add equal amounts of onion powder and dried sage. Then add half that amount of dried marjoram, dried oregano, dried thyme, garlic powder, and dried rosemary.
More Great Uses For Turkey Seasoning
This seasoning can be used on more than just a Thanksgiving turkey though.
Sprinkle some over buttered baked potatoes or over hot popcorn. Use it to flavor homemade sausage. Mix with butter to create a flavored compound butter, and of course, it can also be used to season chicken or any other type of poultry.
Print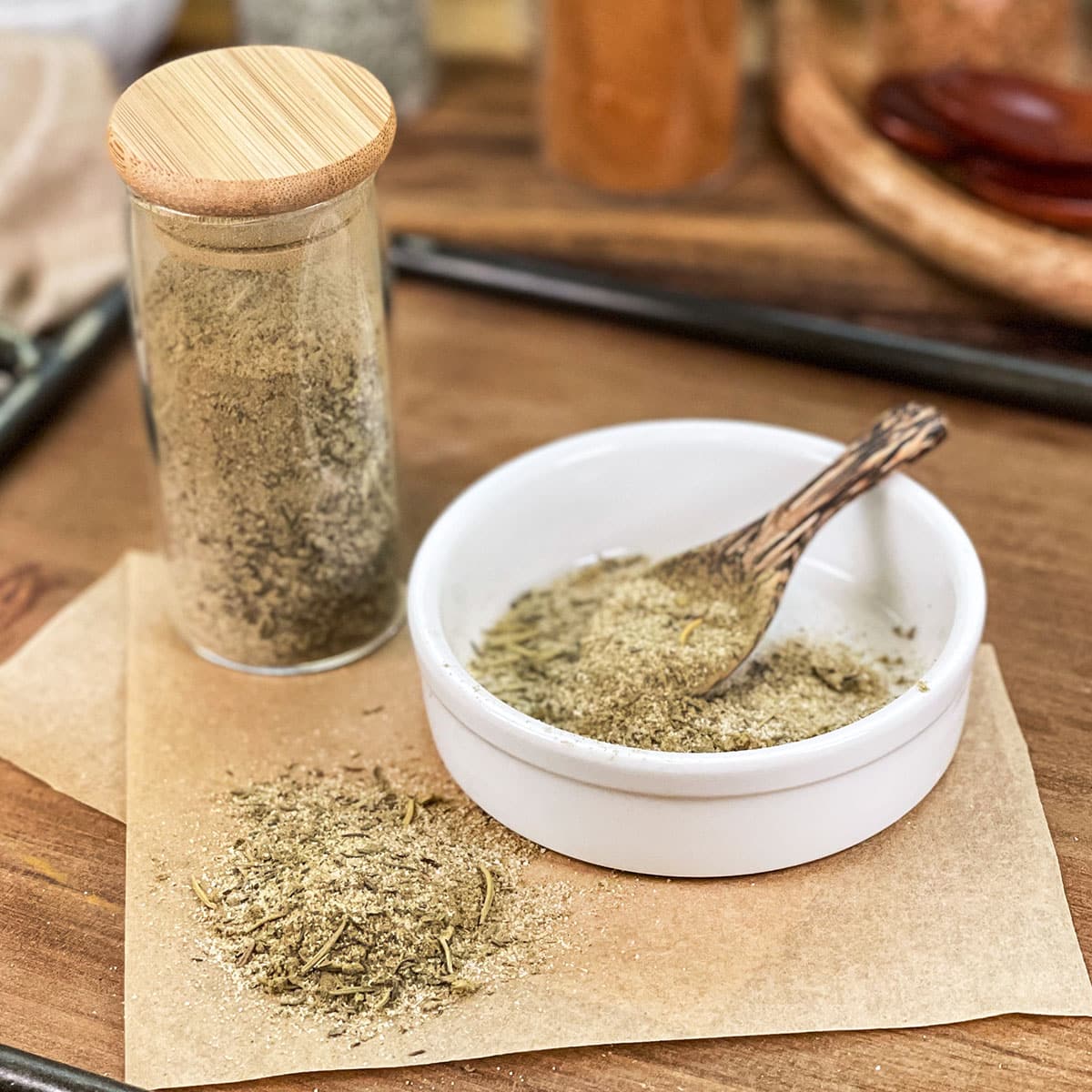 Turkey Seasoning
Contributor: Christine Pittman
If you'd like a version with salt and pepper, add 1 Tbsp. salt and 1 tsp. black pepper to the recipe below.
To season a whole turkey, mix turkey seasoning with two sticks of softened, unsalted butter and rub all over.
Author:

Prep Time:

10 minutes

Cook Time:

0 minutes

Total Time:

10 minutes

Yield:

About

4 oz

. (

1/2 cup

)

1

x

Category:

Spice Blend

Method:

Mix

Cuisine:

American
2 Tbsp

. onion powder

2 Tbsp

. rubbed sage

1 Tbsp

. dried marjoram

1 Tbsp

. dried oregano

1 Tbsp

. dried thyme

1 Tbsp

. garlic powder

1 Tbsp

. ground rosemary
Instructions
In a medium bowl whisk together onion powder, sage, marjoram, oregano, thyme, garlic powder, and rosemary until well combined.

Transfer mixture to an air-tight container. Store up to 3 months in a cool, dry, dark, place.