They're both grits, right? Just different colors? Wait, is there a difference between white and yellow grits?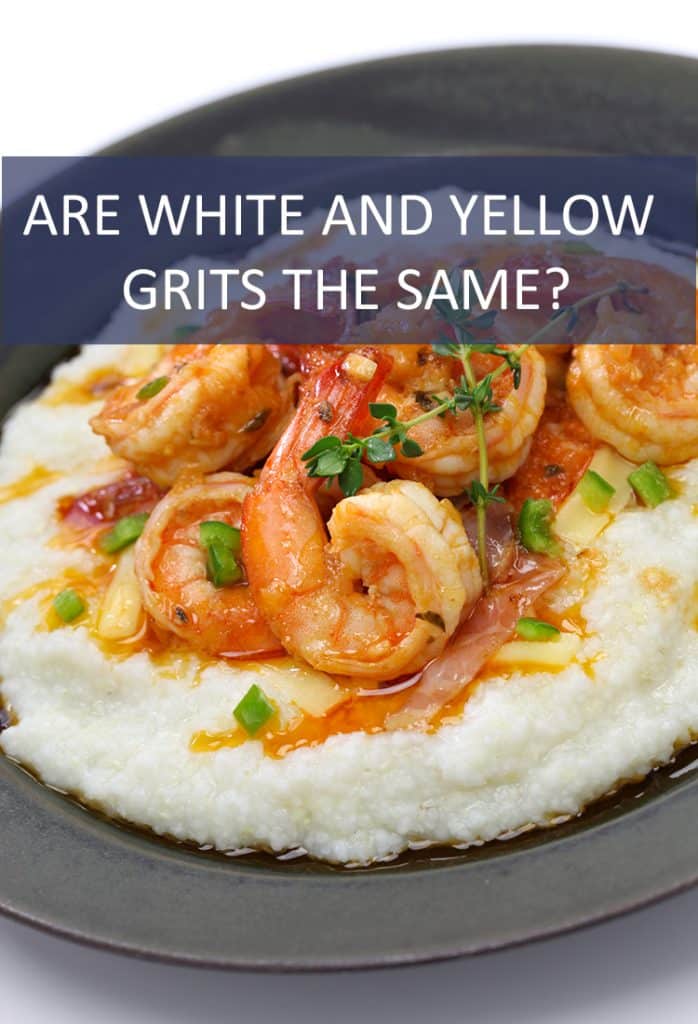 The Short Answer
The only real difference between white and yellow grits is the color of the corn they are made from, but there are some very slight nutritional and taste variances.
The Long Answer
So, I live in the South, but I'm a northern transplant. When I moved here, I had never even heard of grits. I quickly found out that it's a staple of Southern cuisine and people down here take them very seriously.
If you're a Yankee like me, you might be asking what grits are. It's a porridge made out of corn. Sounds appetizing, right? It's actually really great though.
The corn is ground into cornmeal and then boiled in water. It's a versatile food, appearing alongside a lot of southern breakfasts, but also with some savory dinner dishes. (Shrimp and grits. Try it and thank me later!)
Grits come in two different variations, white and yellow. There's no real change in texture, and the two are used interchangeably in recipes, but there are some nutritional differences.
First off, grits get their coloring from the color of the corn kernels that were ground up to make them. White corn makes white grits, and yellow corn makes yellow grits. There is a very slight difference in flavor between the two. The yellow variety has a stronger taste and a gentle hint of sweetness that their white counterparts lack. White grits are milder. I find that it helps to add butter to white grits.
White grits have a naturally higher sugar content, while yellow grits are richer in starch. Even so, it's still not easy to taste the difference.
Now that you know the differences (or lack thereof) between the two different types of grits, let's talk a bit about all of the wonderful things you can do with them.
As mentioned before, grits are a common sight on southern breakfast plates. They go well with eggs, bacon, and sausage. They also pair well with various types of seafood. The aforementioned Shrimp and Grits is the most famous grits-related dish by far, but it also goes well with salmon and catfish.
There are also Charleston-style grits, which are boiled in milk rather than water. This makes them creamier than traditional grits.
Also, there are some other colors that people are experimenting with. Blue and lavender grits are made from blue corn, which also goes toward those blue corn chips which are becoming all the rage lately.
If you've never tried grits before, give it a shot and follow these easy instructions. Whether they're white or yellow, you're getting an unmistakable infusion of Southern tradition.