A Mac and Cheese Bar is your new go-to summertime dinner party favorite. Imagine having friends and family over for a night in, where you cook a whole heaping load of macaroni and cheese and everyone adds their own mix-ins and toppings.
What is a mac and cheese bar, you ask? Prepare to have your life changed, friend!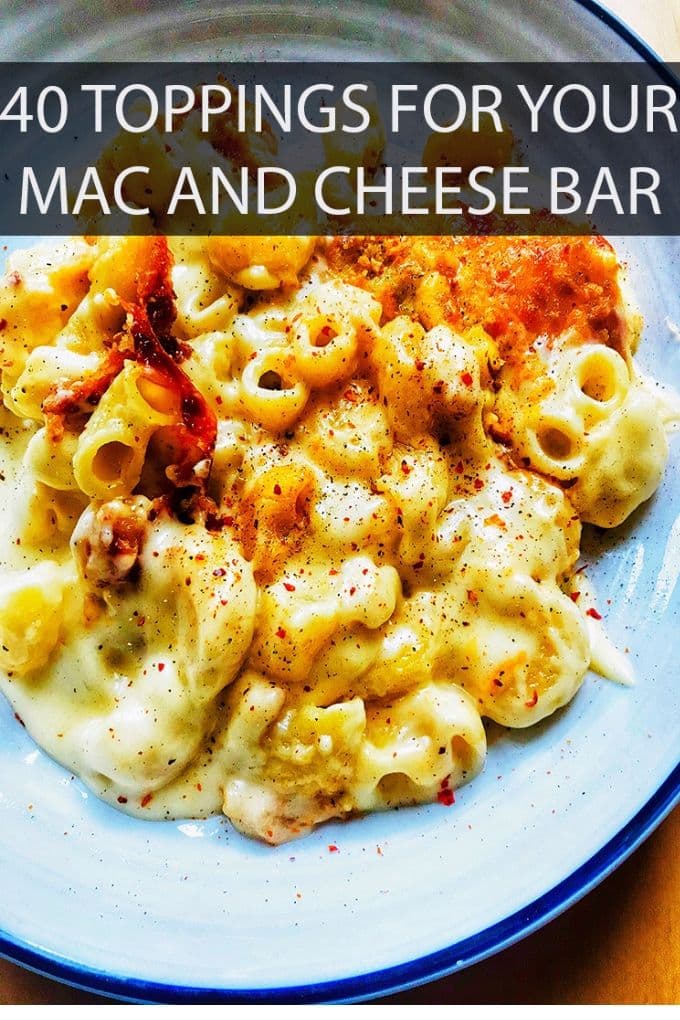 How To Set Up A Mac And Cheese Bar
First you're going to make the very best macaroni and cheese. For ideas on how to make this easy, check out our recipes for the Best Stovetop Mac and Cheese, super easy Instant Pot Mac and Cheese and Slow Cooker Mac and Cheese. 
When you invite your guests, ask them all to bring some kind of a topping with them. Ask someone else to bring paper plates and forks. You've instantly got one of the easiest and most popular party meals for a large crowd.
Arrange all of the ingredients like a salad bar. Guests spoon the mac and cheese onto their plates and then move down the aisle adding all their favorite toppings to create their own unique dish. 
Add a little extra fun with a contest! Take pictures and vote on the best mixtures for a fun little party game! 
Meat Toppings
Meat can be a great way to inject some protein into your mac and cheese. The addition of various meats could make this a more complete and hearty meal.
Diced Ham

Shredded Pork

Grilled Chicken

Chopped Bacon

Chopped Hot Dog

Ground Beef

Shrimp

Lobster/Crab Meat

Fried Chicken

Kielbasa
Extra Cheese Toppings
You can't go wrong with cheese, am I right? Yes, you've already got cheese included but add some more for an extra special blending.
Cheddar

Pepperjack

Blue Cheese Crumbles

Grated Parmesan

Salsa Con Queso

Queso Fresco

Crushed Nacho Cheese Doritos

Cheese Curds

Crumbled Cheez-its

Crumbled Cheese Doodles (Seriously, try this! Regular or Flamin' Hot Cheetos!)
Veggie Toppings
Whether you're looking to add to your already impressive bowl or you want to create something slightly less fattening, or maybe you're a vegetarian looking to mix and match, make sure you have a plethora of veggies available for your guests.
Tomatoes

Mushrooms (raw and cooked) 

Onion (raw and cooked)

Jalapeños

Shredded Carrots

Broccoli

Cauliflower

Beans (Pinto, Kidney, Black, baked and refried) 

Corn

Scallions
Sauces and Seasonings
Sauces and seasonings can give your best mac and cheese bar that extra special addition by boosting the flavor into a truly memorable food experience.
Ketchup (Seriously, try it and thank me later) 

Truffle Oil

Hot Sauce (and Buffalo) 

Teriyaki

Ranch

Blue Cheese Dressing

Garlic Powder

Cayenne Pepper

Barbecue Sauce

Sour Cream
In Conclusion
There is no end to the number of different toppings you could include for your mac and cheese bar. Encourage your guests to get creative and bring their own additions to the bar.
Have you ever had a mac and cheese bar party? Did your favorite topping make the list? Sound off in the comment section below and let us know! 
This post originally appeared in August 2019 and was revised and republished in October 2022.