Asparagus with browned tips and soft stalks is one of my favorite things. The air fryer does it perfectly!
I love roasted asparagus. And the air fryer does it quicker and better than ever. I like the stems fairly softened and the tips nice and brown. For thin-to-medium asparagus, that will take 5-7 minutes. Quick, right?
If you've been unsure about getting an air fryer, don't wait any longer. It will change your life. It's not just for foods that we think of as fried. It's for just about everything! Like asparagus! And carrots and green beans too! Now let's get cooking with that asparagus!
Scroll down to read more about how it all comes together or click here to jump straight down to the recipe.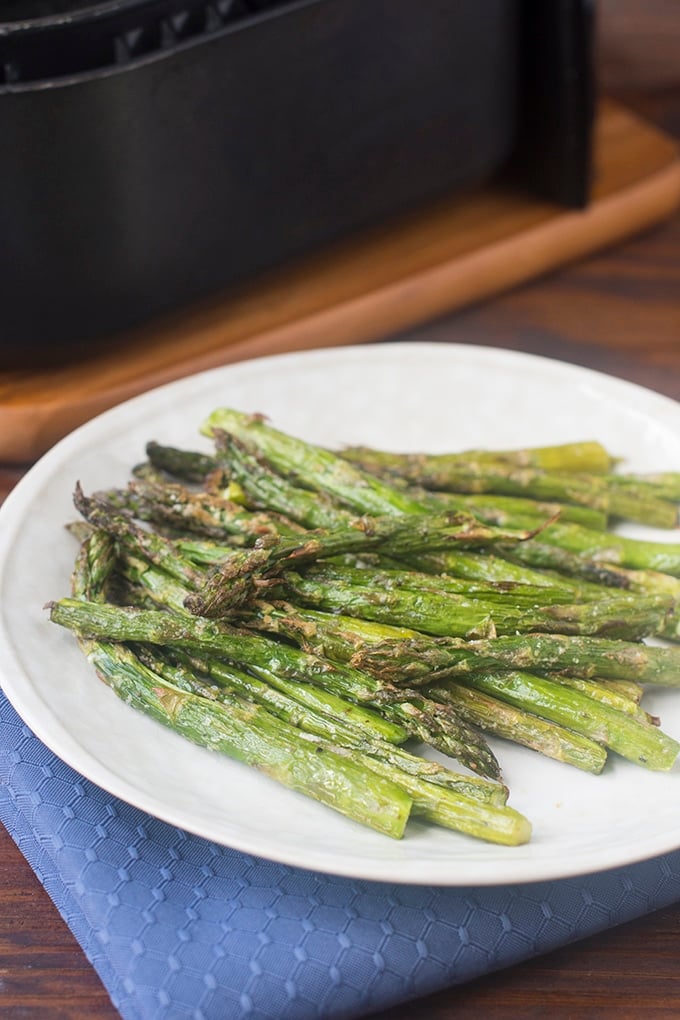 Video: Vegetables In The Air Fryer
Preheat The Air Fryer
Get the air fryer preheating to 400°F. It doesn't take long to preheat, but note you'll likely be ready to add your asparagus to the air fryer before it's done preheating. That's totally fine. Get that asparagus in there as quickly as you can so you can move onto something else.
How To Choose Asparagus For The Air Fryer?
Thin asparagus stems will be done in just a few minutes in the fryer. I actually find them too crisp. Similarly, really thick ones seem to brown too much on the outside before they're cooked through. Try to get medium-thickness stems if you can.
How To Prepare The Asparagus
People often say to take a stem of asparagus and gently bend it until it breaks and that is the natural trimming point. This is true, from what I can tell. However, I find it too fiddly to do each stem that way. Instead, I just do it for a few and then cut them all to that length.
Once they're all trimmed, put the parts of the asparagus stems that have the flowered tips into a medium bowl. Discard the ends. To the bowl, add 1 teaspoon of olive oil, 1/4 teaspoon salt, and 1/8 teaspoon pepper.
Note that you could do the seasoning and tossing right in the air fryer basket instead of dirtying a bowl. However, I find that some of the oil and seasoning drops straight through the holes in the basket when I add it directly to the basket. Using a bowl ensures more of it adheres to the asparagus. But this is really not a huge deal. I'm just a perfectionist sometimes.
How To Cook Asparagus In The Air Fryer
Transfer the asparagus to the basket of your air fryer. Toss it around a bit to get it into a single layer, or as much of a single layer as you can.
Slide the basket into the fryer. Cook for 5 minutes. No need to toss them or anything. Let them be!
After 5 minutes, have a look. They should be lightly browned. And if you pierce one with a fork, it should go through easily. If they were on the thick side and they need more time, cook for another 2-4 minutes.
When they're done, they'll look like this:
If you'd like, sprinkle them with a pinch of coarse salt before serving. And then eat!
Enjoy! Make sure to try my other air fryer vegetable recipes too. – Christine xo
Print
Air Fryer Asparagus Recipe
Contributor: Christine Pittman
Asparagus with browned tips and soft stalks is one of my favorite things. The air fryer does it perfectly!
Author:

Prep Time:

5 Minutes

Cook Time:

5 Minutes

Total Time:

10 minutes

Yield:

2

Servings

1

x

Category:

Side Dish

Method:

Air Fryer

Cuisine:

American
1

lb

. asparagus, trimmed

1 tsp

. olive oil

1/4

tsp. salt

1/8

tsp. pepper
Preheat air fryer to 400°F.
Put the trimmed asparagus into a medium bowl with the oil, salt, and pepper. Toss to coat.
Transfer to the basket of the air fryer. Toss to distribute evenly.
Put basket into fryer and cook 5  minutes.
Check the asparagus. If a fork pierces a stem easily and stems are lightly browned in places, they're done. If not, cook for another 2-4 minutes.
Transfer to a serving plate.
Love this recipe? I'd appreciate it if you could scroll down and add a *5 star rating* to help others know they'll love it as well!
This post originally appeared in January 2020 and was revised and republished in May 2023.