With your air fryer, Eggplant Parmesan is no longer a dinner reserved for restaurants or days you have hours to spend in the kitchen. You can enjoy this tasty dish any night of the week.
Eggplant Parmesan is sometimes considered a decadent date night treat, but with your air fryer, it can be a weeknight dinner. It takes a little time to assemble, but the results are well worth it. The crispy edges from the batter combined with tart marinara and gooey mozzarella make a dish you'll want to eat again and again.
Using an air fryer to make Eggplant Parmesan makes the dish quicker to prepare as well as a little bit healthier since you don't need as much oil to brown the coating, which is a great tip when you want to cook up some eggplant by itself too as we do in this Air Fryer Eggplant. It's a dish that's perfect on it's own, or you can serve it with some pasta on the side to round out the meal.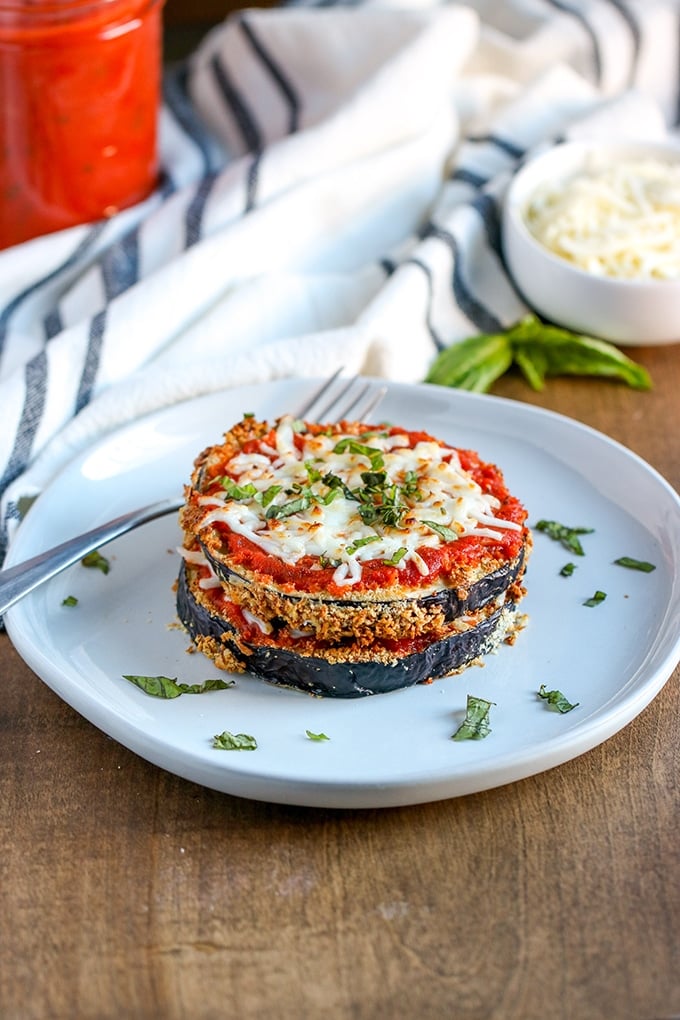 Do You Need To Salt Eggplant Before Cooking?
A lot of people slice eggplant and then salt it and let it sit for awhile. This is sometimes done to draw out bitterness. However, as we discovered here, it doesn't really do much. We've included the step in the instructions as optional though in case you're in the habit of doing it.
How To Cook Air Fryer Eggplant Parmesan
Using the dry, wet, dry method is key here. Dredging the eggplant pieces in flour first will help the egg to bind to the eggplant which will help the breadcrumbs stick during the whole process. Once each of the pieces of eggplant are coated, set them aside.
When you're ready to cook, use cooking spray and spray both sides of each piece then place it on the rack in the air fryer. You'll want to cook them a few minutes then flip to the other side to ensure each side is evenly browned. Feel free to serve at this point or spread a little marinara on top and sprinkle with mozzarella then pop them back in the air fryer to melt and brown some more.
Tips For Air Fryer Eggplant Parmesan
Cut slices in even 1/4" slices to ensure that the slices are cooking evenly.
Look for smaller eggplants if you have a smaller air fryer. The slices will fit more evenly on the rack in the basket.
Speaking of racks, be sure to use one. This will ensure that all sides of the breaded eggplant will crisp without falling off.
More Air Fryer Vegetable Recipes
If you're looking for more air fryer vegetable recipes, we've got a whole bunch over here. From green beans, to carrots, to broccoli, to mushrooms, and more!
If you're new to the air fryer, you might also want to have a look at our Air Fryer Chicken series. It has all kinds of basics for cooking chicken, as well as a bunch of tasty meal recipes, all for the air fryer.
Print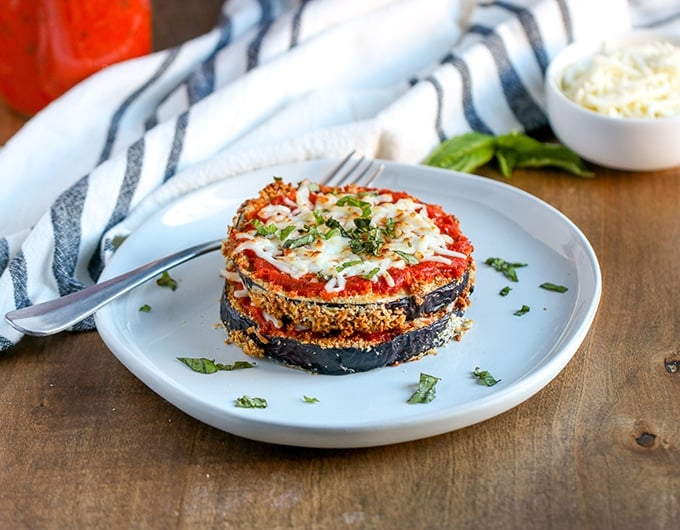 Air Fryer Eggplant Parmesan
Contributor: Sam Ellis
With your air fryer, Eggplant Parmesan is no longer a dinner reserved for restaurants or days you have hours to spend in the kitchen. You can enjoy this tasty dish any night of the week.
Author:

Prep Time:

10 Minutes

Cook Time:

12 Minutes

Total Time:

22 minutes

Yield:

8

Servings

1

x

Method:

Air Fryer
1

eggplant, cut into

1/4

-inch slices
Salt

2

eggs

1/2

cup flour

1

cup

panko breadcrumbs

1/2

tsp. pepper

24

oz

. marinara

8

oz

. shredded mozzarella cheese
Cooking spray
Basil leaves, chopped
Instructions
Optional Step: Line a cookie sheet with paper towels. Sprinkle round eggplant slices with 1 teaspoon of salt and let sit for 15 minutes on paper towels. Rinse. Dab dry.
Whisk egg in a small bowl.
Pour flour onto a large plate.
In a shallow bowl, mix panko breadcrumbs and 1 teaspoon of salt and the pepper.
Take eggplant slices and dip in flour first and cover fully, then dip in whisked egg on both sides, then in panko breadcrumbs. Set aside until ready to cook.
Spray coated eggplant with cooking spray then place into air fryer on rack.
Cook for 5 minutes at 360°F. Flip pieces over and cook an additional 5 minutes. Add a few tablespoons of marinara sauce and shredded mozzarella cheese on top and cook an additional 2 minutes.
Sprinkle with fresh basil and serve warm.