The air fryer is my favorite way to cook eggplant. It turns out browned on the outside, but still plump and meaty on the inside.
I like my eggplant to be nice and browned on the outside but still plump and meaty on the outside. One thing I don't like about eggplant is that it soaks up oil very easily and so it can often be greasy. By doing it in the air fryer, we can limit the amount of oil we use to just a tablespoon per eggplant, while still getting that nice browning on the outside. This means that it's less heavy, and even kind of light and fluffy in a way. You'll see what I mean.
If you've been unsure about getting an air fryer, don't wait any longer. It will change your life. It's not just for foods that we think of as fried. It's for just about everything! Like eggplant! And carrots and green beans too! Here's the air fryer that I have. Now let's get cooking with that eggplant!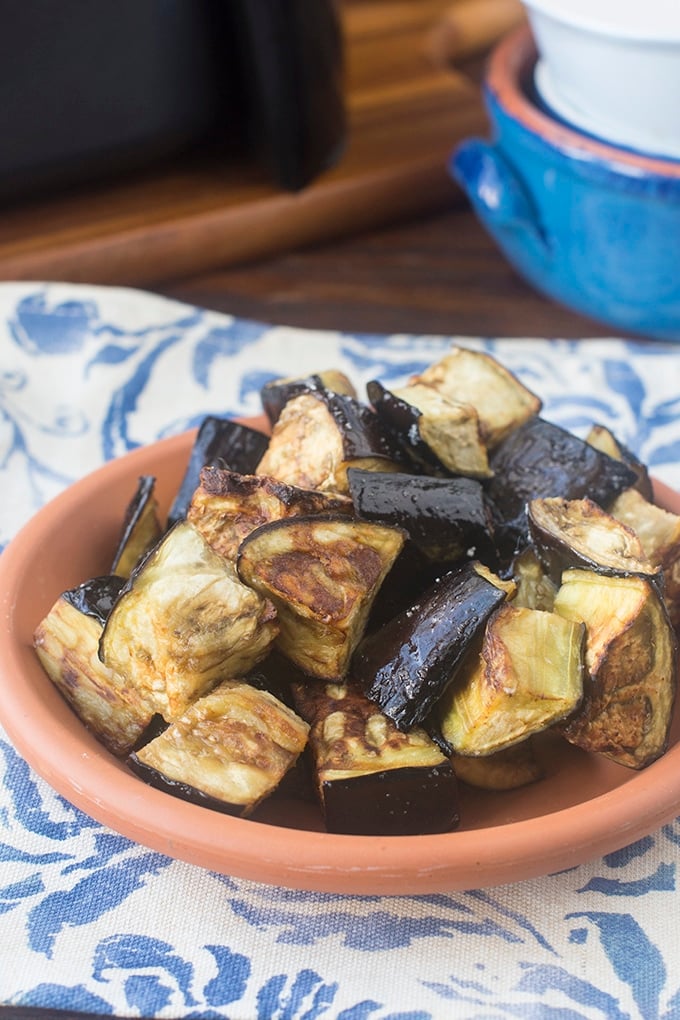 Here's A Video On Making Veggies In The Air Fryer:
Preheat The Air Fryer
Get the air fryer preheating to 400°F. It doesn't take long to preheat, but note you'll likely be ready to add your eggplant to the air fryer before it's done preheating. That's totally fine. Get that eggplant in there as quickly as you can so you can move onto something else.
How To Choose An Eggplant?
I look for a medium-sized eggplant. It should feel slightly heavy for its size, that means its juicy inside. If it feels too light, it might be dry. Also, look for one that isn't overly blemished on the outside. The odd nick is okay. What you really don't want are flat, softer areas since that indicates a bruise to the flesh.
Prepare The Eggplant
You don't have to peel the eggplant.
You also don't have to salt the eggplant and leave it to drain off supposed bitterness either. This is an instruction that comes from history, from a time long ago when eggplants were more bitter than they are today. Seriously, I have salted it and left it and not salted it, and I have never noticed a difference in bitterness.
Some people still say you need to salt it to draw out some liquid, especially if frying it. Others say it's not necessary. Here's a helpful comparison and taste test. For today's air fryer recipe though, I tried both the salting step and doing it without that step and found no difference.
(If you've never heard of this salting ritual, then just move right along. There's nothing of interest here! Proceed with the steps below!).
If you don't need to salt the eggplant, what do you need to do to it before putting it into the air fryer?
Okay, just cut it into 1-inch to 1 and 1/2 inch chunks. Then put it into a bowl with a tablespoon of olive oil and 1/2 teaspoon of salt. Give it a good toss.
Then transfer the eggplant into the basket of the air fryer. Toss it around so it's in a single layer like this: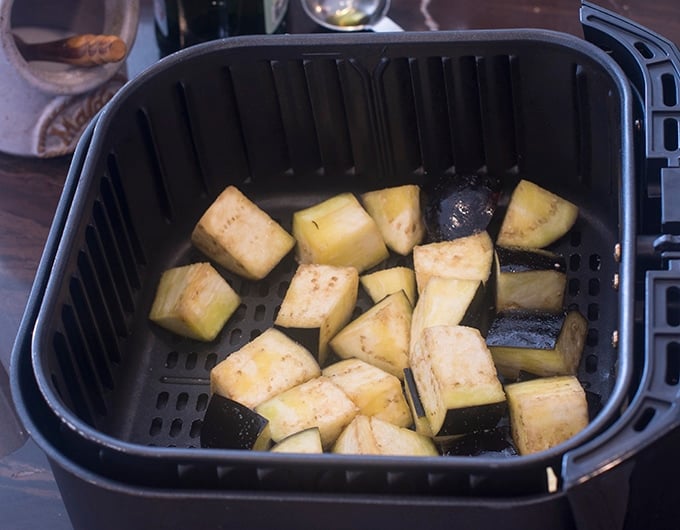 Note that you could do the tossing with oil and salt right in the air fryer basket instead of dirtying a bowl. However, I find that some of the oil and seasoning drops straight through the holes in the basket when I add it directly to the basket. Using a bowl ensures more of it adheres to the eggplant. But this is really not a huge deal. I'm just a perfectionist sometimes.
How To Cook Eggplant In The Air Fryer
Slide the air fryer basket into the fryer. Cook for 10 minutes. No need to toss them or anything. Let them be! After 10 minutes, have a look. They should look like this:
See how nice and browned they are in places, while also not being shriveled at all?
Give one piece a taste. If you detect some bitterness, sprinkle it all lightly with coarse salt. Just a pinch will do yah!
Perfect! Dive in!
Enjoy! – Christine 🙂
Print
Air Fryer Eggplant
Contributor: Christine Pittman
The air fryer is my favorite way to cook eggplant. It turns out browned on the outside, but still plump and meaty on the inside.
Author:

Prep Time:

5 Minutes

Cook Time:

10 Minutes

Total Time:

15 minutes

Yield:

2

Servings

1

x

Category:

Side Dish

Method:

Air Fryer

Cuisine:

American
1

medium eggplant, in 1 inch to 1 and 1/2 inch chunks

1 Tbsp

. olive oil

1/2 tsp

. salt
Instructions
Preheat air fryer to 400°F.
In a medium bowl toss the eggplant with the oil and salt.
Transfer to the air fryer basket. Toss so it's all in a single layer.
Cook without opening the fryer for 10 minutes.
Open it up. Taste a piece. If it's bitter or not salty enough, sprinkle everything with a pinch of coarse salt.
Transfer to a serving plate.