Cauliflower is delicious when cooked in the air fryer. It comes out softened and lightly caramelized in just 8 minutes. Yum!
I like my cauliflower to be mostly softened at the stem and well-browned in places on the seedy, flowery parts. 8 minutes is perfect in the air fryer. But, if you like them even browner, you can put them in for a bit longer.
If you've been unsure about getting an air fryer, don't wait any longer. It will change your life. It's not just for foods that we think of as fried. It's for just about everything! Like cauliflower! And carrots and green beans too! Here's the air fryer that I have. Now let's get cooking with that cauliflower!
Here's A Video On Various Air Fryer Veggies:
Preheat The Air Fryer
Get the air fryer preheating to 400°F. It doesn't take long to preheat, but note you'll likely be ready to add your cauliflower to the air fryer before it's done preheating. That's totally fine. Get that veg in there as quickly as you can so you can move onto something else.
What Kind Of Cauliflower Should You Use?
I love convenience so I sometimes buy the bag of cauliflower florets sold in the produce department. However, a head of cauliflower is often a lot cheaper. If you're going in that direction, you'll get the head of cauliflower and cut it into florets.
Season The Cauliflower
Put the cauliflower florets into a bowl and toss them with 2 teaspoons of cooking oil, ¼ teaspoon of salt, and 1/8 teaspoon of pepper.
Note that you could do this right in the air fryer basket instead of dirtying a bowl. However, I find that some of the oil and seasoning drops straight through the holes in the basket when I add it directly to the basket. Using a bowl ensures more of it adheres to the cauliflower. But this is really not a huge deal. I'm just a perfectionist sometimes.
How To Cook Cauliflower In The Air Fryer
Transfer the cauliflower to the basket of your air fryer. Toss it around a bit to get it into a single layer, or as much of a single layer as you can.
Slide the basket into the fryer. Cook for 5 minutes. Give them a toss and cooked until your desired softness and browning level, 3-5 more minutes.
You can test whether it's soft enough by poking a thicker piece with a fork. They should be soft but with a bit of texture still.
If you like it darker, go ahead and go for 2-4 more minutes. The flowery parts can get quite brown and crisp, but the stems get really soft by that point. Also, the really browned parts can taste a bit bitter. If you let it get that dark, you might want to salt it all lightly before serving. That cuts the bitterness a bit.
Transfer the cauliflower from the basket of the air fryer to a serving bowl. Eat!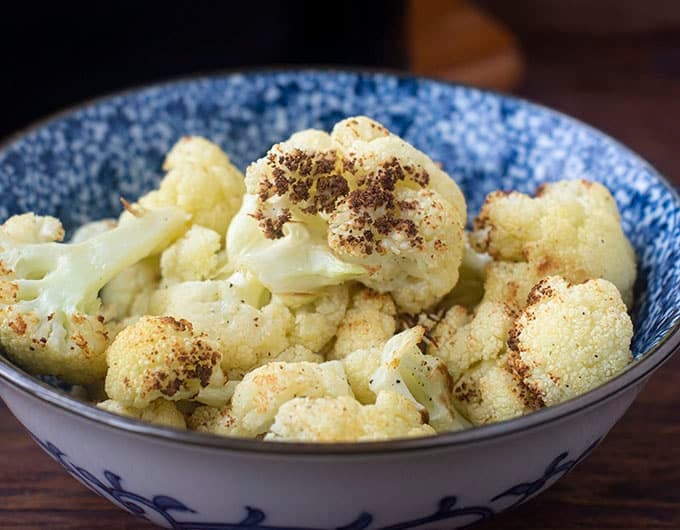 Print
Air Fryer Cauliflower
Contributor: Christine Pittman
Cauliflower is delicious when cooked in the air fryer. It comes out softened and lightly caramelized in just 8 minutes. Yum!
Author:

Prep Time:

2 Minutes

Cook Time:

10 Minutes

Total Time:

12 minutes

Yield:

4

Servings

1

x

Category:

Side Dish

Method:

Air Fryer

Cuisine:

American
12

ounces

cauliflower florets

1

–

2

tsp. cooking oil*

1/4 tsp

. salt

1/8 tsp

. black pepper
Instructions
Preheat the air fryer to 400°F.
Put the cauliflower in a medium bowl. Add the oil, salt, and pepper. Toss to coat.
Transfer cauliflower to the basket of the air fryer, even if it isn't done preheating.
Shake to arrange in a single layer as much as possible. Some overlap is fine.
Put air fryer basket into air fryer and allow to cook for 5 minutes. Toss and cook to desired doneness, 3-5 more minutes. Test a floret by poking a fork through it. It should enter easily. If so, it's done.
Notes
*They will taste and crisp up better with 2 teaspoons but will be great with 1 teaspoon. Up to you!