Squash cooked in the air fryer is really quick and delicious. It comes out nice and browned in places without being too mushy in the middle, and it only takes 8 minutes.
I really don't like it when yellow squash is so soft that it's mushy in the middle. I therefore prefer methods of cooking it that use high heat for a short time.
I often cook my squash the same way I cook zucchini. I actually leave the squashes whole, rub them with olive oil and seasoning, and then broil them or grill them. I slice them after they're cooked. They get nice and brown on the outside but are still slightly firm in the middle. If you haven't tried that, you've got to. But I've discovered that Air Fryer Yellow Squash also turns out delicious and it's quick too!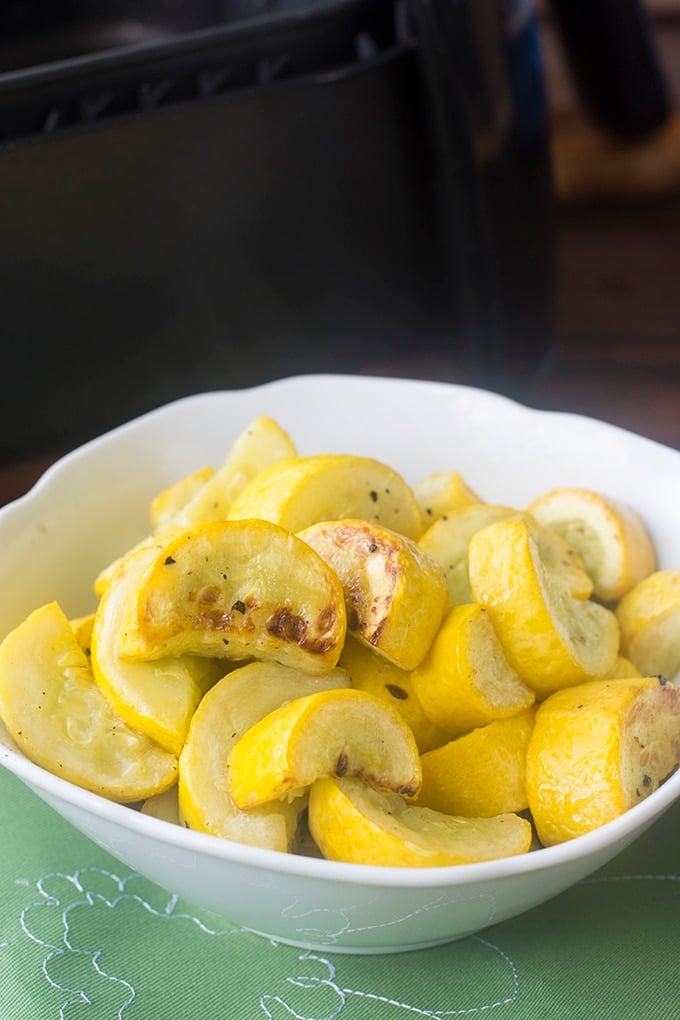 Video: Making Air Fryer Veggies
Why Cook Squash In The Air Fryer?
However, now that I'm air fryer obsessed I have to cook everything in there. For instance, I'm on an air fryer veggie kick right now and I'm in love with this Air Fryer Roasted Broccoli and these Air Fryer Roasted Carrots with Honey Glaze.
Anyhow, since I'm putting everything in the air fryer, I moved on to yellow squash and zucchini (it's the same method but I have separate recipes for you so you can find them more easily when searching for them. The air fryer zucchini recipe is here).
I tried them whole the first time and then tried slicing them before cooking. I found that even if sliced, they don't get as mushy in the air fryer. I think it's because they don't need very much time to start browning. So in the air fryer, I slice them first and then cook them.
The sliced yellow squash in the air fryer turns out nice and brown in places, a bit salty (in a good way), and with just the right amount of softness.
Want to use in the oven instead? Try this Delicious Roasted Summer Squash.
How To Prep Squash For The Air Fryer
Preheat the Air Fryer
Get the air fryer preheating to 400°F. It doesn't take long to preheat, but note you'll likely be ready to add your squash to the air fryer before it's done preheating. That's totally fine. Get that veg in there as quickly as you can so you can move onto something else.
How to Cut Yellow Squash
I get small-to-medium sized squash. Once they're sliced, I can fit 2 of them in my air fryer. If you're not going to slice them first, you can fit up to 4 whole yellow squash in there. But 2-3 will be better because they brown better when they're less crowded.
To cut the squash, cut off the two ends. Then slice it lengthwise, end to end, right down the middle. Finally, cut each half into 3/4-inch slices.
Season the Squash
Put the squash slices into a bowl and toss them with 2 teaspoons of cooking oil, ¼ teaspoon of salt, and 1/8 teaspoon of pepper.
Note that you could do this right in the air fryer basket instead of dirtying a bowl. However, I find that some of the oil and seasoning drops straight through the holes in the basket when I add it directly to the basket. Using a bowl ensures more of it sticks to the zucchini. But this is really not a huge deal. I'm just a perfectionist sometimes.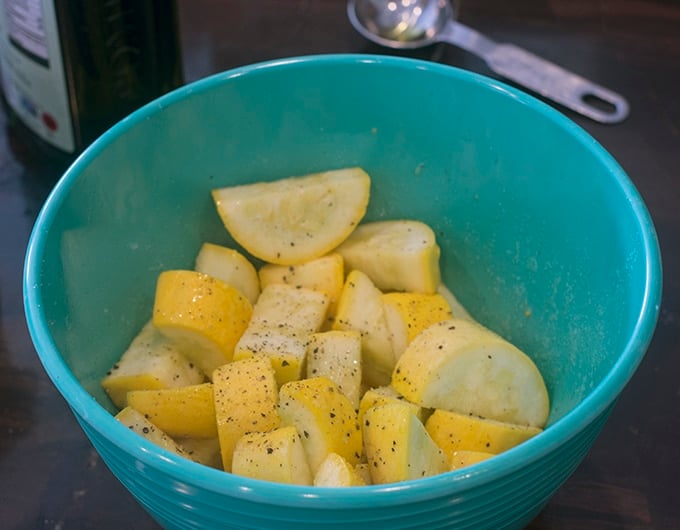 How To Cook Air Fryer Yellow Squash
Transfer the squash to the basket of your air fryer. Toss it around a bit to get it into a single layer, or as much of a single layer as you can.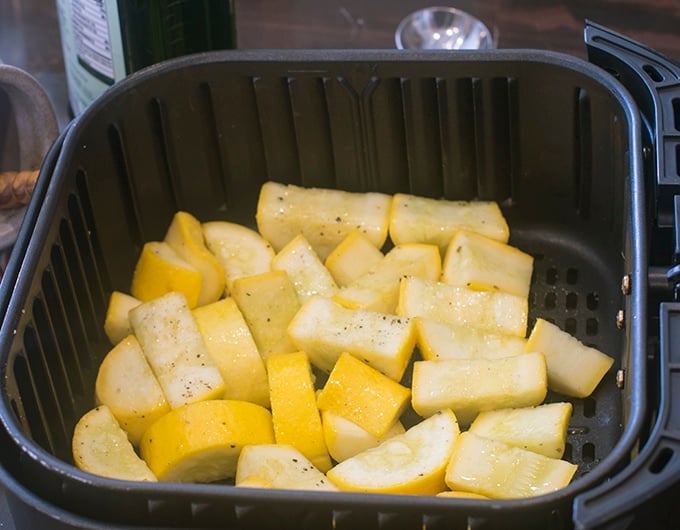 Slide the basket into the fryer. Cook for 5 minutes. No need to toss them or anything during this time. Let them be!
After 5 minutes give them a peek. They should be brown in places but a bit softened in the middle. They will likely need a bit more time though. Toss the basket a bit and cook them for another 2-3 minutes, until they look like this.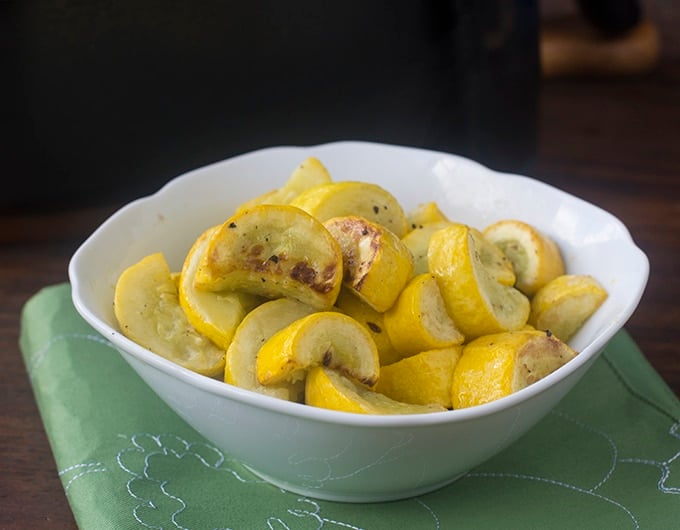 Podcast Episode: Making Air Fryer Yellow Squash
Listen to me explain briefly about how to make this recipe, with some great tips along the way, by clicking the play button below:
Listen to more Recipe of the Day episodes here.
Print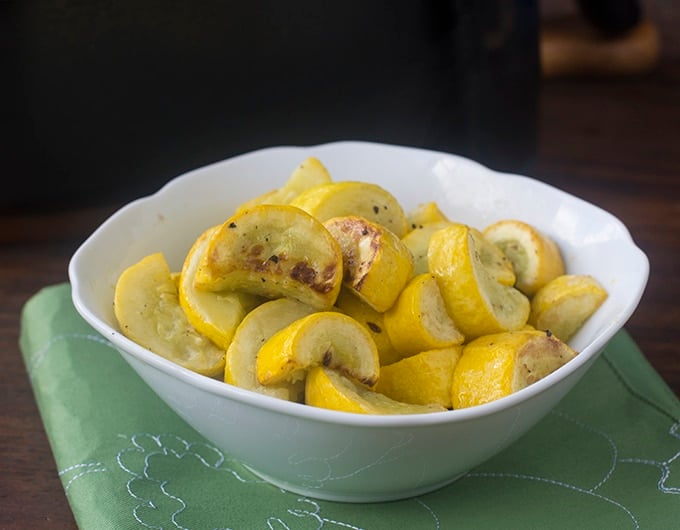 Air Fryer Yellow Squash Recipe
Contributor: Christine Pittman
I love yellow squash cooked in the air fryer. It comes out nice and browned in places without being too mushy in the middle, and it only takes 8 minutes.
Author:

Prep Time:

2 Minutes

Cook Time:

8 Minutes

Total Time:

10 minutes

Yield:

4

Servings

1

x

Category:

Side Dish

Method:

Air Fryer

Cuisine:

American
2

small-to-medium yellow squash

2 tsp

. olive oil

1/4

tsp. salt

1/8

tsp. pepper
Preheat air fryer to 400°F.
Trim the two ends off each squash. Slice them in half lengthwise, end to end. Slice into 3/4-inch slices.
Put the yellow squash slices in a medium bowl with the olive oil, salt, and pepper. Toss to coat.
Transfer to the air fryer basket and toss to get them into a single layer.
Cook for 5 minutes. Check and see if they're browned and slightly softened in the middle. If not, toss and then cook another 2-3 minutes.
Love this recipe? I'd appreciate it if you could scroll down and add a *5 star rating* to help others know they'll love it as well!
This post originally appeared in January 2020 and was revised and republished in July 2023.