Cheese Blintzes are perfect for a special brunch and can be made in sweet or more savory versions.
If you are looking for a special dish for your next brunch party, consider cheese-filled blintzes. Topped with jam and seasonal fresh fruit, blintzes are a delightful vegetarian dish and a nice break from all the egg-based dishes that one typically sees at brunch. (Though if you want eggs, let me direct you to this Eggs Benedict.)
What Are Blintzes?
Blintzes are a sweet treat of thin pancakes, similar to a French crêpe. They are filled with soft, fresh cheese and rolled up like a little package. Once assembled, blintzes are usually fried in butter and topped with jam or sour cream and garnished with a dusting of powdered sugar and some fresh fruit.
Blintzes are a traditional dish for the late spring holiday of Shavuot, which commemorates the day God gave the Torah to the Jewish people at Mount Sinai. One of the most widely held customs for Shavuot is to celebrate by eating dairy foods, especially cheese. One of the reasons that blintzes in particular are a beloved Shavuot food – besides the fact that they are stuffed with cheese – is that two blintzes laid side-by-side resemble the two tablets Moses received on Mount Sinai. Isn't that poetic?
How Do You Make Cheese Blintzes?
Jewish grandmothers would have you believe that making blintzes is an enormous production, but it is just not true. Blintzes are only a production if you insist on making them by the hundreds. Which, in their defense, many grandmothers used to do. But today's cooks can simply make enough for brunch or dinner. This recipe makes 8 blintzes, which is just the right number to serve four people. If you are serving a larger group or want to make extra blintzes to freeze for another occasion, simply double the recipe.
Although blintzes are not difficult to make, there are several steps to the process. You have to 1) make the pancakes, 2) make the filling, and 3) fill and roll up the pancakes. Finally, the last step is to cook the filled blintzes after which they should be served right away. However, you can easily break the process up into steps and several of the steps can be completed in advance.
In fact, the batter for the pancakes needs to rest for at least two hours before cooking. As a result, I recommend making the batter the night before you plan to serve the blintzes, especially if you are serving them at brunch. The batter will keep in the refrigerator overnight and that is one less thing to worry about in the morning. You can also fill the blintzes in advance and keep the filled, uncooked blintzes in the refrigerator for a day or freeze them for longer storage.
Cooking the pancakes for the cheese blintzes is the step that most people find intimidating because the pancakes should be very thin – almost translucent. It does take some practice and the first pancake often comes out looking a bit wonky. It will still taste delicious! If you think that you will be making crêpes or blintzes regularly, I recommend investing in a nonstick crêpe pan which is like a nonstick skillet but with lower sides. A regular nonstick skillet will work, but it is harder to lift the thin pancakes out of those.
Also, remember when I said that the pancakes for the blintzes are like crêpes? That's true, but there is one key difference. Traditionally, crêpes are cooked on both sides while the pancakes for blintzes are only cooked on one side. This actually saves time and is less fussy than cooking crêpes.
What Kind Of Cheese Is Used To Fill Blintzes?
Traditionally, to fill their blintzes, Jewish cooks would have used pot cheese, which is cottage cheese with some of the whey pressed out. Also used was farmer's cheese, which is a soft, fresh cheese with small curds.
Farmers' cheese can be hard to find, but you can substitute quark, a German fresh cheese, or even small-curd cottage cheese. If you do use small-curd cottage cheese, allow it to drain for several hours. Use a fine-mesh strainer lined with muslin or cheesecloth before using to remove some of the liquid.
Farmer's cheese is quite tangy, which some people love, but others find it off-putting. Kids, I have learned, prefer the mild taste and smooth texture of fresh ricotta as a filling for blintzes.
In the recipe below, I give you instructions for both a traditional farmers' cheese filling as well as a sweet ricotta filling that is a favorite with my family.
Serving Cheese Blintzes
Once the blintzes are cooked, you can serve them with jam and fresh fruit if you like a sweeter version of blintzes. Jam and fruit work especially well with the ricotta filling. For a slightly more savory take on blintzes, which goes better with the farmer's cheese filling, you can serve them with a dollop of sour cream and a grinding of white pepper.
I hope that you will give these traditional cheese blintzes a try. They are a classic Jewish comfort food and a favorite with the whole family.
Print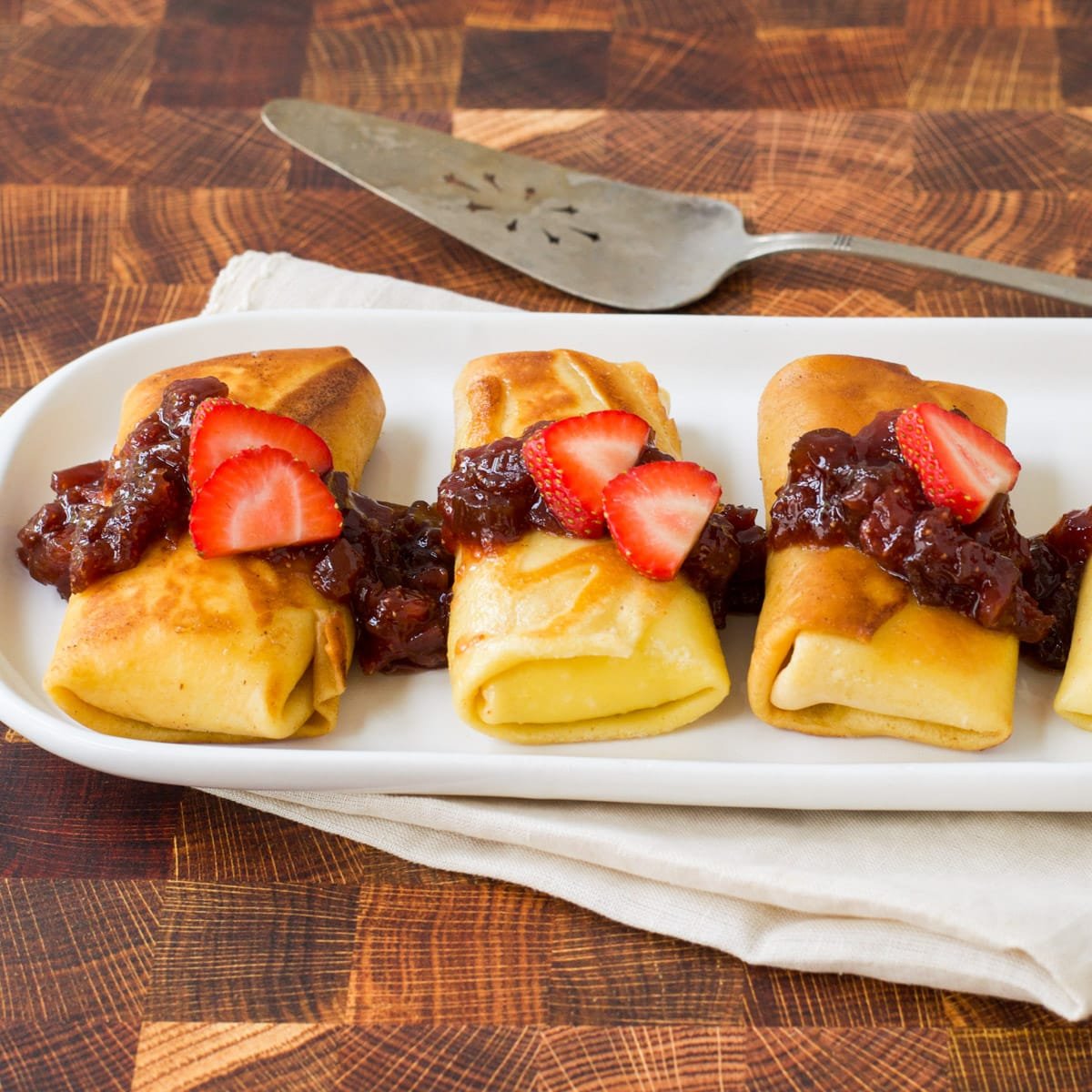 Cheese Blintzes
Contributor: Emily Paster
The batter for these Cheese Blintzes need at least 2 hours in the fridge before cooking. Preparation can be split up and done in advance.
Serve with jam or sour cream.
Listen to our editor, Christine Pittman, explain briefly about how to make this dish, with some great tips along the way, by clicking the play button below:
Author:

Prep Time:

20 minutes

Refrigerate:

2 hours

Cook Time:

20 minutes

Total Time:

2 hours 40 minutes

Yield:

4

servings

1

x

Category:

Entrée

Method:

Stovetop

Cuisine:

Jewish
Crêpes:
1

cup

whole milk

4

large eggs at room temperature

1 tsp

. vanilla extract

1

cup

all-purpose flour

2 Tbsp

. sugar

1 tsp

. kosher salt

4 Tbsp

. unsalted butter, for cooking
Sweet Ricotta Filling:
15

oz

. whole milk ricotta

1 Tbsp

. sugar
Zest of

one

lemon
Pinch of kosher salt
Farmers' Cheese Filling:
16

oz

. of farmers' cheese*

1/4

cup

sour cream or plain Greek yogurt

1

egg yolk
Pinch of nutmeg
Salt and white pepper to taste
Instructions
To make the batter, whisk together the milk, eggs, and vanilla extract in a large bowl. Add the flour, sugar, and salt and whisk until the batter is thoroughly combined and no longer lumpy. Cover and refrigerate for at least two hours or overnight.
To make the crepes, heat an 8 or 10-inch nonstick crêpe pan over high heat. (You may use a nonstick skillet if you do not own a crêpe pan.) While the pan is heating, prepare four clean dishtowels or four squares of parchment paper to hold the cooked crêpes. If the crêpe batter has separated, whisk it until it is smooth and combined.
Once the pan is hot, turn heat down to medium. Add a scant 1/3 cup of the batter to the hot pan and immediately tilt the pan and swirl the batter until it reaches to the edges. The batter should thinly coat the bottom of the pan.
Cook the crêpe undisturbed for 40 seconds to 1 minute, until edges are lightly browned and release easily from pan and the center is dry. Using your fingers or a thin, flexible spatula, loosen one edge and carefully remove the crêpe to the dishtowel or parchment paper. (Do not use tongs, which may puncture or tear the delicate crêpe. If the bottom of the crêpe browns before the center is dry, flip it over and briefly cook the underside. Then add slightly less batter to the pan going forward.)
Repeat until you have used all of the batter. You should have 8 crêpes. (The crêpes may be prepared up to a day ahead and refrigerated until needed.)
To make either filling, mix all of the ingredients together in a medium bowl and whisk until smooth.
To fill the blintzes, place one crêpe, cooked side down, on a clean dishtowel or board and spoon 2 to 3 tablespoons of the filling just below the center of the crepe, leaving a border on the bottom and each side. Fold the bottom layer over the filling, then fold in each side, enclosing the filling completely, and roll up like a burrito. Filled, uncooked blintzes can be stored in the refrigerator for up to 1 day. Place the filled crêpes seam-side down in a baking dish and refrigerate until needed. For longer-term storage, the filled blintzes should be frozen.
To cook the blintzes, melt 2 tablespoons butter in a 12-inch, non-stick skillet. Place four blintzes in the skillet and cook over medium heat until the bottom is lightly browned, 2 to 3 minutes. Flip the blintzes and brown on other side, about 2 minutes. Repeat with the remaining blintzes, adding more butter to the skillet as necessary.
Serve blintzes immediately topped with jam, sour cream, and fresh sliced fruit.
Notes
*See post for suggested substitutes for farmers' cheese.
Note: Filled, uncooked blintzes can be frozen for up to 3 months. To freeze, spread the blintzes on a baking sheet and place in the freezer. Once frozen solid, they can be packed into a gallon-sized freezer bag for long-term storage. Allow the blintzes to thaw before frying them as described in Step 8 above.
Nutrition Information uses the sweet ricotta filling.