How To Make Popcorn Balls
Popcorn balls are a classic Halloween treat. They're also a great intro to candy-making for those of us who don't yet own a candy thermometer. (You'll have to go buy one like I did). Get the step-by-step photo tutorial here.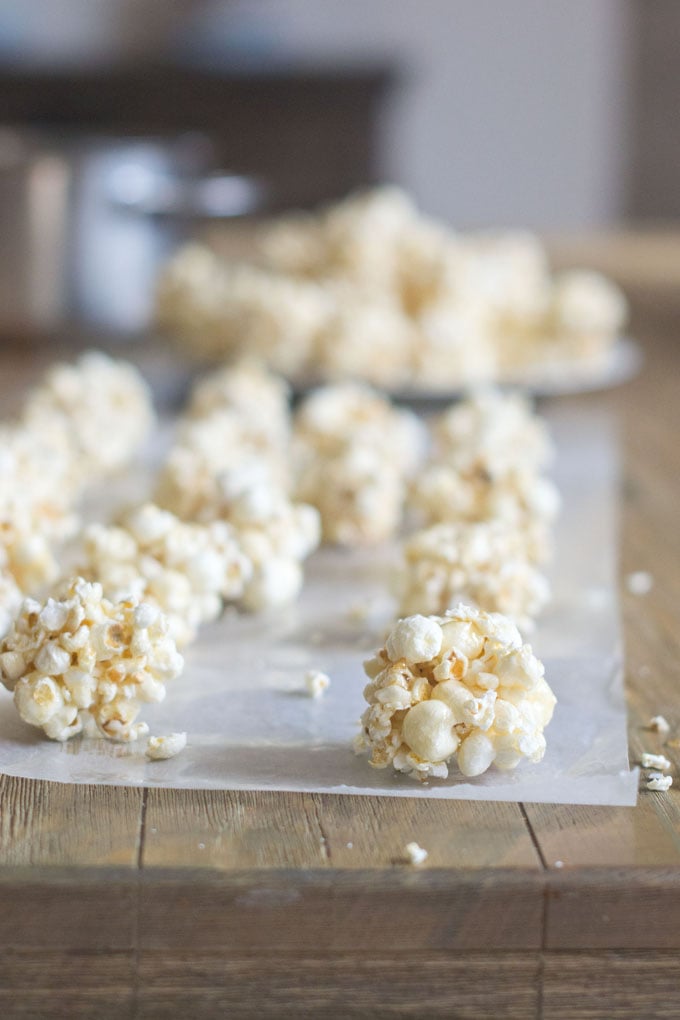 I don't remember us eating popcorn balls as kids, even though I do remember that they were in our trick-or-treat bags. Did we not like them? Were they a disappointment up against the chocolate bars and licorice? Or, did our mom not trust homemade treats from strangers? I'm betting it was all of the above.
Whatever. Last year I made the version of popcorn balls that uses marshmallows – think rice crispy squares but made with popcorn and round. I loved them! So did my kids. I therefore thought that it was time to finally try out the classic.
Classic popcorn balls are kind of scary to make. I mean, if you've had loads of experience with making candy, like, if you already own a candy thermometer, you'll probably be fine. I've had limited experience with candy so researching the recipes freaked me out a bit. After trying several version though, I came to realize that it's really not that hard.
This is a great starter-recipe if you've never made candy before. It's pretty basic really and hard to screw it up. You do NEED a candy thermometer though. You're going to cook the sugar and water until it reaches the hard candy temperature of 255ºF. You can't guess at that. It certainly took longer than I expected it to and without the thermometer I never would have left it there boiling so long. I bought this candy thermometer at my grocery store. It was with the can openers and cooking utensils. It's pretty basic but did the trick.
It's not necessary that you learn everything about candy-making to make this recipe. It's pretty straightforward really. But if you want to know more, head over here. It's a short article but you'll find out about calibrating your thermometer, the candy-making stages and more.
O.K., here we go!
How to Make Popcorn Balls:
Step#1
Measure sugar, water, dark corn syrup, lemon juice and salt into a 5 quart heavy-bottomed sauce pan (we like the one in this set).
Step#2
Attach the candy thermometer to the pot.
Make sure that the tip is in the liquid and not touching the bottom or side of the pot.
Step#3
Put a lid on the pot and put it over high heat.
Under that lid it's totally doing this:
Don't panic. All that nutso boiling is supposed to be happening.
Step#4
While it's coming up to temperature, put your popcorn on a big pan. (You can make your own popcorn ahead of time in the microwave or on the stove or using one of these other 13 methods.  Or, buy one 5.5 ounce bag of popcorn like this one. It's exactly the right amount).
Step#5
When the thermometer reaches 255ºF, turn off the heat. That's the hard candy stage that you're looking for. It's ok if the temp rises a bit after that. It can get up to 265ºF and you're still good to go.
Step#6
Add vanilla. Stir.
Step#7
Pour the candy mixture over the popcorn. Wear oven mitts just in case there's a spill and any part of your brain thinks it's a good idea to touch that stuff. It's hot. It will stick to you. It will not be fun.
Just keep pouring, working around the pan so that you're getting some in all the places. The syrup will be sinking to the bottom of the pan as you go. Don't worry. You'll get it spread out soon.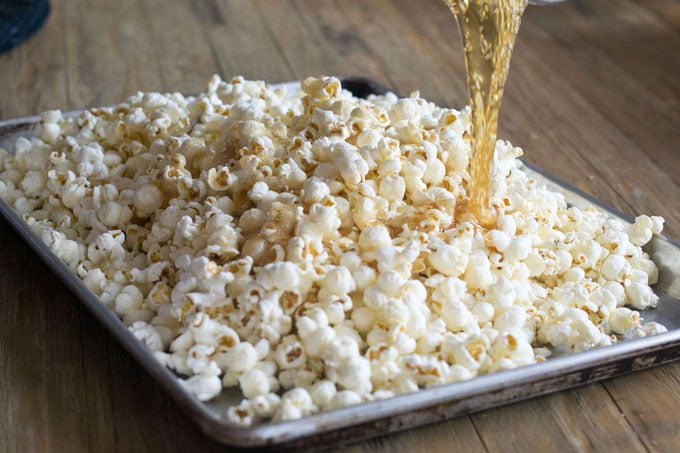 Step#8
Use an oiled spatula to toss the popcorn around to coat it. Be careful because the syrup is still crazy hot. Do not do this with your hands. Again, unfun.
Everything's a sticky mess. Oiling your utensils with vegetable oil as instructed helps, but not much.
Step#9
Definitely oil your hands. I used vegetable oil but any oil or softened butter will work. Keep a bowl of oil handy nearby. You're going to want to dip into it a few times as you form the balls.
Step#10
When the syrup is cool enough to touch but still warm, form balls. Note, there will be pockets of hot syrup. This is unavoidable. Just be careful. Work quickly because it gets a bit harder to form the balls as the syrup cools. In my first attempt I made big traditional popcorn balls. But I never wanted to finish eating a whole one. I therefore chose to make 2-inch balls this time. Much more manageable.
Step#11
Put the popcorn balls on wax paper as they set.
There they are! You'll get about 30 2-inch balls. If you do bigger 3-inch diameter balls, you'll get 12-14 of them.
Popcorn balls will keep up to a week in a sealed container but are best the day they're made.
Looking for more candy making ideas? Check out our candy apple recipes.
Print