How to Cook Popcorn on the Stove (Without Burning Down the Kitchen)
Ciao, Microwave Popcorn Bags! (Ummm…ciao-goodbye, not ciao-hello). Once you get the hang of cooking popcorn on the stove, and once you taste the result, you'll never go back.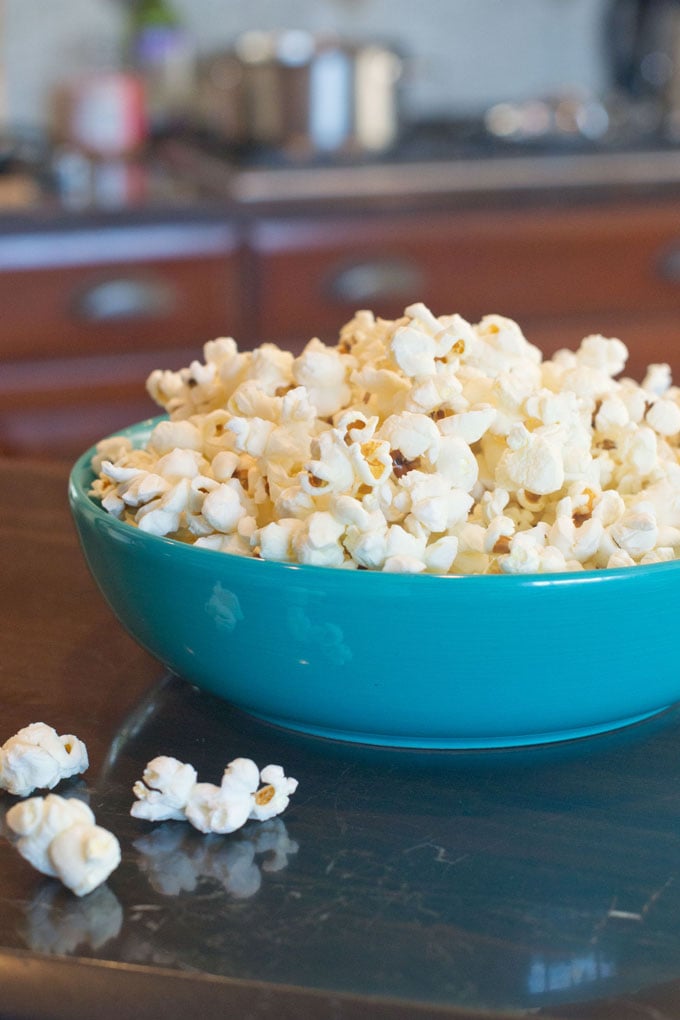 Call me a Popcorn snob, but I like popcorn popped on the stove top way better than the stuff coming from microwaveable bags. It's fluffier and slightly toasty. And I'll just say it, I feel weirdly proud of myself for being able to do something that most people don't know how to do. (See? Snob).
Making Popcorn on the stove is simple, cost-effective and doesn't have the chemicals that are used to line microwave bags. It also allows you to add your own flavors and use your oil of choice. Coconut and peanut oil have high smoke points and add great flavor. Grapeseed, canola and vegetable oil have the smoke point thing down but they don't add flavor (still good choices!).
I may be a snob but I'm happy to let you become one with me so I'm going to show you how easy it is to cook popcorn on the stove. You only need three ingredients and a saucepan. That's it, that's all.
Step#1
Start with a big heavy-duty saucepan. You want it to be 5 quarts. That's the typical size of a Dutch oven, if that's easier for you to imagine. You want it to have a nice thick solid bottom too. This is because you want it to heat slowly at first, then stay evenly hot and retain that heat a bit. We really like this set of saucepans and the largest in the set is perfect for popping corn.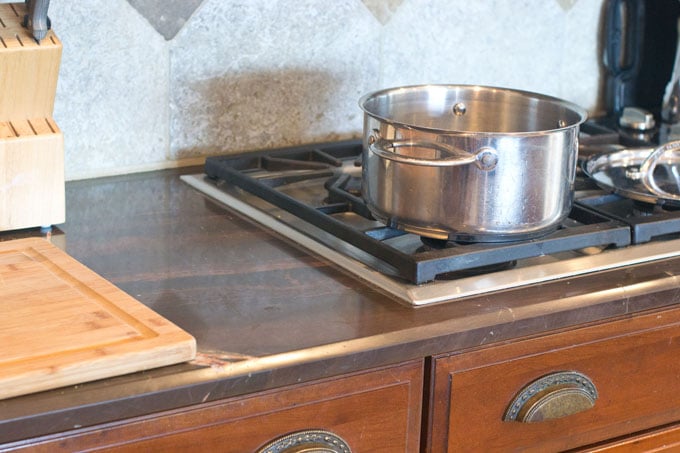 Step#2
Add 1/4 cup popcorn kernels to the pot.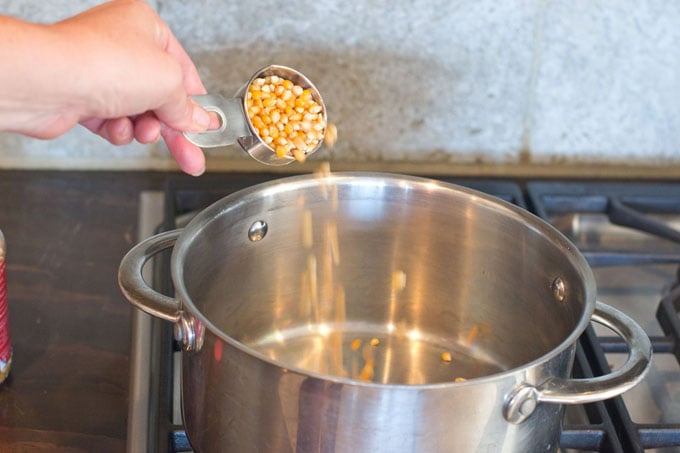 Step#3
And 1 tablespoon of oil. Use something with a high smoke point like coconut oil, peanut oil, grapeseed oil or vegetable oil.
Step #4
Put on the lid and turn the burner on high.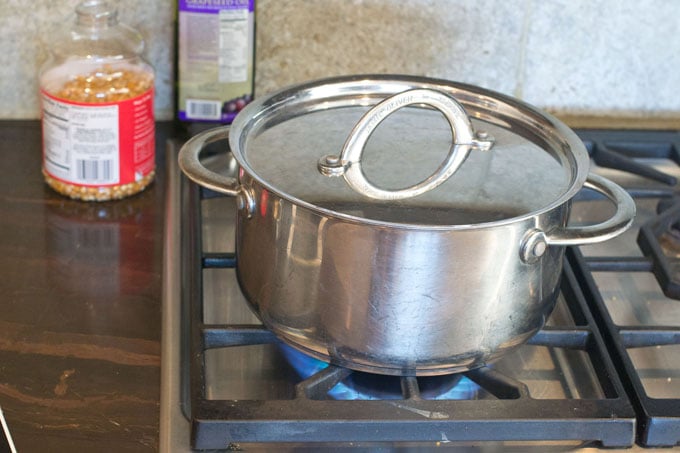 Step#5
Give the pot a good shake every 30 seconds or so. When you hear the first pop, take the pot off the heat and hold it an inch or two above the heat source. This is so that any popped kernels don't burn while the unpopped ones are finishing off.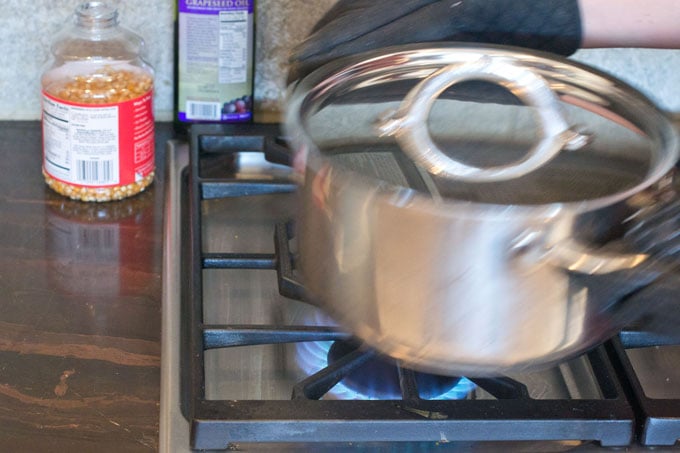 Step#6
When the popping has slowed down (this doesn't take long to happen), turn off the heat and carefully take off the lid. You do need to be careful because it's steamy hot inside. And also, sometimes, one last kernel will decide to pop.
Step#7
Not really a step. Just showing you the popcorn. There it is.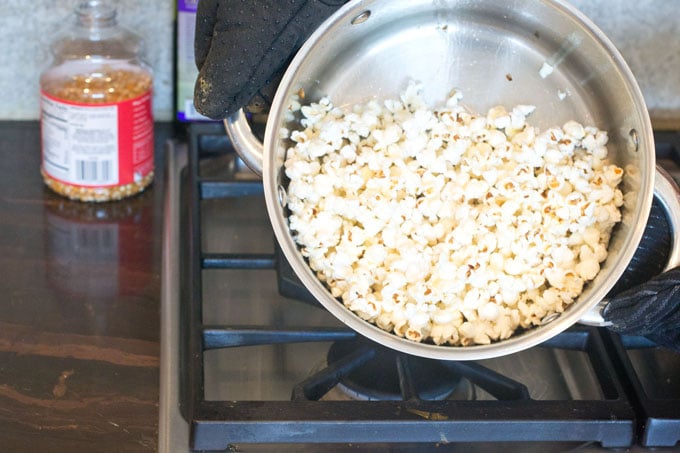 Step#8
There was already oil used in the popping and so I find that you don't need to add melted butter. But need and want are different things. If you want it, add it. And sprinkle on some salt. Shake the pot again and then transfer the popcorn to a bowl.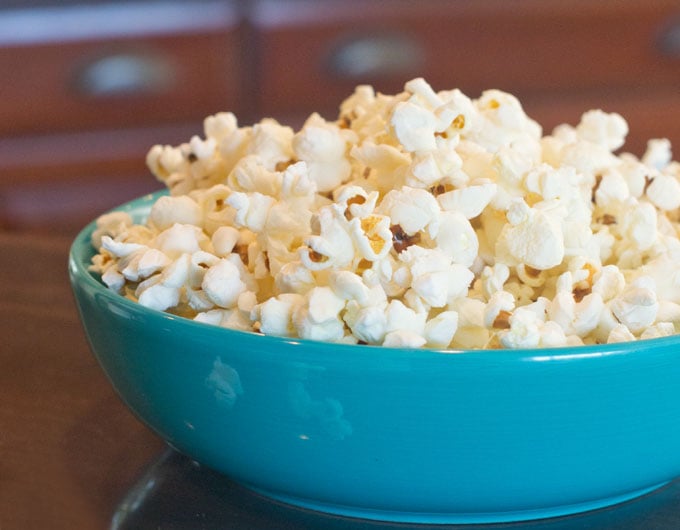 Did you try it? You're a popcorn snob too now, right? I know it.
Print
Oh, hey, if you want to get crazy, try popping popcorn over a campfire. It will change your world. It gets this smokey flavor from, well, from the smoke. Killer.