How to Pop Popcorn Over an Open Fire (Say What???)
Yes it's really a thing, popping popcorn on a campfire. It's easy to do. Impressive as heck. And the popcorn gets this smoky flavor from the, well, from the smoke. It's crazy.

The other day we explained how to pop popcorn on the stove in a regular pot. It's pretty cool. But this is cooler: Popping popcorn on a campfire. Yes! It's really easy to do but there are three things you need to know first.
First, you need to get heavy duty aluminum foil. Not the flimsy stuff. Get the stuff that says "heavy duty" on the box. Really. I'm not kidding. The other kind will burn. Or rip. Something bad will happen. I know. It all happened to me.
Second, use a neutral-flavored oil like grapeseed or vegetable. It's because the smoke from the campfire is going to flavor your popcorn and you don't want any other flavors fighting it off.
Third, do not (and I repeat, DO NOT) skimp on the oil. It sounds like a lot. But it turns out it is very very important. How do I know? I skimped on the oil. I was like, "Two tablespoons? That's way too much. I'm not putting that much oil in there. No way. I'm just putting 1 teaspoon. Much healthier. Done." But not done. Nothing happened when I took the packets to the fire. Well, by nothing I mean no popping happened. There was a lot of waiting. And a lot of sweating (we did the photoshoot and soon-to-come video on an August afternoon in Florida. Dumb). And a lot of swearing (why the f*ck isn't it f*cking popping?"). And then some unintentional foil-packet-burning. And some stomping on burning foil packets. And then more swearing ("F*ck! F*ck! Ouch! Sh*t!"). But no "Poppety f*cking pop". Don't skimp. Just suck it up and embrace the full-fat experience of campfire popcorn. And thank me for the warning.
O.K., what you need to pop popcorn on the campfire:
popcorn kernels,
neutral- flavored oil (grapeseed or vegetable),
salt,
heavy-duty aluminum foil,
a campfire stick (like this, for roasting marshmallows and wieners and stuff),
and a campfire.
You're all set! Here we go…
Step#1
Get an 18″ piece of heavy duty aluminium foil. Put 2 tablespoons of popcorn kernels in the middle of one half of the foil. Drizzle with 2 tablepsoons of oil (grapeseed or vegetable oil).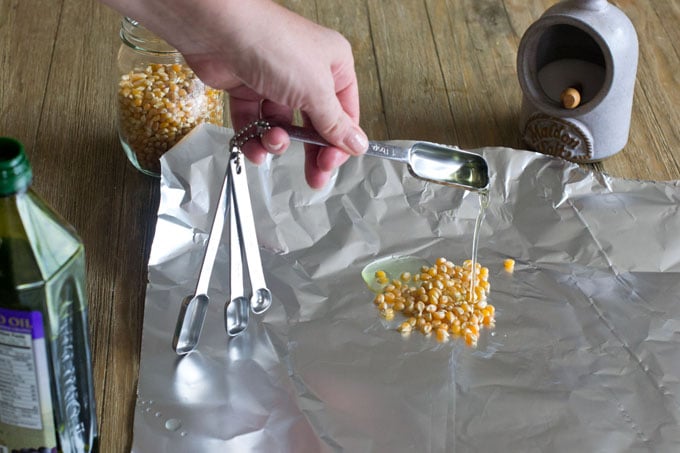 Step#2
Add a sprinkle of salt. Just a pinch or two.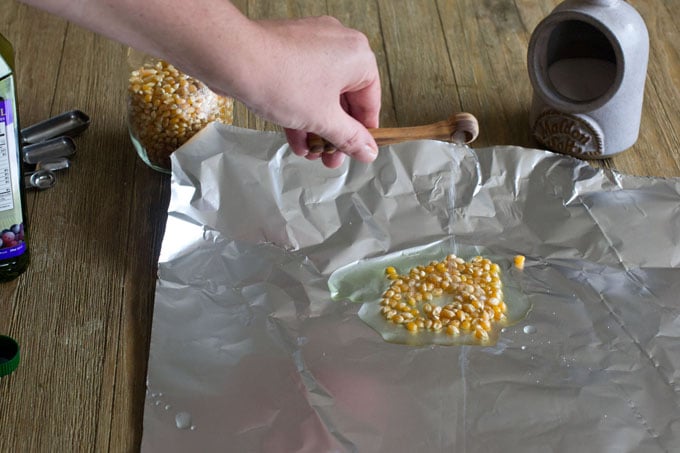 Step#3
Fold the foil over the popcorn and oil.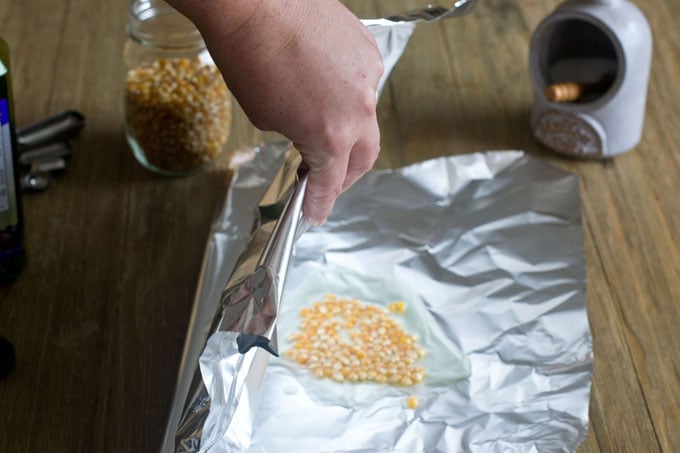 Step#4
Crimp around the edges to make a packet. You want the crimp to go in by a couple of folds. But don't go right to the popcorn kernels. They need room to pop and there has to be space for the popped kernels or else they can tear the foil.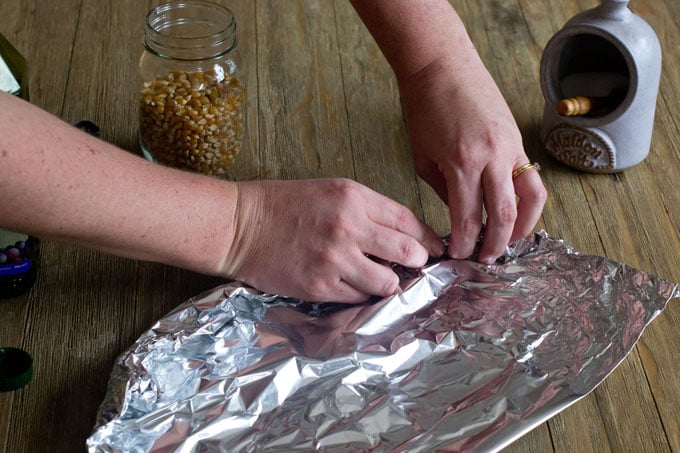 Step#5
At the top edge, make sure there's several layers of foil in a wide band crimped together. This is because you're going to poke your campfire fork through there and you want it to be nice and thick and sturdy so it doesn't rip.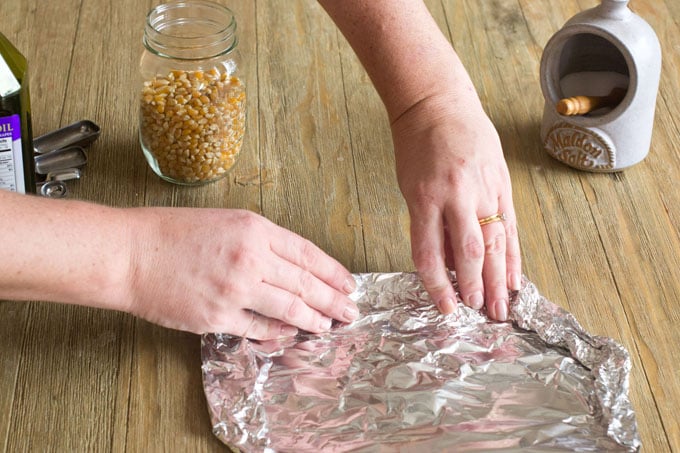 Here's my finished packet.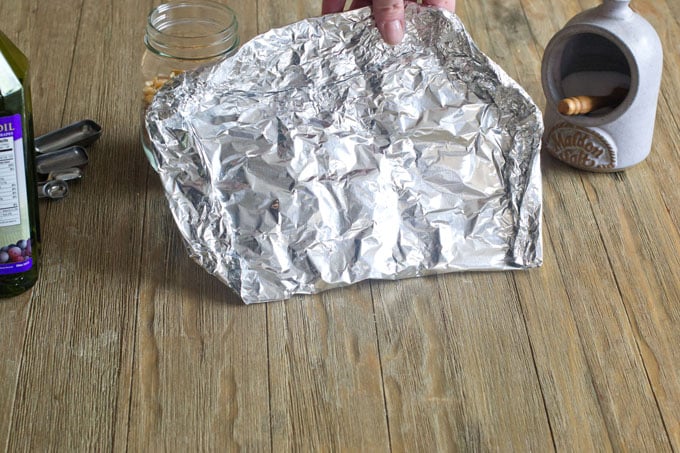 You can make a bunch of these ahead of time so that they're ready to take camping or to your backyard fire pit.
Step#6
Poke the campfire fork through that thick band of foil you created at the top.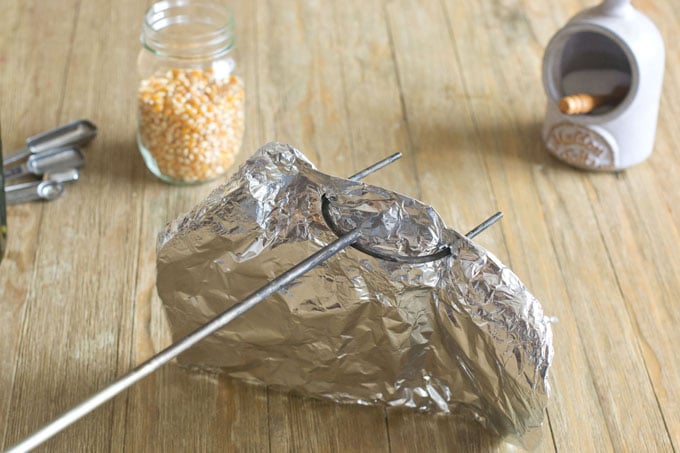 Step#7
Hold it over the flames of the campfire. Don't put it in the flames. You want it above. It's kind of the way I toast a marshmallow if I want it lightly browned evenly all over the outside (not the way I toast a marshmallow if I want it to catch on fire so I can hold my stick in the air and yell, "By the power of Grayskull. I have the power!" What? Doesn't everybody do that?).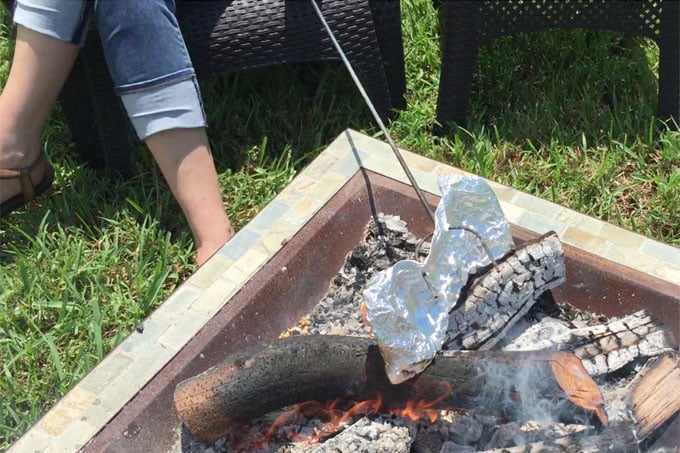 Give it a shake every now and then. But not too much. You don't want the packet to fall off your stick (it sucks when that happens). After awhile you'll hear a pop. And then more pops. The popping won't last that long really because there aren't that many kernels in there. As soon as there's a pause in the popping, get it away from the heat.
Step#8
Open the packet carefully. It's steamy hot in there. You've done so well not having a swear-fest so far. No need to start now. Just eat and be happy.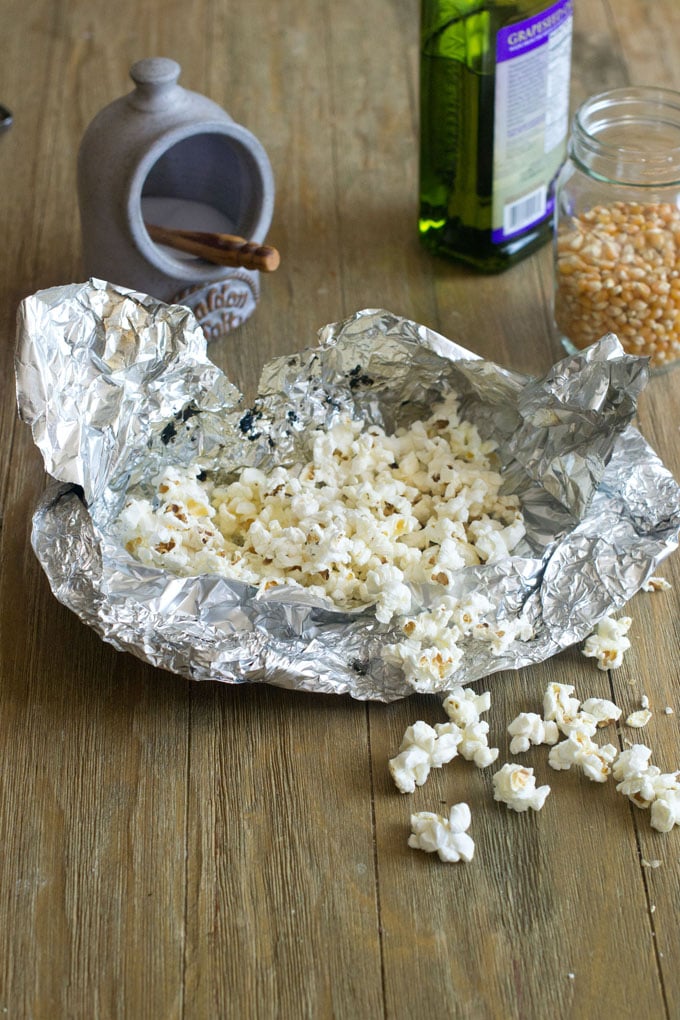 Print
Photos are by Leigh Olson. Photos, article and recipe by Christine Pittman.