Eegads! Who knew there were so many ways to pop popcorn? Are there more? Did we miss any?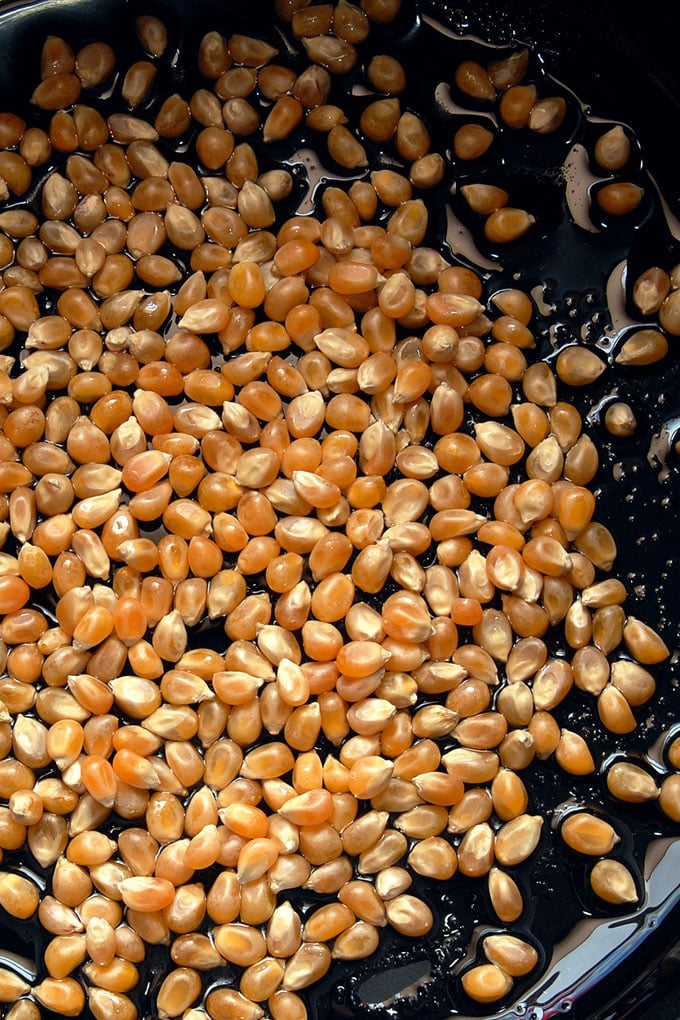 Popcorn is the perfect snack. It's tasty on its own but it can be topped with anything your creative imagination can dream up. And it can be ready in minutes. While I know that most of us grew up eating popcorn that was popped in that oh so familiar microwaveable bag, there are certainly more ways to pop those little kernels into light, fluffy popcorn.
While munching on a bag of buttered popcorn the other day I starting thinking about how many ways there could be to pop popcorn. I've been out searching for a few different ways and I've uncovered 15 Ways to pop Popcorn that you may or may not have thought of before. Let's get poppin'!
#1. Microwave in a Paper Bag
This is probably pretty close to how you're used to popping popcorn, or at least this is the closest method that I grew up with. Except we're staying away from the store-bought bags of popcorn here. Using a brown paper bag eliminates the chemicals and pre-mixed flavors you might find on the supermarket self. Andrew shows us how to do it here, with just a paper bag and some popcorn kernels.
#2. Microwave in a Bowl
Another option for popping popcorn in the microwave is the easy and simple Microwave-in-a-Bowl method. It's similar to the paper bag method but it doesn't require the paper bag. Just a microwave-safe bowl and a dinner plate.
#3. Stove-Top
Want to venture away from the microwave and move on over to the stove? Christine shows us how to do it over here. All you need is a big saucepan with a lid and some oil with a high smoke point.
#4. The Whirley Pop
This is one of my favorite methods for popping popcorn at home. The Whirley Pop sits on top of the stove and requires just a touch of oil. It pops the kernels while you crank the handle. Josh from Two Peas and Their Pod makes his favorite Kettle Corn Popcorn with this method.
#5. Cast-Iron Popping
Since we're still over at the stove, let's dig on into an option that works as a multi-tasker. Need to season your cast iron pot (or skillet) and get the evening's movie popcorn made? Ozark Homesteader shows us how to season cast iron by popping popcorn in it.
#6. Air Poppers
Air poppers (like this one) use hot air and steam to pop those perfect little kernels into snackable popcorn. Air poppers have been around since the 70's and Elizabeth from Guilty Kitchen likes to show off her husband's perfected popcorn popping method with an air popper.
#7. Electric Popcorn Maker
The electric popcorn makers are similar to the Whirley pop and the stove top methods but they use electricity and have an automatic stirrer placed in the bottom to keep the kernels moving.
#8. Electric Skillet
Don't want to turn the stove on? Break out the electric skillet to pop those kernels! I even found a video on how to make popcorn in the Electric Skillet. Kitchen Toys Make Cooking Fun shows you exactly how to do it.
#9. Campfire
Camping out and in need of a snack? It's so easy and fun to pop popcorn over the campfire. Just let the campfire do all of the work while you tell spooky ghost stories. This campfire popcorn is perfect for when you're camping or for when you're out by the fire pit in the back yard. You won't believe the smoky flavor it takes on. Soooo good.
#10. The Grill
During the summer months we love to spend time hanging out around the grill. We grill our main entrees and our desserts, so why not our snacks? What The Popcorn explains how it is done.
#11. Wok Popcorn
I may be stretching here and this may not be that different from a big pot. But…Grace over at Leite's Culinaria shows us that the perfect popcorn is made in a Wok. All you need is a bit of oil, some popcorn kernels and a large Wok with a lid.
#12. Jiffy Pop
This is one of the methods that I grew up with, but didn't use a ton. Jiffy Pop was created in the 1950's as a way to pop popcorn on the stove (or campfire). You buy these ready to heat. You just place the pre-made pan of popcorn kernels and oil over a heat source like a stove top burner and as the kernels heat up they pop and expand the aluminum foil cover.
#13. A Heat Gun
I have no idea why anyone would want to do this but, thanks to IgaNoKitsune on YouTube, there's a video that proves that it works!
#14. Popping Popcorn on the Cob
I always thought that the kernels had to be removed from the cob before you popped them into popcorn. I was wrong! MarvPerk3 shows us that an ear of corn can produce a fabulous snack.
#15. Fried Popcorn
Last but not least, we have Fried Popcorn. Carrie from Bite Sized by Carrie shows us how. This popcorn is packed with butter flavor but doesn't get soggy like other popcorn that has that butter poured all over it.
I had no idea that there were so many ways to pop popcorn! Did I miss any? I dare you to try to think of more!
Angie blogs at Big Bear's Wife where she cooks up her favorite recipes that are based on her southern roots and her traveling adventures. She thinks the best smell in the world is a fully stocked spice cabinet and rejoices in the fact that she turned her "meat and potatoes only" husband into a "steamed broccoli and asparagus lover".