Did you forget to pull out something for dinner tonight? No problem. You can cook chicken and fish straight from the freezer if you follow our method.
I always forget to thaw my chicken breasts. Every. Single. Time. Then dinner rolls around and I'm forced to use the microwave. Defrosting meat in the microwave sucks though. It ends up a bit cooked on the outside while still frozen in the middle.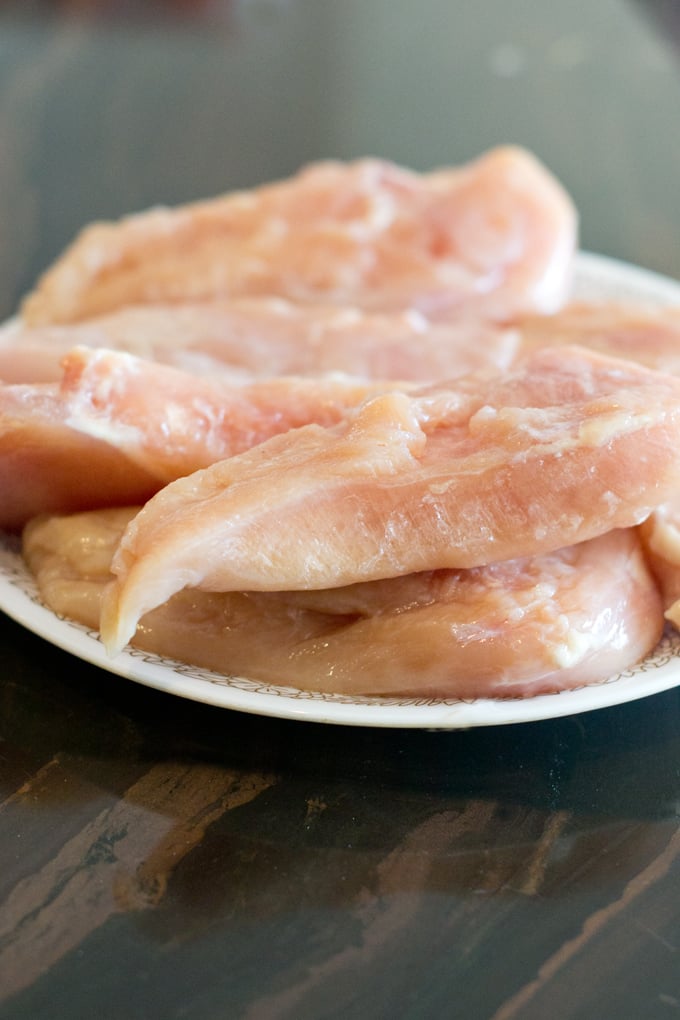 I don't bother anymore, not since I learned that you can cook chicken breasts from frozen. You can even bread them frozen and they end up with a crunchy crust.
I know it sounds odd to cook anything from frozen but really, don't worry. The USDA says it's safe (it's in the Cooking Frozen Foods section). Frozen poultry takes about 1 1/2 times longer to cook than fresh poultry. The USDA also reminds you to remove the giblets from a frozen bird before cooking. These must be cooked separately.
How To Cook Frozen Chicken
Step #1
I prefer to use boneless chicken breasts or boneless thighs when cooking from frozen because they're quicker. What you need to do is freeze the chicken pieces separately. Basically, you get them home from the grocery store and then put them in a single layer on a plate or tray and freeze. Once they're frozen, package them together in a ziptop freezer bag.
Step #2
To cook them, take them out of the freezer and put them on a baking sheet in a single layer. Season with salt and pepper or whatever you'd like. Brush on some sauce or salad dressing.
Step #3
Bake at 425°F until they've reached an internal temperature of 165°F. That will take 1.5 times as long as it would take if you were cooking them fresh. It's about 30-40 minutes for boneless skinless chicken breasts and boneless skinless chicken thighs.
I particularly love this recipe for breaded chicken from frozen. So good.
How to Cook Frozen Fish
Step #1
Frozen fish is even easier. I buy the fish already frozen and individually packaged. Do you know what I mean? You get a big ziptop bag and inside are a bunch of individually plastic-wrapped fish fillets. If you don't get these, you'll need to do what you did for the chicken above: Put the fish fillets in a single layer on a plate or pan and freeze. Once frozen, transfer to a ziptop bag.
Step #2
Get the fish fillets out of the freezer. Tinse off any ice crystals, pat dry and then arrange in a single layer on a pan. Season and/or brush with sauce.
Step #3
Bake at 450ºF. The fillets, like the chicken breasts, will take about 1.5 times as long to cook as when fresh. This depends on the thickness and type of fish that you've got but you're looking at around 15-25 minutes.
Here's my favorite way to cook fish from frozen. It's an oven-baked breaded fish with a very crispy crust.