Make your own Creole Seasoning blend and use it on all sorts of foods. Chicken, shrimp, veggies, soups – the possibilities are endless.
Note: Below you'll find a recipe for a full 1/2 cup (4oz.) batch of Italian seasoning. In addition, in case you're trying to make a recipe that calls for Italian seasoning and you just want to make a little bit, we've also given a recipe below that makes a small batch of just 2 tablespoons. We hope you find this helpful!
Are Creole And Cajun Seasonings The Same?
Creole and Cajun seasonings are often mixed up or combined in recipes and they are both used in lots of Louisiana cooking. While the two have a few common ingredients in common, which you can read more about here, Creole is considered to be more refined, elevated, and complex because there's herbs as well as peppers. It has French, Spanish, Portuguese, German, English, African, and Native American influences. Creole cuisine has ingredients like butter and cream, garlic, onion, bell pepper, celery, basil, oregano, and thyme as the prominent flavors.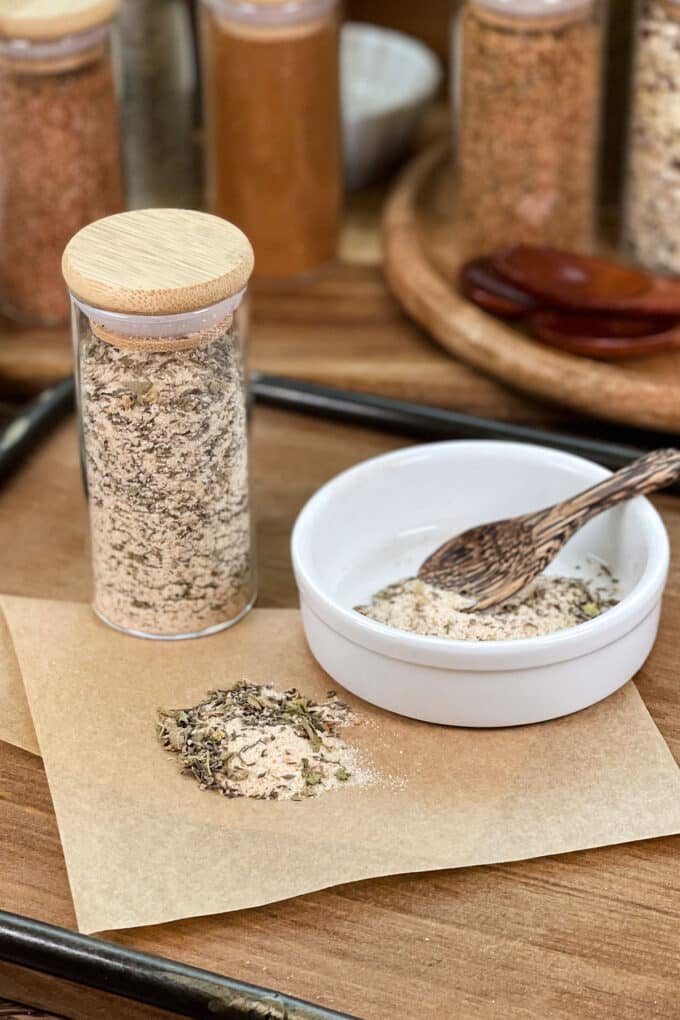 What's In Creole Seasoning?
I make this spice blend with onion and garlic powder, dried oregano and thyme, along with salt, pepper, and a little bit of cayenne. Want more spice? Try adding in some paprika or red pepper flakes.
The salt in this recipe is optional so it's more versatile for your cooking needs.
Note: Cayenne powder is so light and fluffy that it easily flies through the air as dust. If you're sensitive to hot peppers, it's helpful to wear gloves and a mask so you don't irritate the sensitive skin on your hands or in your throat and nose while you mix it up.
Making And Using Homemade Creole Seasoning
To make the Creole seasoning blend, combine all the ingredients until well mixed.
If transferring the mixture to a standard spice jar, a tiny funnel helps move the spices from the bowl to the jar without spilling a drop. I don't recommend storing any spices, especially any that have dark pigments or heat to them, in plastic because the color, flavor, and spiciness can transfer into the plastic. Glass or ceramic air-tight containers are best for keeping spices. I used these spice jars.
Store the Creole seasoning in a cool, dry, dark place up to 3 months.
Making a Small Batch of Creole Seasoning
If you want a full batch of Creole Seasoning in your pantry that you can grab and use whenever, then scroll down to make the full recipe. However, if you just want a small batch to use right now in a recipe that calls for it, or, if you just want to know approximately how much of each ingredient to add directly to something that you're cooking, I have the info for you here.
Here is how to make 2 tablespoons of Creole seasoning, which is a good amount to season 3 pounds of chicken pieces.
To Make 2 Tablespoons of Creole Seasoning, Combine:

• 2 and 1/4 tsp. onion powder
• 1 and 1/2 tsp. garlic powder
• 3/4 tsp. dried oregano
• 3/4 tsp. dried thyme
• 1/2 tsp. salt (optional)
• 1/4 tsp. black pepper
• 1/8 tsp. cayenne

To Add Directly to the Food You're Cooking: Add onion powder as the main ingredient. Then add half as much garlic powder, and then half as much of that of dried oregano and dried thyme. Add a bit of salt, if you'd like, and a touch of black pepper, and a smidge of cayenne.
How To Use Creole Seasoning
There are so many possibilities for using this seasoning! Use it as a dry rub on chicken or seafood. Sprinkle some on veggies or potatoes before roasting. Try it in dishes like gumbo and jambalaya or this New Orleans Style Shrimp. Boost the flavor in rice or soups.
I know you'll find tons of good uses for this one. Enjoy!
Print
Creole Seasoning
Contributor: Christine Pittman
Use this seasoning blend on meats, vegetables, potatoes, and rice. It's good on just about anything!
Fits into a standard (4 oz.) spice jar as written, can easily be doubled or tripled.
Author:

Prep Time:

10 minutes

Cook Time:

0 minutes

Total Time:

10 minutes

Yield:

About

4 oz

. (

1/2 cup

)

1

x

Category:

Spice Blend

Method:

Mix

Cuisine:

Creole
3 Tbsp

. onion powder

2 Tbsp

. garlic powder

1 Tbsp

. dried oregano

1 Tbsp

. dried thyme

2 tsp

. salt (optional)

1 tsp

. ground black pepper

1/2 tsp

. ground cayenne pepper
Instructions
In a medium bowl whisk together onion powder, garlic powder, oregano, thyme, salt, black pepper, and cayenne until well combined.

Transfer mixture to an air-tight container. Store up to 3 months in a cool, dry, dark, place.