Yes, you can cook zucchini whole. And as you'll see below it turns out perfectly tender when you make it this way.
Today we are talking about what may be the easiest way to cook zucchini: grilling or broiling it whole. This ingenious method is completely foolproof and results in perfectly tender – but not mushy – zucchini every time. You can then use the cooked zucchini in countless different ways. This may well become your new favorite method of cooking it!
There are so many different ways to cook zucchini, from baking to sautéing to air-frying. But for every one of these methods, the first step is usually to slice the zucchini into spears or rounds. What about cooking zucchini whole? Is that even possible?
As a matter of fact, it is possible to cook a whole zucchini and this method actually results in some of the tastiest zucchini you can eat. What I especially love about this method is not only how easy it is, but also how many different ways you can use the zucchini once it is cooked.
How To Broil
To cook a whole zucchini, the best method is the simplest: use your oven's broiler. The broiler is like an indoor, upside down version of a grill because it heats food from the top down rather than bottom up like on a grill.
Because the heat is only coming from the top when broiling, you want to make sure that your food is close – but not too close – to the heating element. For this recipe, adjust the racks inside your oven so that the top rack is 6 to 8 inches from the heat source. Do this step before turning on your oven, however!
Some people leave their oven door slightly ajar – not fully open, but just cracked – when using the broiler. Cracking the oven door can help prevent the oven from overheating – which might cause it to shut off – as well as allowing excess moisture to escape. Because zucchini contains so much water, it gives off a lot of moisture, so cracking the oven door during broiling will help your zucchini brown and even get a little char in places.
Broiling a whole zucchini is as simple as can be. Rub the outside of the vegetables with some olive oil, season them with salt and pepper and then place them under the broiler. After approximately 8 to 10 minutes, you will find that the zucchini is softened, lightly charred and ready to slice and eat. That's the whole process. Can you believe how easy that is?
How To Grill
As I mentioned, broiling is essentially indoor grilling. So it makes sense that you can use this same approach to cook whole zucchini on the grill. This is a terrific method if you are already using the grill to prepare the rest of your meal.
To grill zucchini whole, simply rub the squash with olive oil and season them with salt and pepper as instructed in the broiling recipe. Then put the zucchini straight onto the grill grates over medium-high heat. Grill the zucchini over direct heat until they get charred and blistered on the first side, which takes 4 to 6 minutes. Turn them and continue to cook until the second side is charred – at most a few additional minutes. Again, it is that simple and easy.
Do You Serve It Whole?
You may be wondering how to serve the zucchini once it is cooked. The most straightforward way is simply to slice the cooked squash into 3/4-inch rounds and serve it warm with a drizzle of olive oil and a pinch of flaky sea salt as an easy side dish. A squeeze of lemon would be a nice addition as well, or, if you want to get a bit fancier, toss the zucchini rounds with some sliced fresh herbs like mint or basil. (Mint and zucchini is a match made in heaven!)
Another approach would be to slice the zucchini into spears and serve it at room temperature alongside other roasted vegetables, such as bell peppers, mushrooms, carrots or cauliflower. Drizzle this roasted vegetable platter with some good quality olive oil and Balsamic vinegar and you have a beautiful dish for a potluck, cookout or other summer gathering.
Or, if you would like to turn your whole cooked zucchini into a vegetarian main course, slice the squash thinly and toss it with cooked pasta, fresh ricotta and sliced fresh herbs. This is one of my favorite light summertime meals.
These are just a few suggestions, but the possibilities are endless. Zucchini's mild flavor makes it extremely versatile, so get creative!
Print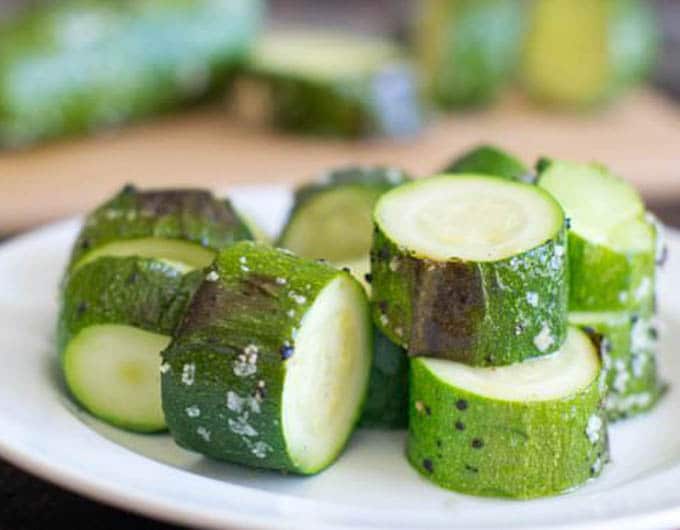 How To Cook Zucchini Whole
Contributor: Christine Pittman
Yes, you can cook zucchini whole. And as you'll see below it turns out perfectly tender when you make it this way.
Author:

Prep Time:

5 minutes

Cook Time:

10 minutes

Total Time:

15 minutes

Yield:

4

servings

1

x

Category:

Side Dish

Method:

Broil

Cuisine:

American
4

small to medium zucchini

2 Tbsp

. extra-virgin olive oil

1 tsp

. kosher salt

1/2 tsp

. freshly ground black pepper
Instructions
Arrange your oven racks so that the top shelf is 6 to 8 inches from the heating element. Preheat the broiler.*
Arrange the zucchini on a plate and drizzle the olive oil over the vegetables. Turn the zucchini to coat them with the oil on all sides. Season each zucchini with 1/2 teaspoon of salt and 1/8 teaspoon of pepper.
Transfer the zucchini to a broiling pan, baking sheet or an oven-proof skillet and set the pan under the broiler. Broil the zucchini until charred and blistering in spots, 8 to 10 minutes.
Remove the zucchini to a cutting board. Trim and discard the ends. Cut the zucchini into thick or thin rounds, depending on how you plan to serve it. Serve warm or at room temperature.
Notes
*Preheat the broiler to 500℉ if you have temperature options.