Kale can be a bit tough to eat raw in salads. But if you know how to pamper it and prepare it, it becomes the perfect salad green. Learn how here.
A kale salad for lunch sounds so good, doesn't it? Stop right there, you salad-loving fiend. Not so fast. Your mouth will hate you if you pop in a raw piece of kale.
Kale needs to be babied, coddled even. You have to take time to prepare the kale. And only then will it repay you with a delicious salad. Here are some tips.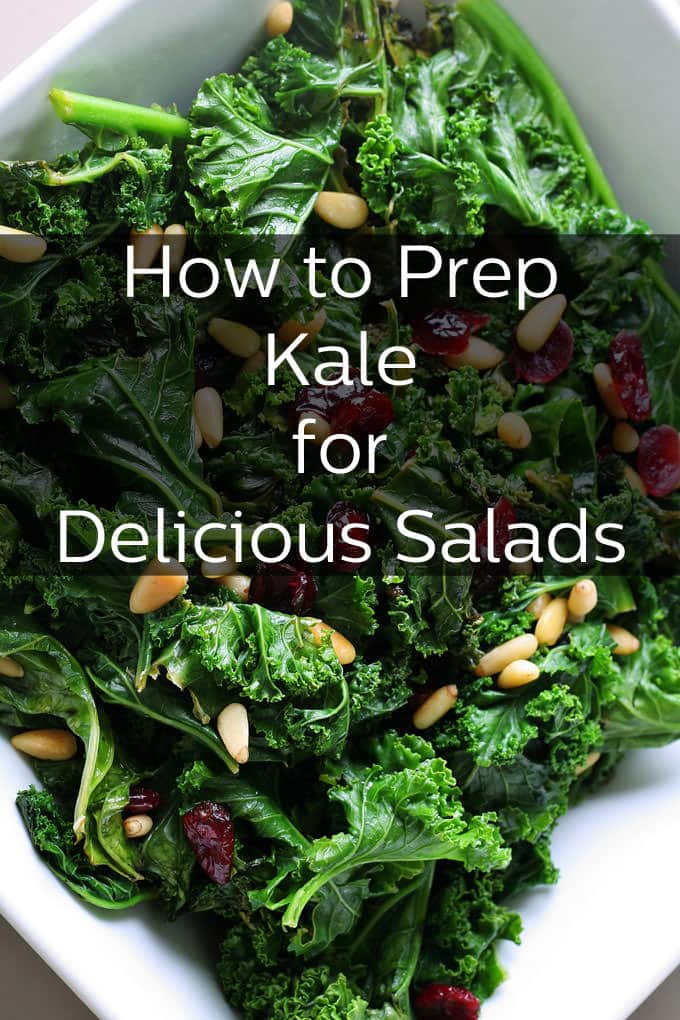 Tips For How To Prepare Kale
Here's some tips for preparing kale for salads. They make a big difference in the tenderness of this tasty green.
Cut It Up
Kale has a ton of fiber. That's one of its great health benefits. But it can also make you look like a cow gnawing on a big piece of kale. You have to tear or cut it into thin little pieces.
Remove The Stem
Remove the kale's stem. Only use the leaves. Trust us. The stems are almost impossible to eat. You shouldn't worry about hurting your jaw when eating salad.
Massage It
This sounds incredibly silly but it makes a huge difference because it breaks down some of the plant's fibrous cells.
Massage your kale with a little lemon juice and salt until it starts to soften, usually about 3 minutes. You can instead use a bit of your dressing. After you add just enough dressing, massage the leaves. Rub them between your fingers. You won't hurt the kale, so go ahead press away. After you've given an impressive massage, let that bad boy sit for a minimum of 5 minutes. It'll soften the kale even more.
Choose Your Dressing Wisely
I like vinaigrettes because they're more acidic than other dressings. The dressing's vinegar helps break down the leaves even more. I'll do anything to make kale leaves more tender. Here's our how-to guide for making your own vinaigrettes at home.
 Curly Kale Is Forgiving
Good old kale is always a hit, but if you want a more forgiving variety, pick up some curly kale. It's not as tough and still packs a flavorful punch. Note also, if you get your hands on baby kale, there is no need to massage it. It's good to go right from the start.
Great Kale Salad Recipes
Now that you know what to do, it's time to start including kale in your salads. Here's a few recipes to try.
Rainbow Salad – include veggies of every color on a bed of kale for this salad recipe
Beet and Kale Salad – this salad is simple, but the homemade dressing makes all the difference
Taco Salad with Kale – for something more hearty, try this taco salad with black beans
This post originally appeared in November 2016 and was revised and republished in January 2023.