How to Make a Vinaigrette
Get our your greens because we've got the perfect classic vinaigrette over here today. With tons of tips and ideas too! Our Salad Dressing topic is brought to you by Stonyfield Organic. Gotta love that healthy tasty yogurt!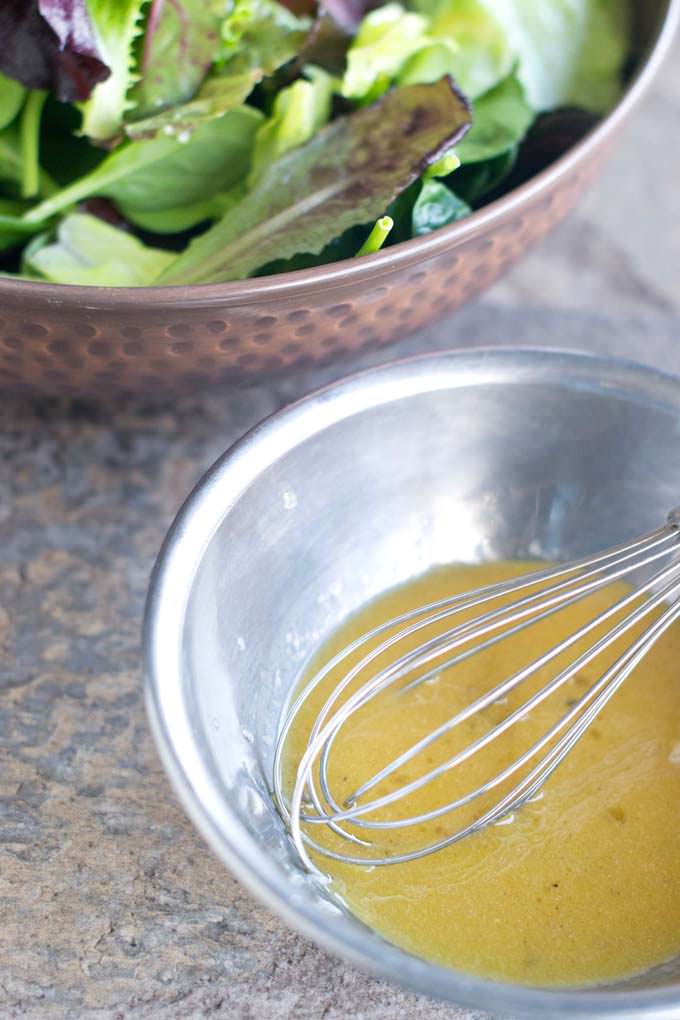 A classic vinaigrette, for dressing a salad, is made of 1 part acid (vinegar or lemon juice, usually) to three parts oil. That gives you a good balanced flavor that isn't too tart or astringent. That's the basics.
Get your acid in place:
First, measure your acid into a blender, bowl or jar.
Flavor it:
Add some seasonings. Go in with salt and pepper for sure. Minced fresh garlic or garlic powder. You can add some fresh ginger for a more Asian flavor. Fresh or dried herbs of all kinds are great. Basically, any seasoning or flavoring ingredient that you like. Add a little to start. You can always taste it at the end and add more.
Emuslifiers:
Next, add an emulsifier. This isn't strictly required. You can make a good vinaigrette without one. What does the emulsifier do? It helps to keep the oil and vinegar attached to each other so that the oil isn't just floating on top of the vinegar. You can get a salad dressing to emulsify without adding an emulsifier but it won't stay bound together for as long.
Emulsifier choices:
a raw egg or raw egg yolk (if you're worried about the raw aspect, you can buy pasteurized eggs)
mustard (Dijon or a whole grain mustard are best)
honey
maple syrup
mayonnaise
yogurt
Oil it up:
Finally, add in your oil. This can be an oil with flavor, like an infused oil or walnut oil or olive oil. Or it can be a basic flavorless oil like grape seed or vegetable oil.
If you're using a blender, start it running and slowly drizzle in the oil. This method tends to stay emulsified and stable for the longest.
If you're using a bowl, get out your whisk. Put the bowl on a kitchen hand towel so that it's less likely to move around. Start whisking the vinegar and then very slowly drizzle in the oil.
If you're using a jar, pour the oil into the jar and put the lid on. Shake it lots.
Taste Test:
It's time to taste your vinaigrette. But don't dip a spoon in there to taste it. It's going to taste way too strong and awful. Get yourself a salad leaf and dip it. Add more seasonings if needed. If it's too tart, add some honey or a pinch of sugar. If it's too sweet, a bit more vinegar (you'll need to whisk, shake and blend again).
If your vinaigrette feels like it's just missing something…
If it feels like it's just missing something, there are a couple things you can do. If your main acid was a vinegar, adding a tiny squeeze of lemon or lime juice can really brighten it all up. Another ingredient that quickly transforms salad dressing is fish sauce. Just a tiny tiny drip. The dressing won't taste Asian at all. The fish sauce just adds a meatiness. Anchovy paste, just a dab, will do the same thing. Soy sauce works less well but is a good option, as is tomato paste.
There you have it. A perfect classic vinaigrette. We've given you some basic amounts below, but experiment and play around. We know you're going to create some amazing things!
Print
Disclosure: Stonyfield has provided giveaway items and social media promotion in exchange for mentions in the Salad Dressing Series. Also, the senior editor of this site is a paid brand ambassador for Stonyfield. All opinions are ours and honest, always.