No-Egg Caesar Dressing
A garlicky homemade Caesar dressing that uses Greek yogurt instead of eggs. It's creamy and delicious and you won't be able to tell the difference. Pinky swear. Our Salad Dressing Topic is brought to you by Stonyfield Organic. Gotta love all that healthy yogurt. Yum!
Once, a co-worked of mine (Alana) discovered that her boyfriend (Billy) knew me because of Caesar salad. Here's how that happened…
One day, Alana was telling Billy that she was addicted to her boss's (my mom's) Caesar salad. That it was THE BEST THING she'd ever eaten and that she ate several servings every shift. He said, "Nope, not possible. My friend's mom makes THE BEST Caesar salad, hands down." He went on to tell her that this friend's mom had a deli in Lockport, Manitoba. Alana was like, "Wait a minute. My boss used to have a deli in Lockport. Is your friend's name Christine?" "Yes!" "That's my boss's daughter!"
Yes, it was me and yes, they were both talking about the same Caesar salad. And yes, it really is that good.
Why is it so good? It's all about the dressing. My mom uses a homemade Caesar salad dressing, whizzed up in a blender, with oil and eggs, anchovies, Worcestershire sauce and lots and lots of garlic. She didn't put Parmesan cheese in the dressing, preferring to have lots of it garnishing the top of the salad.
I bet you want her recipe, right? I can't give it to you. It's a family secret. But, I invented my own twist on her version that uses Greek yogurt instead of eggs. She said it's o.k. if I share this one.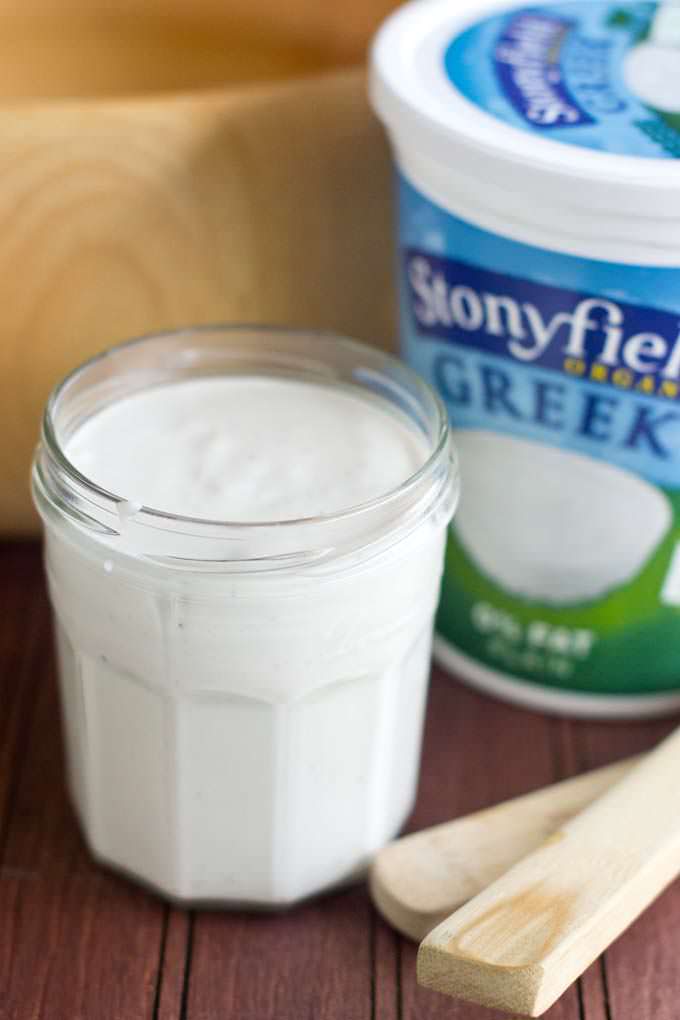 Why make it with yogurt instead of eggs? Honestly, I love Caesar dressing so much that I want to eat a ton of it. But the stuff is fattening. By cutting out the eggs and subbing in the yogurt, the fat goes way down and the healthiness goes way up. Isn't yogurt miraculous? Cutting out a lot of the oil helps too.
This healthy Caesar dressing has all the intensely good garlicky flavor of my mom's original but I can dip carrots in it every day without any guilt. Yes! I do that! It makes a fantastic veggie dip. Also a great alternative to mayo on a sandwich or in chicken or salmon salad. What else do I do with it? Toss it with hot cooked pasta as a sauce. Toss it with cold-cooked pasta to make a pasta salad. Dribble a bit on top of a cooked steak or chicken breast. Toss cooked broccoli or cauliflower in it. Really, a batch of this stuff never lasts more than a day or two in my fridge. So now you know why I needed to make it healthier and cut out those eggs and oil.
Here's the recipe! Enjoy!
Print
Disclosure: Stonyfield has provided giveaway items and social media promotion in exchange for mentions in the Salad Dressing Series. Also, the senior editor of this site is a paid brand ambassador for Stonyfield. All opinions are ours and honest, always.