French Dressing
This homemade French dressing has lots of tang, lots of sweetness and good savory flavors, just like the stuff from the bottle, but way better. Our Salad Dressing topic is brought to you by Stonyfield Organic. Mmmm…their yogurt is so so good.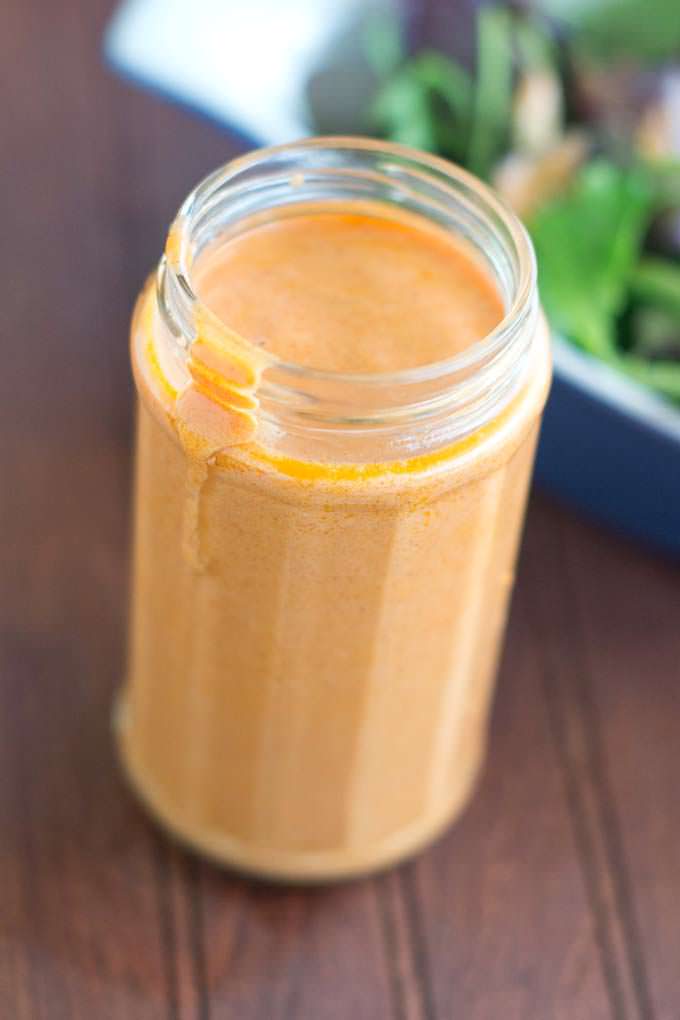 I'll admit that French  Dressing is not my favorite. Actually, I don't like it at all. It's somehow too sweet without much other depth. So when we decided to make our own version of French dressing we knew we had to make it better somehow. And we did.
French dressing often has paprika in it, which is partly why it has its distinctive color. We decided to switch out the regular paprika for some hot Hungarian paprika. This stuff is not super spicy but does have way more flavor than regular paprika. What it does in the dressing is balance out some of that sweetness with a touch of heat.
Don't be tempted to use smoked paprika here. Or if you do, only use it for a partial amount. Maybe just 1/4 teaspoon at most and the rest regular paprika or the hotter stuff. If you used the smoked for the full amount it would be way too overpowering.
The other ingredients in this dressing are mayonnaise, ketchup, oil, cider vinegar and some seasonings. You can definitely swap out the mayonnaise for yogurt. But know that the excessive vinegar will sometimes make it curdle. We found that adding mayonnaise and blending again smoothed it back out.
Print
Disclosure: Stonyfield has provided giveaway items and social media promotion in exchange for mentions in the Salad Dressing Series. Also, the senior editor of this site is a paid brand ambassador for Stonyfield. All opinions are ours and honest, always.