Get perfectly cooked chicken every time, when you learn how to sous vide chicken. Times and temperatures for various cuts included.
Chicken is one of the most commonly cooked proteins but we all seem to have learned to deal with dry, bland meat… but no more! With sous vide you can turn out perfectly cooked chicken every time!
Once I had sous vide chicken I never turned back, I can't even imagine eating it any other way anymore.
Why Sous Vide Chicken?
It always turns out juicier! This isn't just opinion, it's science. With sous vide you can cook chicken at a lower temperature and it'll still be just as safe to eat. So instead of 165°F you can cook it at 140°F… in beef terms, that's going from a well-done steak to a medium-rare steak, they are barely the same meal!
It's easy for food prep! Because the chicken is in a sealed bag and cooked to pasteurization, if you chill it afterwards you can keep it in the fridge for a week or two. This means you can spread out your food prep even further and always have some tasty chicken in the fridge ready to be heated up and enjoyed.
It's healthier! What's the first step in most chicken recipes? "Add oil to the pan". But with sous vide it's not needed, especially if you skip the sear or sear under the broiler. Removing all the oil is very important for many people out there.
It's always perfect! With sous vide you are cooking at the temperature you want the food at, this means there's no stress about pulling it out at the "right" time. Once the chicken is pasteurized it's ready to come out…or you can wait 15 more minutes…or an extra hour…you have a few hours of leeway so when life throws you a curveball and delays dinner by an hour, you don't have to stress out!
It's completely replicable! Because sous vide is so exact, you can easily tweak the recipes to meet your exact needs. Prefer it a little more done, then just increase the temperature a few degrees. There's no more guessing, and it will turn out amazing, and exactly the same, every time!
It's easy to cook directly from frozen! If you portion, bag, and freeze your chicken ahead of time you can easily grab a bag and pop it into the sous vide machine. It takes about 50% longer but there's no need to thaw, so if you forget to take it out a day early (like I ALWAYS forget to do) you don't have to stress!
It's all hands off! Sure, seeing a recipe that takes 2 to 3 hours sounds intimidating, but the hands-on time is only a few minutes. Do you know what I do while the chicken is cooking? Do yard work, play video games, read a book, take the dog for a walk, or just sit and relax! All sous vide recipes should have the instruction, "place the chicken in the sous vide machine and then go enjoy life for a few hours knowing your chicken will be ready when you are!"
How To Sous Vide Chicken
Chicken is one of the easiest things to sous vide. It works well with both bone-in and boneless, skin-on and skinless. It improves breasts, thighs and wings and can even be used on whole chickens when they are spatchcocked.
Sous viding chicken follows the standard sous vide process.
Step #1
Trim and portion the chicken. Get the chicken ready like you normally would. I personally don't do too much but I know some people like to trim the fat, remove the skin, or cut it into serving portions – whatever you would normally do when you are cooking chicken using other methods.
Step #2
Season the chicken with salt and spices. Most spice rubs you use with chicken also work well with sous vide. You may want to go a little lighter than normal because sous vide can intensify the flavors occasionally. You'll also want to avoid raw garlic, onion, or ginger because the low temperature means it'll still taste raw at the end. Woody herbs like rosemary, sage, or thyme can also be added to the bags.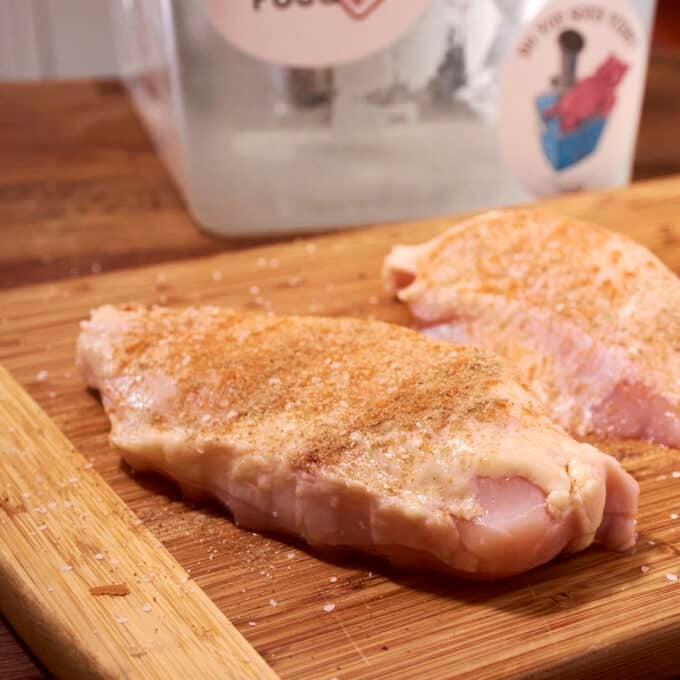 Step #3
Bag the chicken. Place the chicken in a sous vide bag or Ziploc Brand Freezer Bag and seal it. It should be in a single layer, otherwise it'll affect the cook times. Even though sous vide means "under pressure" the vacuum doesn't matter nearly as much as the precise temperatures.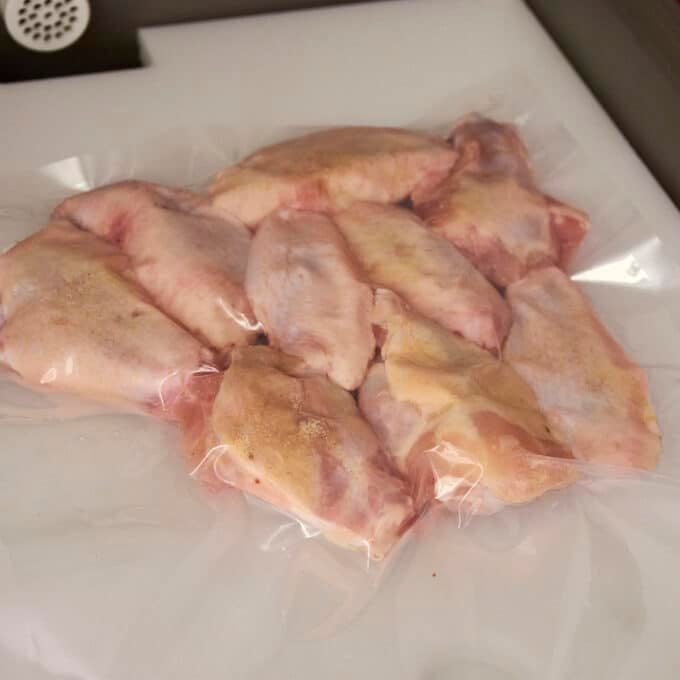 Step #4
Preheat the sous vide machine. I have my preferred chicken temperatures below, but they usually range from 140°F to 160°F. As mentioned above, sous vide is safe at lower temperatures because it is so precise. Try a few different temperatures and find what works best for your preferences, then you can replicate it every time!
Step #5
Cook the chicken until pasteurized. This is the most important step! Chicken needs to be cooked until it is safe to eat. This can be done by heating it to 165°F and held for 1 second, or to 140°F and held for 30 minutes. The timing in my sous vide recipes are designed to ensure your food is cooked long enough to be pasteurized, and more time and temperature options are provided below. This is also why you want to ensure the chicken is in a single layer, otherwise the middle may not be safe to eat. If you are curious, here is more about sous vide chicken and safety.
Step #6
Sear the chicken (optional). The final step is to sear or finish the chicken. This is completely optional, though searing does add nice color and texture. I tend to sear when there is skin, or if the chicken is the star of a dish. For things like stir fries, Chinese Garlic Chicken, or Chicken Parmesan I don't worry about it. Before searing, make sure to thoroughly dry off the chicken so it will brown as quickly as possible. Remember, your chicken is already perfectly cooked, don't sear it too long and ruin that!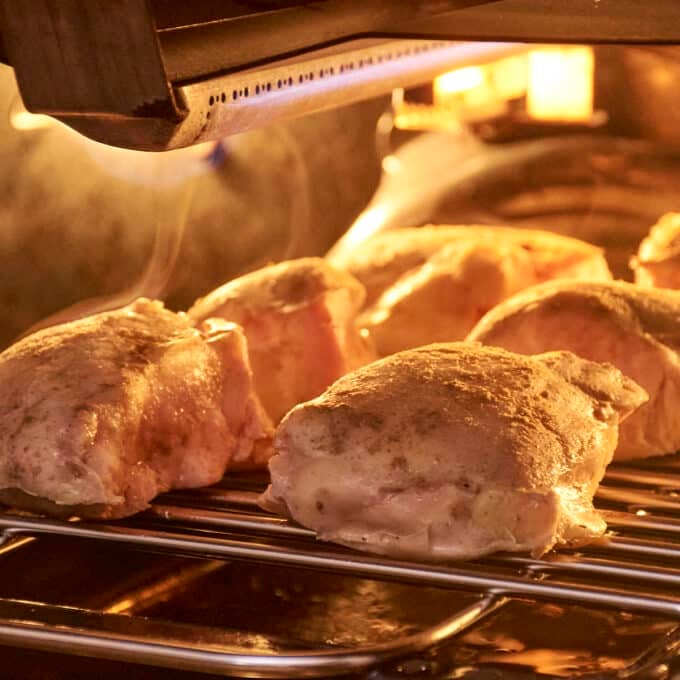 Sous Vide Chicken Time And Temperatures
Remember that the below times are the minimum time you should cook them. As mentioned, for most chicken preparations you have an extra hour or two before the quality begins to degrade, and even then it happens slowly. I've enjoyed chicken breasts sous vided for 10 hours… they aren't as good as they are after 2 hours but they were still great for dinner!
| | |
| --- | --- |
| 1" Thick Chicken Breast | 140°F for 100 minutes or 149°F for 60 minutes |
| 2″ Thick Chicken Breast | 140°F for 3 hours or 149°F for 2 hours, 20 minutes |
| Chicken Thigh or Leg | 148°F for 4 hours |
| Wings, With Bite | 140°F for 2 hours |
| Wings, Tender | 156°F for 2 hours |
| Whole Chicken, Spatchcocked | 145°F for 4 hours |
Enjoy!