Skip the takeout and make Sous Vide Chinese Garlic Chicken at home!
Garlic chicken is one of my favorite dishes to get from our local Chinese places, and making it at home is an easy and fun way to tweak it to my own preferences.
What Kind Of Chicken Should I Use?
This recipe uses chicken breasts but it would also work well with thighs, just increase the sous vide temperature to 148°F (65°C) and add an extra thigh or two if they are smaller than the breasts would be.
Either bone-in or boneless will work great, but because you are slicing it at the end it's usually easier to just start with boneless.
Completing Your Sous Vide Chinese Garlic Chicken
The sauce calls for some red pepper flakes because my local spot makes it pretty spicy, but feel free to reduce or eliminate them from the recipe if desired.
I love to serve this chicken over rice with some steamed or sautéed vegetables on the side. Snow peas, carrots, and broccoli are my favorites!
Why Is The Temperature So Low?
Traditionally cooked chicken needs to be cooked to 165°F (74°C) but with sous vide you can hold it at your desired temperature long enough to make it just as safe to eat. This means you can cook them much lower, resulting in a very tender and juicy chicken.
For this recipe I love 140°F (60°C) as it mimics the consistency of a traditional velveted chicken that is used in Chinese restaurants.
Print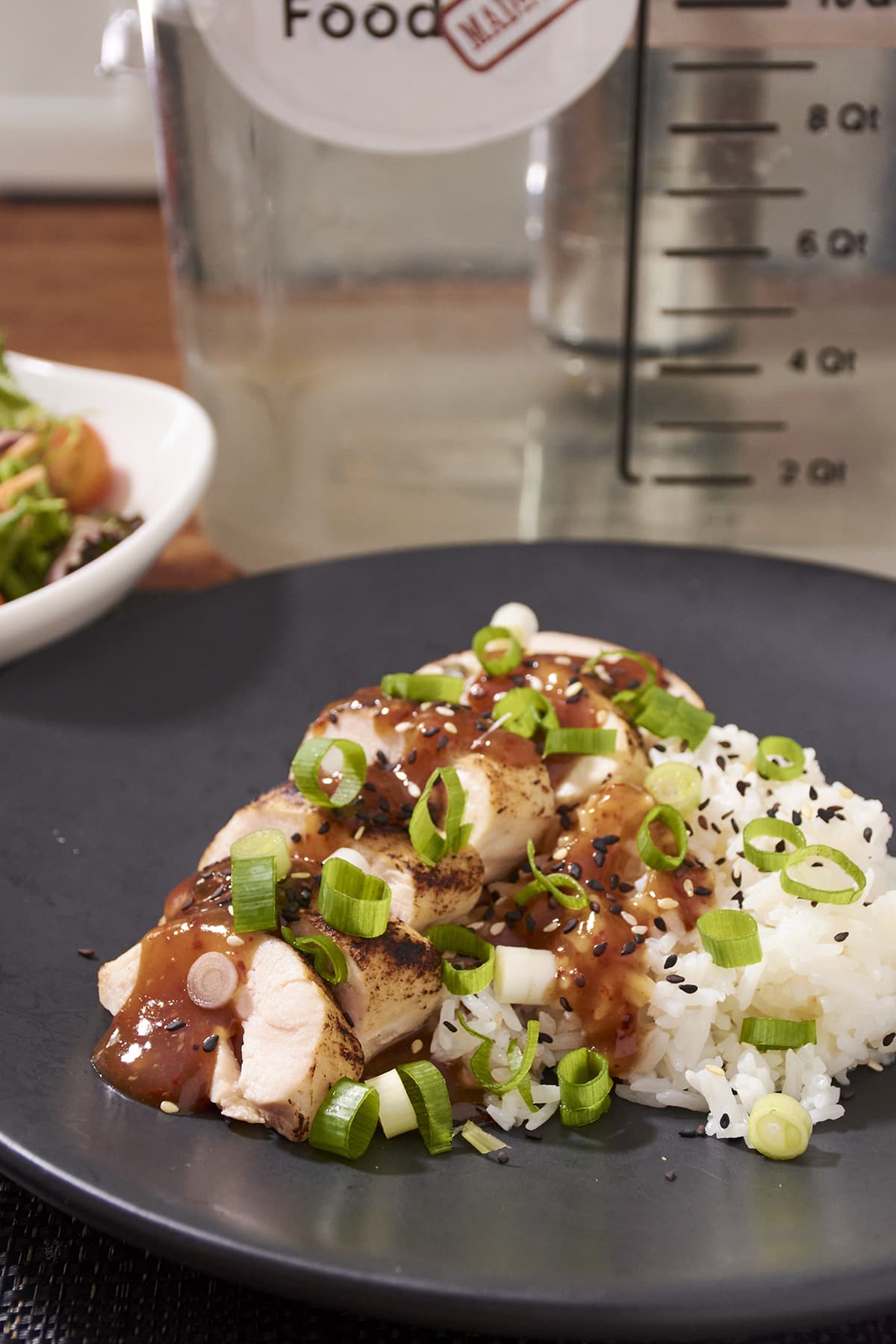 Sous Vide Chinese Garlic Chicken
Contributor: Jason Logsdon
Skip the takeout and make Sous Vide Chinese Garlic Chicken at home!
Author:

Prep Time:

5 minutes

Cook Time:

2 hour 30 minutes

Total Time:

2 hours 35 minutes

Yield:

4 servings

Category:

Entrée

Method:

Sous Vide

Cuisine:

Chinese
4 (1 – 1.5 in.) thick chicken breasts

1 tsp. Chinese five spice powder, optional

6 cloves garlic, minced

3 Tbsp. soy sauce

2 Tbsp. rice vinegar or white wine vinegar

1 Tbsp. honey

1/2

to 1 tsp. red pepper flakes, optional

1 scallion, finely sliced

1 Tbsp. sesame seeds
Instructions
Preheat a water bath to 140°F (60°C).

Sprinkle the chicken on all sides with the salt and Chinese 5 spice powder.

Place in a sous vide bag in a single layer and seal it.

While the chicken is cooking, make the sauce.

Add the garlic, chicken stock, soy sauce, rice vinegar, cornstarch, honey, and red pepper flakes to a pot and stir well to combine.

Heat over medium to medium-high heat and let thicken and reduce to your desired consistency then remove from the heat.

Remove the chicken from the sous vide bath and cut into slices.

Toss the chicken with the sauce and serve with the sliced scallion and sesame seeds on top.