Sous Vide makes chicken thighs even more juicy than usual. Find out how to use this fantastic method.
It seems like everywhere you turn people are serving chicken breasts, but I've always found the thighs to be so much more flavorful and juicy! This is magnified when they are cooked with sous vide!
I love the versatility of chicken thighs as well. They make a great topping for grain bowls when sliced into strips. They can be used in the sous vide chicken parmesan recipe or cut up for stir fries. Sous Vide Chicken Thighs can also be finished on the grill and served with a side of corn on the cob and mac and cheese!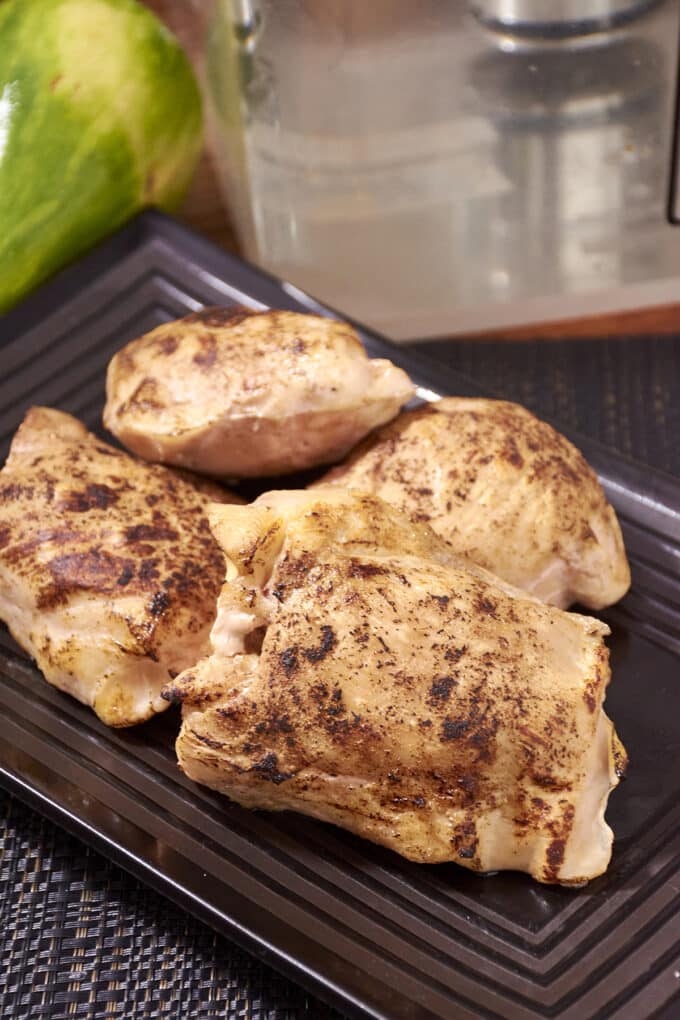 What Kind Of Chicken Should I Use?
This recipe works great with boneless, skinless thighs when you are in a hurry, skin on when you want a fancier look, or even whole chicken leg quarters.
What's The Temperature And Timing For Sous Vide Chicken Thighs?
For my dark meat I love 148°F. It maximizes the juice while still coming out tasting fully cooked. There can be a little pink at that temperature, especially if you leave in the bones, but it's still perfectly safe. If you want to eliminate the pink you can increase the temperature to 156°F or 160°F, though it will turn out drier.
For timing, I recommend 4 hours. This gives them time to tenderize slightly, but most boneless, skinless thighs can be done in as little as an hour depending on the thickness.
Print
Sous Vide Chicken Thighs
Contributor: Jason Logsdon
Author:

Prep Time:

5 minutes

Cook Time:

4 hours

Total Time:

4 hours 5 minutes

Yield:

4-6 servings

Category:

Entrée

Method:

Sous Vide

Cuisine:

American
4 to 6 chicken thighs

1/4

tsp. ground coriander

1 Tbsp. canola oil for searing
Instructions
Preheat a water bath to 148°F (65°C) or your desired temperature.

Sprinkle the chicken on all sides with the salt, garlic powder, and coriander.

Place in a sous vide bag in a single layer and seal it.

Remove the sous vide chicken thighs from the bag, pat them dry with a paper towel or dish cloth.

Heat a pan over medium-high heat.

Add the canola oil and quickly sear the chicken thighs for about 1 minute per side, just enough time to develop some color in the coating.

Remove from the heat and serve.