Smoked Chicken Thighs are a real treat. You'll want to double (or triple) the batch because there are so many dishes you can make with them.
Served as a meal with picnic side dishes or used as an ingredient in tacos, pizza, nachos, or lasagna, these juicy, tender, smoked chicken thighs will quickly become a family favorite. They're super easy to put together.
Since the smoking time is between 2 to 3 hours depending upon the size of the thighs, I like to double or triple the recipe so I have extras to freeze to use at a later date.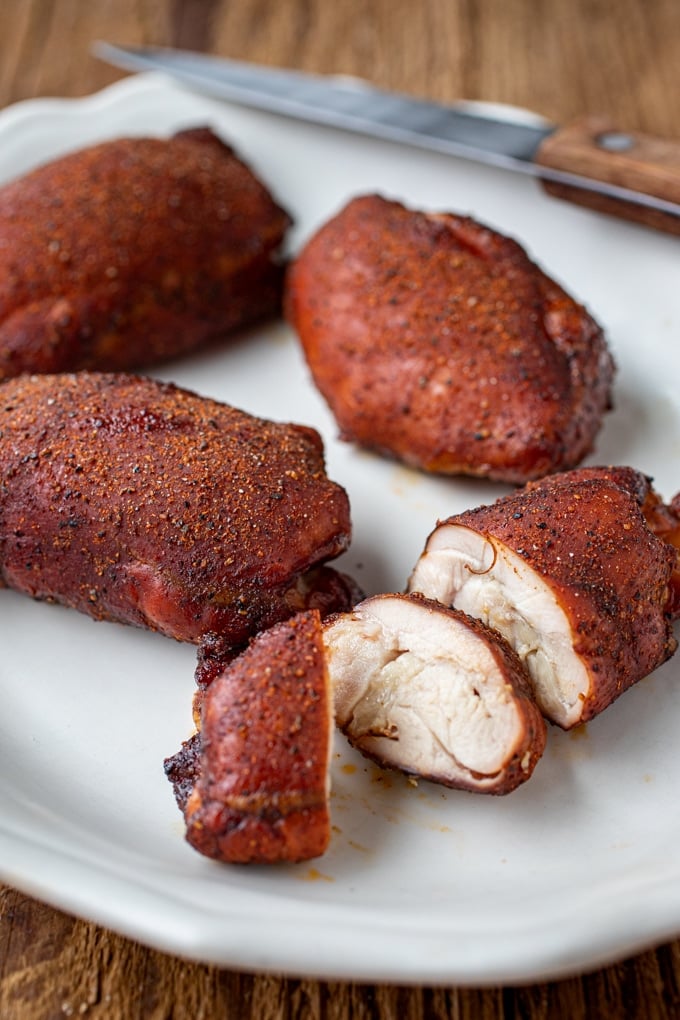 What Type Of Wood To Use For Smoking?
There are a couple types of wood that work well with chicken including alder, cherry, hickory, and pecan. My preference for thighs is applewood. It has nice subtle, sweet taste that doesn't overpower the thighs and works so well with the paprika and brown sugar in the spice blend.
If you'd like to learn more about the flavors of different type of woods available, here's an article that outlines different types of wood, flavors, uses, and even suggests wood that you shouldn't use.
Why Boneless Skinless Chicken Thighs are Great for Smoking
I like to use boneless skinless chicken thighs for the simple reason that chicken skin doesn't get crispy during the smoking process. Yes, there are ways to achieve a crispy skin like removing the skin from the thigh and scraping off the excess fat and then reassembling before smoking or broiling the thighs in the oven once they've been smoked. Honestly, I just don't think it's worth the extra work. Hence boneless, skinless chicken thighs.
How Do You Prepare Chicken Thighs For Smoking?
Although boneless, skinless thighs have had the skin removed, often times there's still some big chunks of fat and skin that remain. To remove these extra bits unroll the thighs, trim the excess fat and skin with a sharp knife, pat the thighs dry with a paper towel, and then re-roll the thighs into a cylindrical shape.
Simply seasoning the thighs with salt would be fine. However, I like to create layers of flavor using spice rubs. I'm a big fan of creating my own blends since it provides the opportunity to develop a flavor profile based on the type of wood that's being used. A simple blend of brown sugar, paprika, and spices compliments the apple wood perfectly. If you'd prefer a little heat, you can add a teaspoon of cayenne pepper to the rub below.
After re-rolling the thighs, season all sides liberally with the spice blend and let stand until the smoker is preheated to 250˚F.
A quick note on black pepper: I tend to season with pepper after smoking any meat. Pepper has a tendency to turn acrid when smoked for long periods of time.
How Long Does It Take To Smoke Chicken Thighs?
The USDA recommends cooking poultry to 165˚F. Depending upon the size of your chicken thighs this can take between 2 to 3 hours at 250˚F.
After placing the thighs in the smoker, making sure that there they are not crowded, I start to check them at about 1 and 1/2 hours with my instant read thermometer. Since my smoker has a firebox on one side, I place smaller thighs further away from the main heat source. This ensures that each of the thighs cooks as evenly as possible.
Once the thickest part of the chicken reaches the appropriate internal temperature, remove the chicken to a platter and cover loosely with aluminum foil.
One of the most important steps in this process is to allow the meat to sit before slicing. If you don't, you'll lose all those flavorful juices that we've worked so hard to develop. Five to seven minutes will give the fibers in the meat time to relax and allow the juices to redistribute.
How To Use Smoked Chicken Thighs
Served with baked beans or Loaded Baked Potato Salad and a side of cornbread, these smoked chicken thighs make a tasty meal. But you can use them for more than just a chicken thigh meal. Here are some of my favorite ways to use them as an ingredient.
Smoked chicken tacos – serve on warm corn tortillas with avocados, cilantro, and lime wedges
Top your next batch of nachos with smoked chicken – try this, you'll thank me for this suggestion 😉
Stir in to Creamy Macaroni and Cheese
Make enchiladas – add a little chipotle to your enchilada sauce
Replace the meat with smoked chicken in this lasagna recipe
Smoked chicken pizza with Brie cheese
Chop it up for a smoked chicken salad for lunches
Looking for a quick BBQ chicken recipe that can be made without any special equipment? Try this Baked BBQ Chicken Thigh recipe. Plus, browse all my chicken thigh recipes for more great ideas.
Print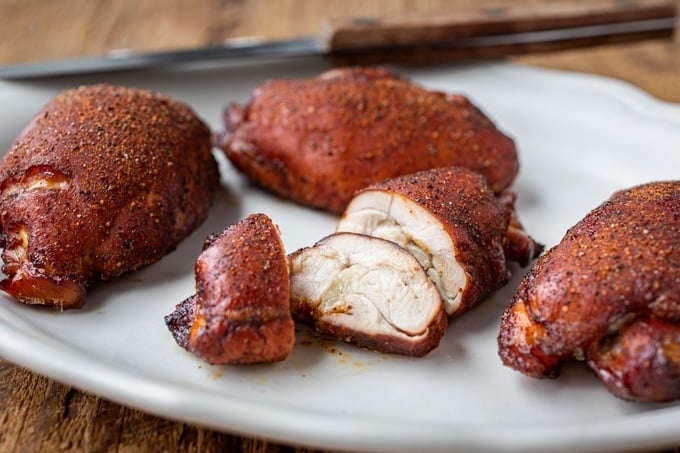 Smoked Chicken Thighs Recipe
Contributor: Leigh Olson
Smoked Chicken Thighs are a real treat. You'll want to double (or triple) the batch because there are so many dishes you can make with them.
Author:

Prep Time:

15 min

Cook Time:

3 hours

Total Time:

3 hours 15 minutes

Yield:

4

servings

1

x

Category:

Entrée

Method:

Smoked

Cuisine:

American
2 tsp

. brown sugar

2 tsp

. paprika

1 tsp

. kosher salt

1 tsp

. garlic powder

1/2 tsp

. onion powder

1

and 1/2

lbs

. boneless, skinless chicken thighs
In a small bowl, combine sugar, paprika, salt, garlic powder, and onion powder.
Prepare your smoker according to manufacturer's specifications and heat to 250˚F.
Trim excess skin and fat from the thighs. Pat dry with a paper towel. Shape thighs back into cylindrical shape. Season on all sides with spice blend.
Once the smoker is up to temperature, place the thighs on the smoker grate, smaller thighs further from the main heat source, and smoke for 2-3  hours or until an instant read thermometer registers 165˚F. I like to start checking my thighs at about 1 and ½ hours.
Remove chicken from the smoker and place on a platter. Cover with aluminum foil and allow to rest for 5-7 minutes before serving.
This post originally appeared in August 2020 and was revised and republished in June 2022.