Stuffed Chicken Thighs might sound fancy, but you can actually make this dish quickly enough for a weeknight meal. So good!
Everyone stuffs chicken breasts with spinach and cream cheese stuffing, but did you know you can stuff boneless, skinless chicken thighs too? It's super simple because the best part is you don't have to cut the thighs for stuffing. You just unroll them, add the delicious cream cheese spinach mixture, and then roll them back up. That makes them quick enough to be a weeknight meal, for sure!
However, if you don't have everything you need to make them tonight, you can totally make these Baked Chicken Thighs for dinner and add the ingredients you need to your grocery list.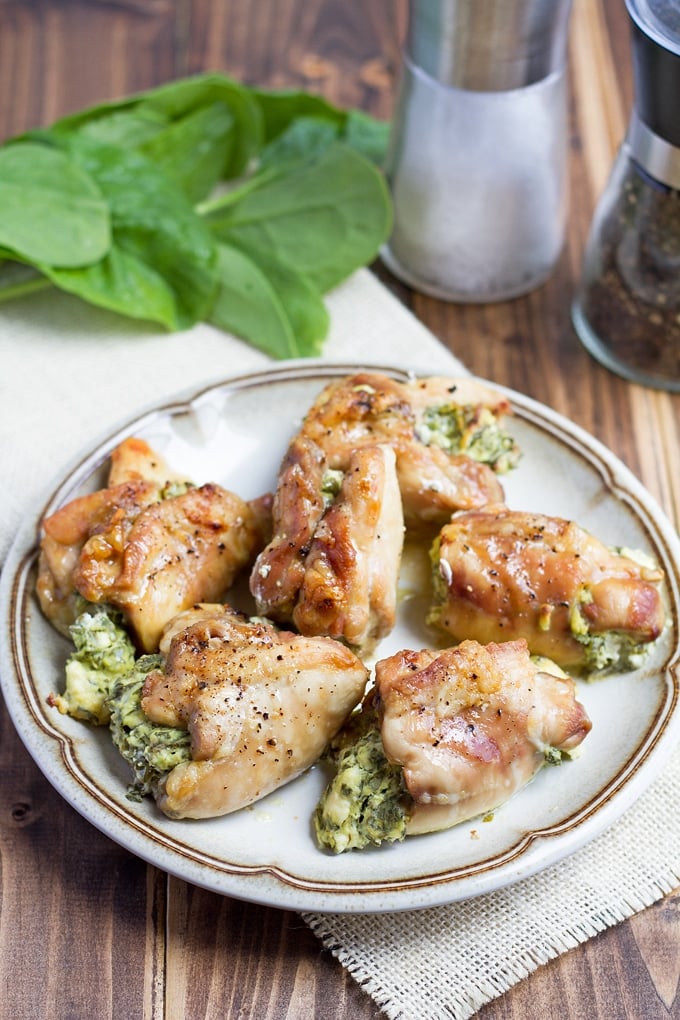 Video: Making Stuffed Chicken Thighs
Why Boneless, Skinless Chicken Thighs are Great to Stuff
Boneless, skinless chicken thighs are much easier to stuff because they come cut thin and rolled up. They've essentially been pre-butterflied for you. The reason they're cut and sold this way is because that cut is needed to remove the bone. The butcher cuts out the bone leaving a flat piece of chicken. They then roll that up so that the chicken thighs are little bundles that look nice in the package.
So them, all you need to do is unroll each thigh, add the filling, and then roll it back up. If you find a chicken thigh that isn't as flat or doesn't roll as easily, you can use a meat tenderizer to make the chicken thigh more pliable (or pound it with a rolling pin if you don't have a mallet). Pounding them a little bit definitely helps because it gives you more surface area, which is especially good if you're putting a bit extra filling in each one.
The other reason that chicken thighs are a great choice is that they are juicier and more flavorful. Chicken breasts can get a bit dry when cooking, especially when stuffed. Why? So, if the chicken breast is whole and unstuffed, it's pretty easy to cook it to the right temperature and make sure it's not overcooked in the middle. But if there's a stuffing inside, you need the temperature of the stuffing to get to a safe point (165F) as well. For that stuffing to get hot, the outside chicken ends up in the heat for a long time, which can really dry it out.
Since chicken thighs are juicier, they don't dry out as easily. You can get that internal stuffing temperature where you need it, and still have chicken meat that is not dry at all. It really is so delicious.
How Do You Stuff Chicken Thighs?
First, prepare your stuffing by mixing together softened cream cheese, chopped up fresh spinach, garlic powder, salt, and pepper. Mix all ingredients together very well. Unroll each chicken thigh, stuff each thigh with cream cheese stuffing, roll back up and then secure it with a toothpick.
The toothpick is there to help keep the chicken thigh closed and the stuffing inside. It's totally normal for some stuffing to melt out during baking though. So don't worry about it too much. If you're like me, the temptation is there to add extra toothpicks to make sure it's sealed. But I've learned from experience that the toothpicks are hard to take out after cooking. Save yourself the future trouble and just use one toothpick.
How Do You Cook Chicken Thighs In The Oven?
Preheat the oven and line a pan with foil or parchment paper sprayed with cooking spray, or use a sprayer like this. You can instead brush cooking oil all over the parchment paper instead. Place chicken thighs on the prepared baking pan then bake until cooked through to 165°F as read on an instant read thermometer. This will take 30-35 minutes for stuffed chicken thighs. The time is closer to 25 minutes if the chicken thighs are unrolled (and thus fairly thin) and not stuffed.
Alternatively, you can cook chicken thighs in air fryer by placing the chicken thighs in the air fryer basket and cooking for 15-20 minutes at 350 F. Cook a few minutes longer if needed. Check the temperature with a thermometer to be sure.
How Can You Tell If They're Done Without A Thermometer?
If you don't have an instant-read thermometer, you can always cut into a piece of chicken to check. I typically choose a bigger piece for checking. I assume that if the bigger one is done, then all of them are definitely done. So, get out a paring knife and cut a slit right into the middle. If lots of pink juices are coming out and/or if the chicken flesh looks pink, you have to cook it longer. Note that when thighs are stuffed, you should put them back in the oven for a couple of minutes even if you think they're done. This is to make sure that the stuffing in the middle is also safe since it was initially touching raw chicken. Before consuming make sure the juices are clear as you don't want to eat under-cooked chicken. We highly recommend you buy a meat thermometer though so you don't have to guess. They're super reasonably priced.
Podcast Episode About Making Stuffed Chicken Thighs
Listen to our editor, Christine Pittman, explain briefly about how to make this recipe, with some great tips along the way, by clicking the play button below:
Listen to more Recipe of the Day episodes here.
Print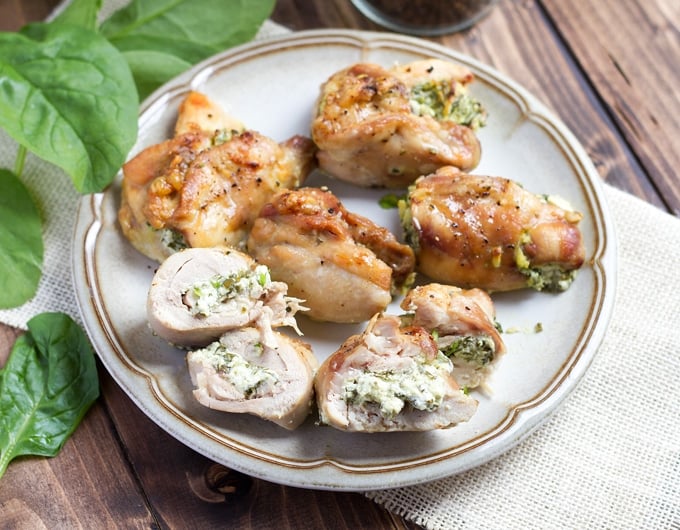 Stuffed Chicken Thighs with Spinach and Cream Cheese
Contributor: Ilona Orzechowska
Stuffed Chicken Thighs with Spinach and Cream Cheese looks gourmet but you can actually make this dish quickly enough for a weeknight meal. So good!
Author:

Prep Time:

15 minutes

Cook Time:

35 minutes

Total Time:

50 minutes

Yield:

6

servings

1

x
Cooking oil spray

6

boneless, skinless chicken thighs

1

cup

chopped fresh spinach

1/2

cup

softened cream cheese

3 Tbsp

. panko breadcrumbs (optional)*

1/2 tsp

. salt, divided

1/4 tsp

. garlic powder

1/8 tsp

. black pepper

6

toothpicks
Preheat oven to 400°F.
Line pan with foil or parchment paper sprayed with oil to keep pan from getting sticky and for easier clean-up. 
In a medium bowl mix spinach, cream cheese, panko, ¼ teaspoon of the salt, the garlic powder, and black pepper. Then set aside.
Unroll chicken thighs, season both sides with remaining salt.
Divide cream cheese mixture between chicken thighs, putting it into the middle of each one.
Roll the chicken thigh back up around the stuffing and secure with a toothpick.
Place chicken thighs on pan, toothpick-side-up. Bake for 30-35 minutes until temperature of the chicken reaches 165°F on an instant read thermometer.
Notes
*You can leave out the breadcrumbs if you'd like. I find that it gives the filling a slightly firmer texture that I like. But it's good without them too!