This easy Garlic Butter Chicken recipe is a game changer. It's quick, has so much great flavor, and the sauce is delicious on everything.
Garlic butter is one of my favorite things. It's so good smeared on toast, tossed with pasta, or melted onto vegetables. But I really love the garlic and butter combination on chicken too. It makes a quick and simple dish that's full of flavor.
Scroll down to read more about how it all comes together or click here to jump straight down to the recipe.
Video: How To Make Garlic Butter Chicken
What Kind Of Chicken Should I Use?
I've chosen chicken breasts, but get big ones and then slice them into cutlets. So the two breasts get you four portions of chicken because you're slicing them horizontally.
The reason for slicing them like that is two-fold. First, they cook through more quickly so your dinner will be ready fast. Second, because they're thinner and cook more quickly, that means that they're in contact with the heat for less time and are less likely to get dry. It's actually surprising how tender and juicy this chicken turns out.
Can I Use Chicken Thighs Instead?
If you'd like to use chicken thighs instead of breasts, that totally works and not much about the recipe has to change. Use boneless skinless ones and unroll each thigh so that it is a flat cutlet. Don't cut or slice it at all, you'll cook them unrolled like that. They will possibly take a minute longer per side to cook through. Everything else in the recipe is the same.
Use 4 boneless skinless chicken thighs for this recipe. If your package has 6 and you want to cook them all, you can. Just make sure to use a skillet that's large enough to fit them all with some space so that they still brown instead of steaming from over-crowding (over-crowding reduces the heat in the pan and then the chicken can't brown well and just sort of steams). You can alternatively cook the chicken thighs in two batches.
Seasonings For Garlic Butter Chicken
In the recipe below you'll see that we're just using salt, pepper, garlic powder, fresh garlic, and butter. Nothing else is added to the chicken, and that's why it's all about the garlic and the butter. Having said that, I do make this recipe with other seasonings sometimes.
If I'm in the mood for extra flavors, I also season the chicken with 1/2 teaspoon paprika and 1/2 teaspoon dried thyme. I really like that version, but I'll say that it ends up tasting less like garlic butter than if you omit them. So if you just want a delicious sauce, add in other seasonings. If you're looking for a sauce that tastes like garlic butter, skip them.
The Garlic Butter Sauce
To make the garlic butter sauce, after you cook the chicken in a skillet, you'll add some butter and a lot of minced garlic (FIVE cloves!) to the same skillet.
As the butter's melting, you'll use a wooden spoon to scrape up the brownings from the chicken that have stuck to the pan. The butter helps lift all of that up. Those browned bits mix with the butter to add so much flavor to the sauce.
You'll cook that until the garlic is just softened but not starting to really brown. Overly browned garlic can be bitter and we want to avoid that here. Really, garlic butter uses raw garlic, so we're trying to keep some of that harsher, stronger, hotter garlic flavor by not cooking it much. Thirty seconds is plenty of time.
You could absolutely add the chicken to the garlic butter at that point, flip it to coat it in luscious garlic butter, heat it through, and be done. But I actually find that a little bit too rich, and honestly, I like more sauce! So what you'll do is to add a mixture of cornstarch and broth to the butter to thicken it a bit, and then some more broth to get the sauce to the thickness that you like.
You end up with about a cup of sauce this way, which is about 1/4 of a cup per person. This is perfect for serving on the chicken, with a bit extra to drizzle onto whatever rice, pasta, or side dish you're serving alongside. It's good on veggies, great on potatoes… everything should have garlic butter sauce on it, right?
I should also note here that if you already have cooked chicken and you just want to make a sauce for it, I have a stand-alone delicious garlic butter sauce over here for you.
Ingredient Substitutions
There aren't very many ingredients in this garlic butter chicken recipe, and yet there are still some great substitutions you can try.
You can use shallot or minced sweet onion (like Vidalia onions) instead of the garlic. Use 5 tablespoons. This recipe also works really well with salmon instead of chicken, so definitely try cooking some salmon and make it with this sauce. Shrimp works too!
I also often make this dish using 1/2 cup of white wine in place of 1/2 cup of the chicken stock. Or, I add 1 tablespoon of lemon juice to the last addition of chicken stock for a lemon-garlic sauce. When I do that, I like to add a bit of dried oregano too. It has a bit of a Greek flavor-profile that way.
The other thing that my whole family loves is when I skip the cornstarch and chicken broth mixture completely and stir in 1/2 cup of sour cream. Then I add a drizzle of chicken broth just to get the right consistency. I can't wait to hear how you customize this recipe to be perfect for you – let me know in the comments.
Make-Ahead Chicken
This chicken dish can be made ahead and then reheated either in the microwave or in a skillet. It will keep in the fridge for 3-4 days in a sealed container. Then just reheat it when you want it.
The chicken and the garlic butter sauce also freeze well. Put them in a sealed container or zip-top freezer bag and freeze for up to 3 months. The sauce will probably separate (fat separated from broth), but once it has thawed, whisk the sauce a bit and it will come back together.
If the sauce isn't coming back together, put it over low heat and add 2 tablespoons of cold butter. Whisk it continuously until it has melted in. This will emulsify the sauce and bring it together for you.
More Delicious Chicken Recipes
You can browse all my chicken recipes, from wings to fried chicken and more. Here are a few favorites to get you started.
Podcast Episode About Making Garlic Butter Chicken
Listen to me explain briefly about how to make this recipe, with some great tips along the way, by clicking the play button below:


Print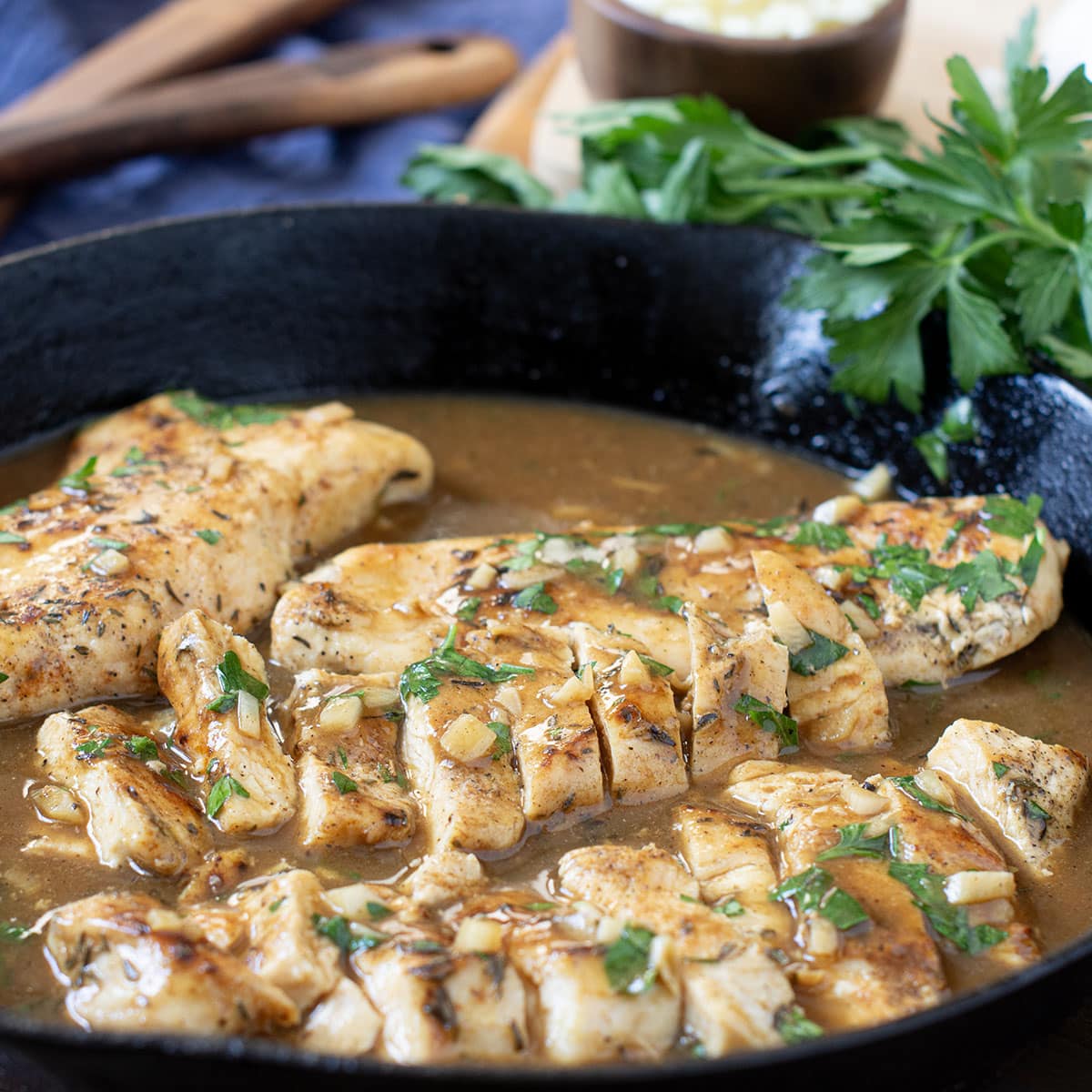 Garlic Butter Chicken Recipe
Contributor: Christine Pittman
This easy Garlic Butter Chicken recipe is a game changer. It's quick, has so much great flavor, and the sauce is delicious on everything.
Author:

Prep Time:

5 minutes

Cook Time:

13 minutes

Total Time:

18 minutes

Yield:

4

servings

1

x

Category:

Entrée

Method:

Stovetop

Cuisine:

American
2

large boneless skinless chicken breasts

1 tsp

. salt

1/2

tsp. pepper

1/2

tsp. garlic powder

1

cup

chicken stock, divided

2 tsp

. cornstarch

1 Tbsp

. olive oil

4 Tbsp

. butter

5

cloves garlic, minced

1/4

cup chopped fresh parsley (optional)
Place a chicken breast on a cutting board. With your knife parallel to the board, slice through the chicken breast to yield two thin cutlets. Repeat with second chicken breast.
Season all cutlets with salt, pepper, and garlic powder on both sides.
Mix together 1/2 cup of the chicken stock and the cornstarch until smooth. Set aside.
In a large skillet over medium heat, warm the olive oil. Once hot, add the chicken in a single layer and cook until well-browned underneath, 3-4 minutes. Flip and cook until no longer pink inside, another 3-4 minutes. Remove chicken from skillet and reduce the heat to low.
Add the butter to the skillet. As it melts, use a wooden spoon to start scraping up any brownings in the pan. Once melted, add the garlic and stir to cook for 30 seconds.
Give the cornstarch mixture a quick stir to make sure it's still smooth, and then stir it into the butter. Cook while stirring to heat it through. It will start to thicken. Slowly stir in the remaining 1/2 cup of chicken stock (using more or less to get it to the thickness you'd like).
Increase heat to medium-high and bring to a simmer. Taste and add salt and pepper, if desired.
Reduce heat to low, add the chicken to the sauce and flip to coat. Cook just until heated back through, 1-2 minutes.
Serve the chicken breasts topped with the sauce and with some fresh parsley, if desired.
Love this recipe? I'd appreciate it if you could scroll down and add a *5 star rating* to help others know they'll love it as well!