Air Fryer Stuffed Chicken Breast
Stuffed Chicken Breast is made with simple ingredients you already have in your fridge and can be made quicker than ever in the air fryer. Gourmet dinner in no time? Yes please!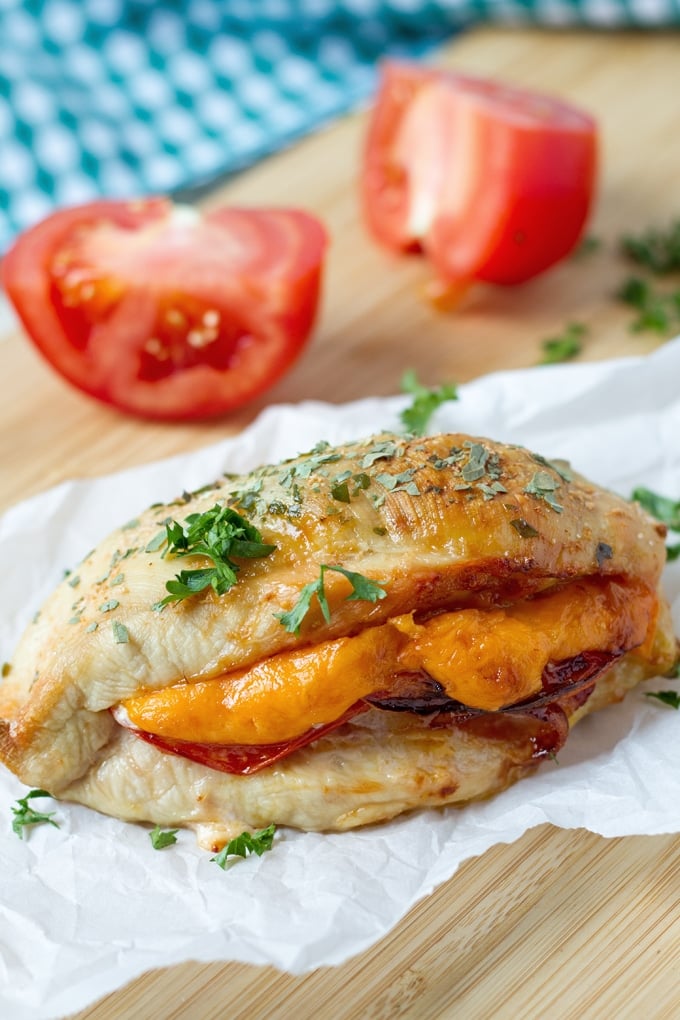 Imagine coming home and making the most delicious stuffed chicken in 35 minutes. Yes, it's possible, and you don't have to settle for one of those frozen dinner options either. Homemade Stuffed Chicken Breast is easy to assemble, and making it in your air fryer cuts down on time. There's no marinating time or no standing by the frying pan. Just put your chicken in the air fryer and walk away. In fact, we have a whole series of air fryer chicken recipes where your air fryer gets dinner on the table a little faster. You should check them all out.
First, you're going to butterfly your chicken breast to make a pocket for cheddar cheese, tomato slices and bacon. The cheese, tomato and bacon add flavor and moisture. Next, you'll close up the chicken over the filling. Then, place your stuffed chicken breast in the air fryer over the crisper and cook for 25 minutes at 350°F. Leave it to the air fryer to do the rest of cooking. In the meantime you can prepare a delicious Wilted Lettuce Salad to serve as a side.
Tips to make the Air Fryer Stuffed Chicken
Use a good sharp knife to butterfly the chicken breast (This is where you cut the chicken breast in half horizontally but don't quite slice through to the other side, keeping in one piece. You're creating a pocket to stuff with cheese, tomato slices and bacon.)
You can spray the chicken with cooking oil. You can skip this if you want to, but the top will be crispier if you lightly coat it with oil.
To make sure the chicken is cooked through, check the thickest part of the chicken with an instant read thermometer. The temperature should be 165°F. Be careful to make sure your thermometer isn't reading the temperature of the stuffing. You want an accurate read on the center of the meat itself.
Print