Air Fryer Chicken Burgers
Too hot for the oven or stove? Too hot to go outside and start the grill for some Chicken Burgers? (Hey, it happens!) Your air fryer is here to save the burger.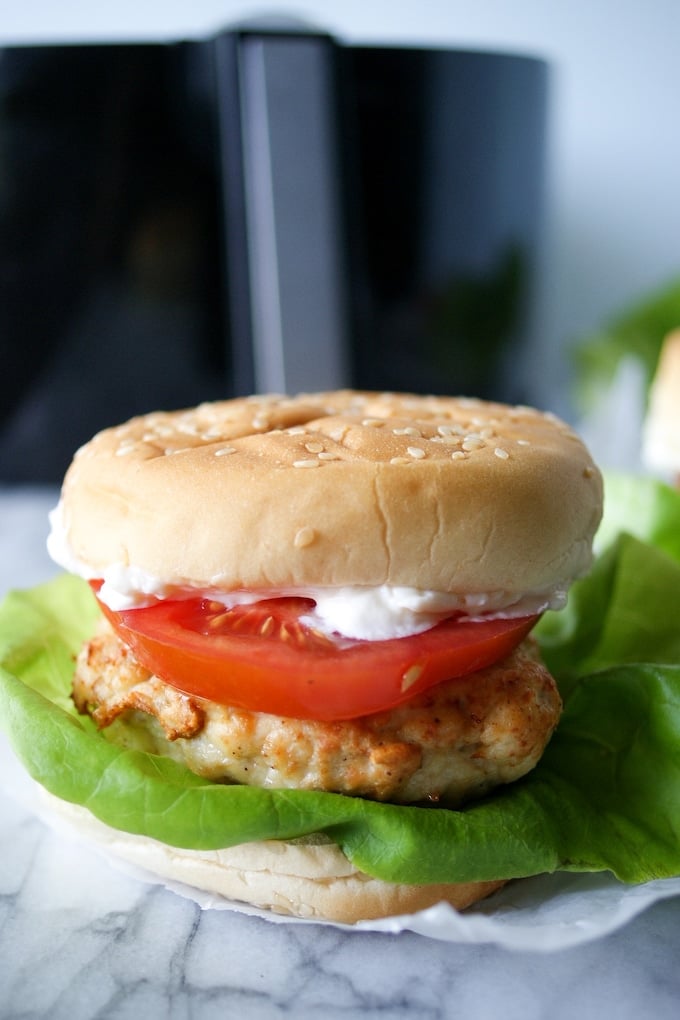 It's time to put that air fryer to use! The air fryer cooks food quickly, but it's also a great appliance to use in the hot summer months, especially to make burgers because this method of cooking locks the moisture into these chicken burgers. Ground chicken is lean, which means it dries out quickly, but with a few tips for cooking it in the air fryer, it stays nice and juicy:
Don't over-mix the meat. Working the meat too much will make a tough burger. Simply combine the meat and seasonings and mix with hands until combined.
Cook burgers two at a time so you don't crowd the air fryer. This will help create a nice crust on the burger that browns. We don't want steamed burgers.
Use an instant read thermometer. This is the best way to determine when your burgers are done. The 8 minute cooking time should be pretty accurate, but all air fryers are different, so it's best to use a meat thermometer. Cook the ground chicken to an internal temperature of 165°F. If it hasn't reached it after the 8 minutes, cook for another minute and check again.
Print