Air fried chicken leg quarters are the best. Not only are they super affordable but you get a thigh and drumstick in one serving – nice juicy flavorful meat!
I hadn't had chicken leg quarters in years, until I noticed how often they go on sale in my grocery store. I bought a big bag of them this one time and didn't regret it. They're really meaty and remind me of the kinds of meals my mom made when I was growing up.
Chicken leg quarters are usually sold with the skin on. If you don't want the skin, you have two options that I'll walk you through below.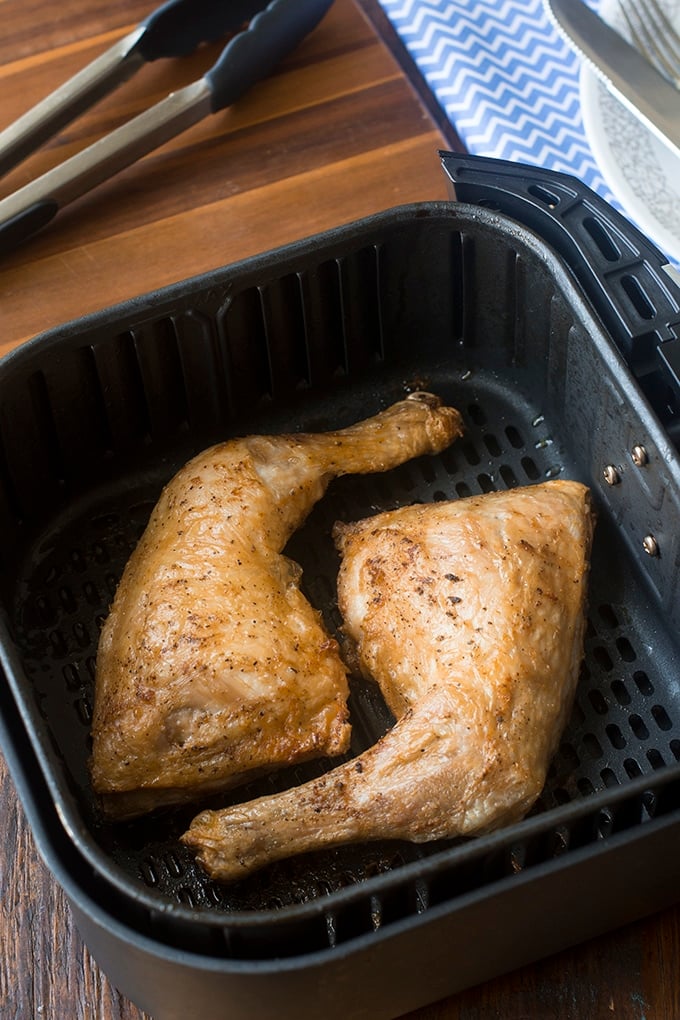 Video: Air Fryer Chicken Legs
How To Remove Skin From Chicken Leg Quarters
If your chicken leg quarters have skin on them, as most of them do, and you want to remove it, you have two options.
Option 1: Remove the skin before cooking. With leg quarters, the skin is often attached pretty firmly in a couple places and it can be tough to get off just by pulling. I grip the skin at the edge of the thigh end and pull it off as much as I can. Anywhere that I run into trouble and find that it's stuck to the meat or bone, I use clean kitchen shears (these are essentially just sharp scissors) to snip it off.
Option 2: Cook the chicken with the skin on, as instructed below. Then let it rest for 2 minutes before using your fingers to pull off the skin. It will come off super easily. If it happens to be stuck somewhere, go in with those kitchen shears as above. Just make sure the shears are clean and have not had contact with raw chicken.
How to choose between option 1 and 2? I prefer option 2 because it's easier and because you get the flavor and some juice from the skin dripping onto the chicken meat as it cooks. This adds moisture and flavor but doesn't add much in the way of fat.
But here's a warning… that skin is going to be plentiful and crispy and seriously delicious. If I pull it off at this point, I tend to eat it. If you don't want that temptation, remove the skin and discard it before cooking the chicken. If you have better willpower than I do, go ahead and remove it after cooking.
How To Cook Chicken Leg Quarters In The Air Fryer
To start, coat the chicken leg quarters in a little bit of oil. Do this whether or not the chicken has skin on it. I use olive oil in an oil sprayer like this one. I love it because I can fill it with my own olive oil, making it much cheaper and more convenient than canned cooking spray. Also, the sprayer works great. I've had mine for years!
Next, season the chicken with salt, black pepper and garlic powder. Go in with different seasonings if you'd like, but make sure to include salt.
Put the chicken leg quarters into the air fryer basket skin-side-down (or more-rounded-side-down if they're skinless) and cook them for 20 minutes. Flip them. My air fryer has a non-stick basket so I use tools that are non-metal and thus won't scratch and ruin the surface. I turn to these kinds of silicone-coated tongs for this. After flipping them, you're going to cook them until they reach 165°F inside, as read on an instant read thermometer. It will take 10-12 more minutes.
Finally, you take the chicken out of the basket (use those silicone tongs again) and let it rest for 2 minutes before serving.
Grab and knife and fork and dig in for a hearty and delicious piece of chicken!
Podcast Episode On Air Frying Chicken
Listen to our editor, Christine Pittman, explain briefly how to make this chicken, with some great tips along the way, by clicking the play button below:
Listen to more Recipe of the Day episodes here.
Print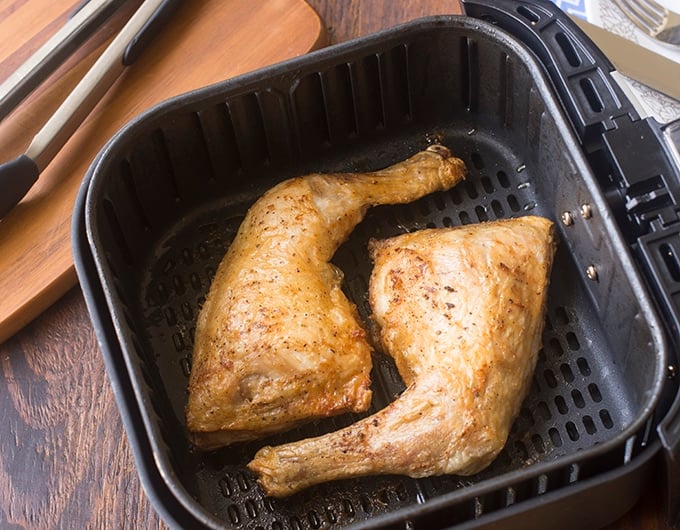 Air Fryer Chicken Leg Quarters Recipe
Contributor: Christine Pittman
Air fried chicken leg quarters are the best. Not only are they super affordable but you get a thigh and drumstick in one serving – nice juicy flavorful meat!
Author:

Prep Time:

5 minutes

Cook Time:

30 minutes

Total Time:

35 minutes

Yield:

2

servings

1

x

Category:

Entrée

Method:

Air Fryer

Cuisine:

American
2

chicken leg quarters with skin* (

one

pound each)

1 Tbsp

. olive oil (or use olive oil sprayer)

1/4

tsp. salt

1/4

tsp. black pepper

1/4

tsp. garlic powder
Remove chicken leg quarters from refrigerator.
Preheat air fryer to 400°F.
Coat chicken on all sides with olive oil.
Sprinkle on all sides with salt, pepper, garlic powder.
Put chicken in air fryer basket, skin-side-down, in a single layer. The two chicken quarters should not overlap. Cook 20 minutes.
Flip chicken and cook until 165°F on an instant read thermometer, 10-12 more minutes. It could take longer depending on your brand of air fryer so do check with the thermometer and cook longer if needed.
Remove from basket and let rest at least 2 minutes before serving.
Love this recipe? I'd appreciate it if you could scroll down and add a *5 star rating* to help others know they'll love it as well!
Notes
*For skinless chicken leg quarters, use the exact same method. Nothing needs to be changed except put them in rounded-side-down (that's the side that would have had the skin on it if it had skin).
This post originally appeared in September 2019 and was revised and republished in November 2022.