Air Fryer Whole Chicken
There's nothing as comforting and delicious as a roast chicken dinner. Since I know this to be so deeply true, a whole chicken was one of the first things I tried when I got my new air fryer, and it was probably the best roast chicken I'd ever made. I'm not sure I'll ever do one in the regular oven again.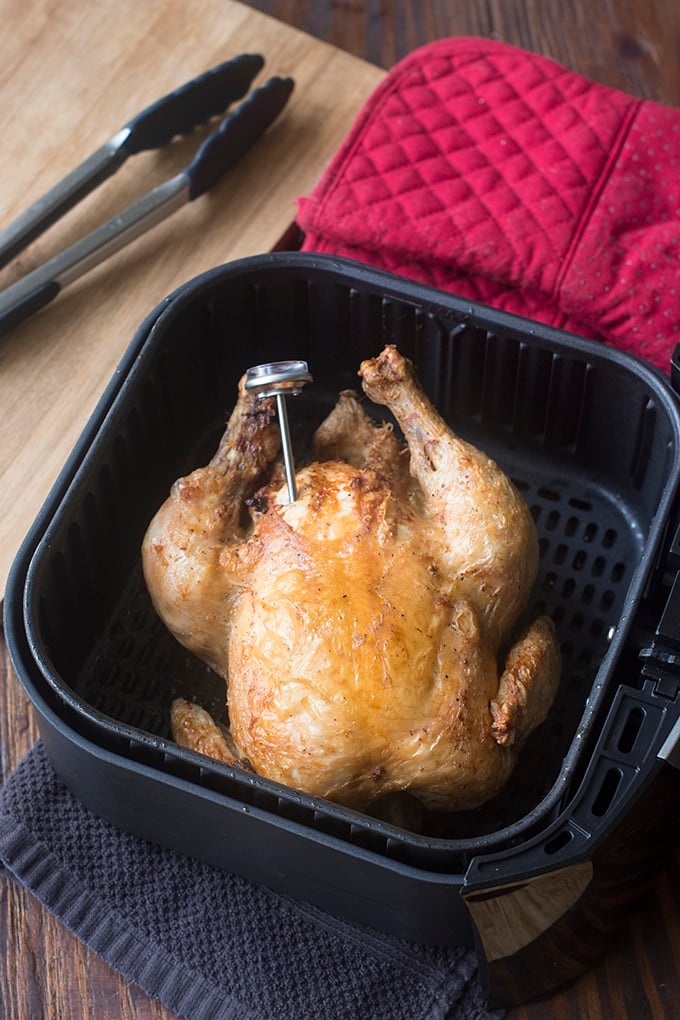 Why is air fryer roast chicken so good?
Two things. Juicy chicken and crispy skin. Both existing together, which is a rare thing.
Why is it rare to have crispy skin and juicy meat when roasting a chicken? The thing is, we usually roast chickens breast-side-up to get the skin nice and crisp. But that breast meat at the top is white meat and has a tendency to dry out. To get the nice crisp skin, you end up drying out the meat.
However, one way to get really juicy chicken is to roast it, at least for part of the time, breast-side-down. This protects the white breast meat from some extreme heat. Also, because a lot of the fat and juices in the chicken are in the back and legs, when you cook the chicken breast-down those juices make their way all through the chicken. This is why rotisserie chicken is so amazing: The juices from various parts of the chicken get redistributed, making the meat more succulent.
However, if you roast a chicken in a regular oven breast-side-down for part of the roasting time and then flip it over, the skin over the breasts doesn't have time to brown and crisp.
The problem with a conventional oven then is that you have to choose between juicy meat or crispy skin.
With the air fryer, you can have both!
Start by roasting the chicken in the air fryer breast-side-down. You get all that amazing juice redistribution I was talking about and the breast meat is protected for a lot of the roasting time. Then, for the last 15-20 minutes, flip it and roast it breast side up. In the air fryer the heat is circulated really well, and that the short time is enough to really crisp the skin.
The result: Extra juicy meat. Extra crispy skin. One happy chick! (The chick being me! Ha!)
Hey, if you want to cook the chicken to have the meat on hand, like for meal prep, and not for a roast chicken dinner with crispy skin, my favorite method to use then is in the instant pot. So, have a look at this Instant Pot chicken recipe if it suits your needs better.
How many people will a whole chicken feed?
Usually you figure 1/2 to 3/4 pound of meat per serving. However, because whole chicken and turkey has bones, you need to figure it a little differently since you need to consider the weight of the bones.
When calculating how much whole chicken or turkey you need to serve, you convert this to 1 serving per pound. It'll weigh less once cooked and once bones are removed.
*Note: Not all chickens will fit in all air fryers. If you have a 5 quart air fryer, you can fit a 4 pound chicken. If you have a 4 quart, you can fit a 3 pound chicken. If your air fryer is smaller than that, a while chicken won't fit.
Print