Air Fryer Chicken Drumsticks
Chicken drumsticks are hands down my favorite chicken piece. There's something about that built-in handle that brings out the kid in me. And the meat is dark meat, which is my favorite because it's so juicy and flavorful.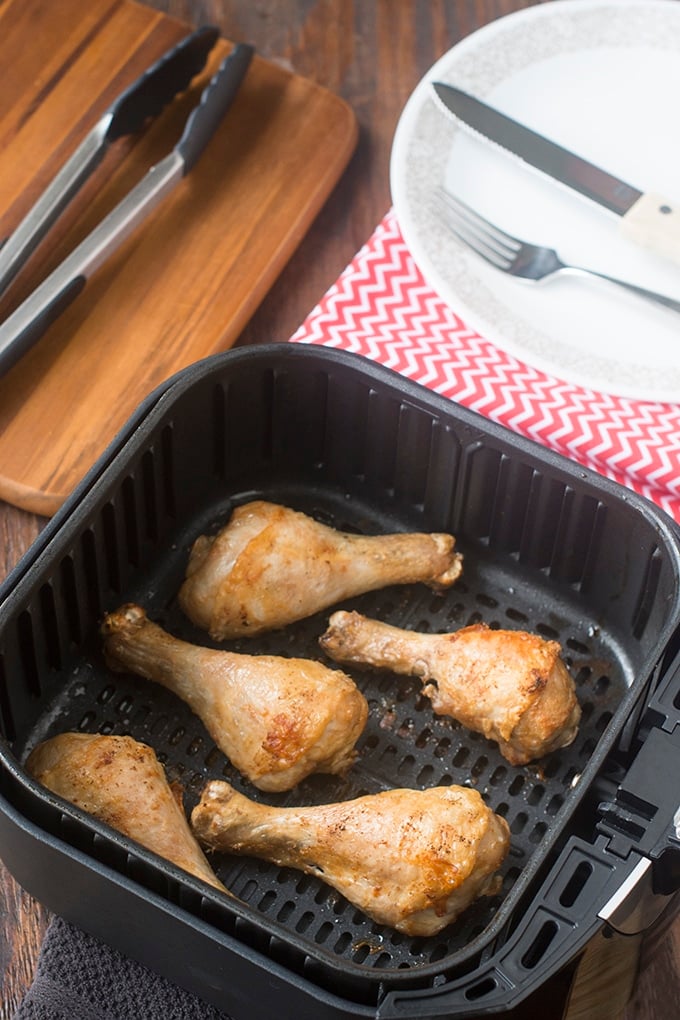 Chicken drumsticks are typically sold with the skin on, but sometimes you can find them skinless. Whether you have skin-on or skinless chicken drumsticks, this recipe will work for you.
How to Remove Skin from Chicken Drumsticks:
If your chicken drumsticks have skin on them and you want to remove it, you have two options.
Option 1: Remove the skin before cooking. With drumsticks, the skin is often attached pretty firmly and it can be tough to get off just by pulling. I grip the skin at the plump, rounded end and then pull it back over the meat and towards the bone. It's like you have a full cylinder of skin that is staying cylindrical as it slides off the meat and then down off the end of the bone. At this point, it is usually stuck to the bone at the very end. I find that clean kitchen shears (these are essentially just sharp scissors) are the easiest way to snip away any spots where the skin is attached to the meat or the bone.
Option 2: Cook the chicken with the skin on, as instructed below. Then let it rest for 2 minutes before using your fingers to pull off the skin. It will come off super easily. If it happens to be stuck somewhere, go in with those kitchen shears as above. Just make sure the shears are clean and have not had contact with raw chicken.
How to choose between option 1 and 2? I prefer option 2 because it's easier and because you get the flavor and some juice from the skin dripping onto the chicken meat as it cooks. This adds moisture and flavor but doesn't add much in the way of fat.
How to Cook Chicken Drumsticks in the Air Fryer:
To start, coat the chicken drumsticks in a little bit of oil. Do this whether or not the chicken has skin on it. I use olive oil in an oil sprayer like this one. I love it because I can fill it with my own olive oil, making it much cheaper and more convenient than canned cooking spray. Also, the sprayer works great. I've had mine for years!
Next, season the chicken with salt, black pepper and garlic powder. You can use different seasonings if you'd like, but do make sure you use salt.
Put the chicken drumsticks into the air fryer basket and cook them for 10 minutes. Flip them. My air fryer has a non-stick basket so I use tools that are not metal and thus won't scratch and ruin the surface. I turn to these kinds of silicone-coated tongs for this. After flipping them, you're going to cook them until they reach 165°F inside, as read on an instant read thermometer. It will take 10-12 more minutes.
Finally, you take the chicken drumsticks out of the basket (use those silicone tongs again) and let them rest for 2 minutes before serving.
Then pick them up by that fantastic handle and take a big bite!
Print