No standing in the hot sun over the grill! This BBQ Chicken is made in the comfort of your air-conditioned (hopefully) kitchen right in the air fryer.
Summer isn't really summer without some barbecue chicken, is it? It's a classic staple at sunny weather picnics, backyard get-togethers and even as a quick and easy weeknight dinner. Something about it just epitomizes the easy, carefree, "enjoy life" spirit of the season.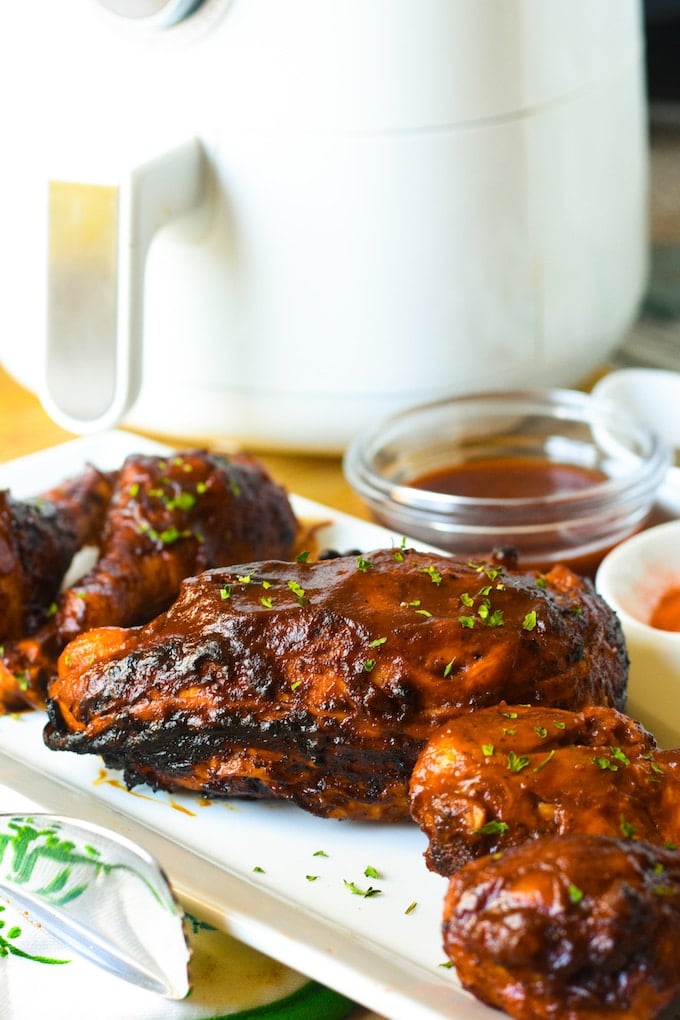 Where Does BBQ Chicken Originate?
The tradition in the United States apparently goes way back. Our early ancestors first started the trend nearly 2 million years ago, when they began cooking meat with fire. Covering the meat with spices and sauces, though, originated in the Caribbean. Regardless, I'm sure glad the trend is still going strong.
How Should I Cook BBQ Chicken In The Air Fryer?
This recipe will get you the tried-and-true barbeque chicken you crave, only with a fun twist—it's made in the air fryer instead of on the grill!
Using this method makes the skin of the chicken extra crispy and thus extra delicious. (Check out more recipes in our air fryer chicken series here!) The barbecue sauce keeps the chicken nice and moist, balancing out the crunch of the skin perfectly.
What Kind of Chicken Should I Use?
The recipe calls for a whole 3.5 pound chicken that you've broken down into bone-in pieces. Learn how to cut up a whole chicken over here. If you would prefer to buy chicken that is already in pieces, the best bet for this recipe is bone-in skin-on chicken drumsticks or bone-in-skin-on chicken thighs. Those will be the most similar for the timing in the recipe below.
If you get different cuts of chicken than those, they will need different timing. For instance, chicken leg quarters take longer in the air fryer, and chicken breasts need less time. For a full list of air fryer cooking times for all the different cuts of chicken, head over here.
What Barbecue Sauce Should I Use For BBQ Chicken?
To keep things as breezy as the season, you can use your favorite jarred barbeque sauce from your local grocery store. I used a Kansas City style sauce, for reference (read more about different types of barbecue sauce in the United States here). If you're feeling ambitious, though, you can whip up one of our easy homemade versions.
Serve the barbecue chicken with all of your favorite summer sides: perhaps some corn on the cob, pasta salad, or grilled zucchini, anyone? Oh, and ice cream for dessert. Always.
Print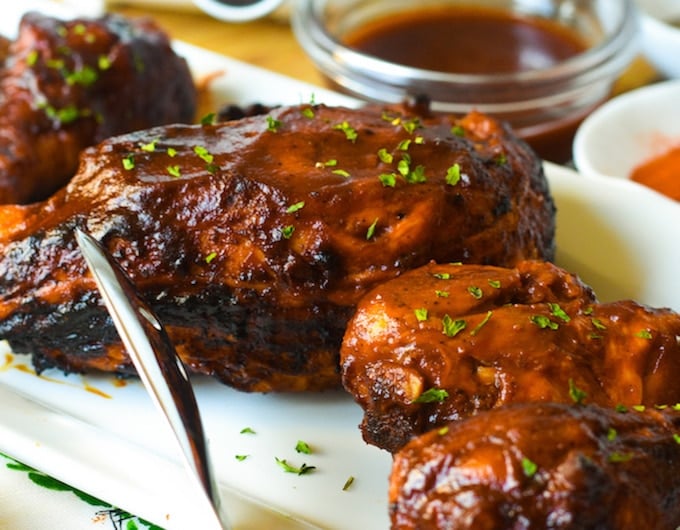 Air Fryer BBQ Chicken
Contributor: Traci DeVito
No standing in the hot sun over the grill! This BBQ Chicken is made in the comfort of your air-conditioned (hopefully) kitchen right in the air fryer.
Listen to our editor, Christine Pittman, explain briefly about how to make this chicken, with some great tips along the way, by clicking the play button below:
Author:

Prep Time:

4 minutes

Cook Time:

21 minutes

Total Time:

25 minutes

Yield:

4

servings

1

x

Category:

Entrée

Method:

Air Fryer

Cuisine:

American
1

whole (3.5 lb.) chicken, cut into leg, thigh, and breast pieces

1 Tbsp

. smoked paprika

1 tsp

. onion powder

1 tsp

. salt

½

tsp. ground black pepper

⅛

tsp. cayenne pepper

1 cup

barbeque sauce (homemade or store-bought)
Instructions
Remove the chicken from the refrigerator.
Preheat air fryer to 375°F.
In a small bowl, combine the smoked paprika, onion powder, salt, pepper, and cayenne. Rub the spice mixture all over the chicken to coat.
Place chicken in the air fryer skin-side-down. Cook for 18 minutes, until chicken is golden brown.
Transfer chicken to a plate and brush with barbeque sauce.
Wipe off excess chicken fat from air fryer basket.
Return chicken to the air fryer and cook, skin-side-up, until chicken reaches an internal temperature of 165°F on an instant read thermometer, about 3 minutes. Larger pieces may require longer cooking time.