Air Fryer BBQ Chicken
No standing in the hot sun over the grill! This BBQ Chicken is made in the comfort of your air-conditioned (hopefully) kitchen right in the air fryer.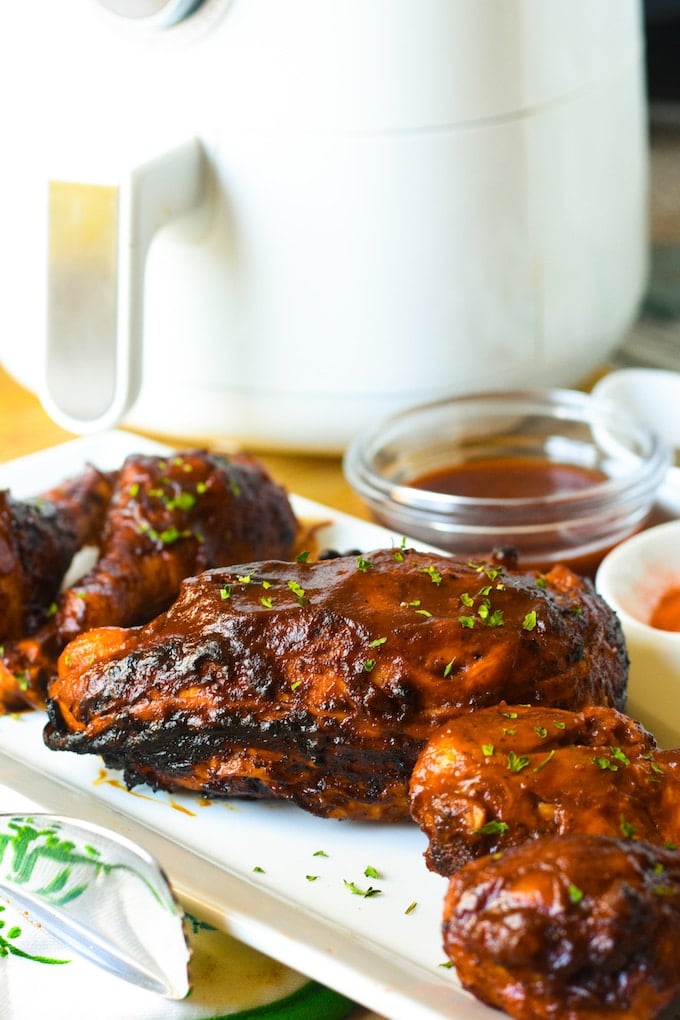 Summer isn't really summer without some barbecue chicken, is it? It's a classic staple at sunny weather picnics, backyard get-togethers and even as a quick and easy weeknight dinner. Something about it just epitomizes the easy, carefree, "enjoy life" spirit of the season.
Where does BBQ Chicken come from?
The tradition in the United States apparently goes way back. Our early ancestors first started the trend nearly 2 million years ago, when they began cooking meat with fire. Covering the meat with spices and sauces, though, originated in the Caribbean. Regardless, I'm sure glad the trend is still going strong.
How should I cook BBQ Chicken in the air fryer to get it perfect?
This recipe will get you the tried-and-true barbeque chicken you crave, only with a fun twist—it's made in the air fryer instead of on the grill! Using this method makes the skin of the chicken extra crispy and thus extra delicious. (Check out more recipes in our air fryer chicken series here!) The barbecue sauce keeps the chicken nice and moist, balancing out the crunch of the skin perfectly.
What barbecue sauce should I use for BBQ Chicken?
To keep things as breezy as the season, you can use your favorite jarred barbeque sauce from your local grocery store. I used a Kansas City style sauce, for reference (read more about different types of barbecue sauce in the United States here). If you're feeling ambitious, though, you can whip up one of our easy homemade versions.
Serve the barbecue chicken with all of your favorite summer sides: perhaps some corn on the cob, pasta salad, or grilled zucchini, anyone? Oh, and ice cream for dessert. Always.
Print