Air Fryer Chicken Breast
Chicken breast is a versatile protein that is easy to prep ahead in the air fryer for easy meals.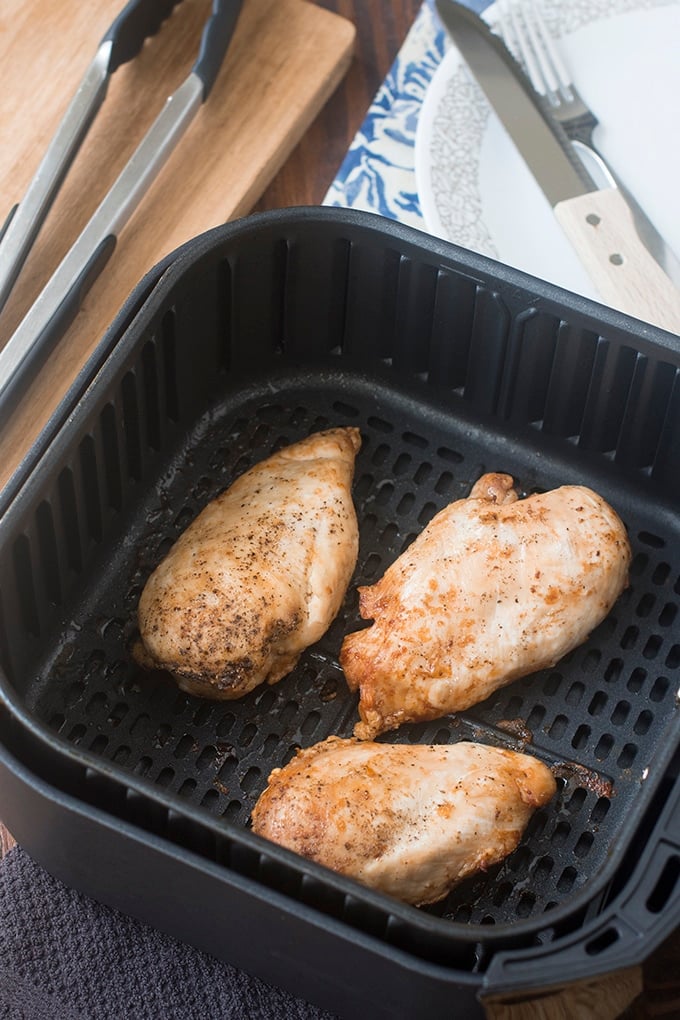 I tend to have a few cooked chicken breasts in the fridge at all times. That's because it's such a versatile ingredient that can quickly be used in a sandwich, salad or pasta dish with zero effort. Because I like having them on hand, I'm also always looking for new ways to cook them.
If I want to cook a lot of chicken breasts quickly, I do them in the Instant Pot like this recipe. This gives your chicken a poached or stewed texture. If I just need 2 or 3, I turn to my air fryer. The texture from the air fryer is more like a traditional roasted chicken breast, which I prefer for most uses.
I find that chicken breasts cook a little bit quicker in the air fryer than in a regular oven. Also, if I only have a few breasts to cook, it doesn't make sense to heat up my whole oven.
How to Cook Boneless Skinless Chicken Breasts in the Air Fryer:
You're simply going to coat the chicken in a little bit of oil. I use olive oil in an oil sprayer like this one. I love it because I can fill it with my own oil, making it much cheaper than buying cooking spray. Also, the sprayer works really well. I've had mine for years!
Then you season the chicken with salt and whatever other seasonings you'd like. I tend to keep it basic with just black pepper and garlic powder.
Put the chicken breasts into the air fryer basket. I put them rounded side down to start so after I flip them partway through cooking, the nicer side is up and gets the final bit of browning.
Cook them for 10 minutes and then flip them. My air fryer has a non-stick basket so it's important to use tools that are non-metal. I turn to these kinds of silicone-coated tongs for this task a lot. After flipping them, you're going to cook them until they reach 165 degrees Fahrenheit inside, as read on an instant read thermometer. It will take between 5-8 minutes. I sometimes take them out a bit before they hit 165 degrees Fahrenheit (at 155°F) but that isn't always the safest so I don't recommend that you do that unless you are aware of the risk.
Finally, you take the chicken breasts out of the basket (use those silicone tongs again) and let them rest for 2 minutes before serving or slicing for future use. You can store them in the fridge in a sealed container for up to 3 days.
How to Cook Bone-In Chicken Breasts in the Air Fryer:
OK, so if you have chicken breasts that are on the bone, whether or not they have skin, this is what you'll do.
The method is exactly the same as for boneless chicken breasts except the chicken pieces need to be cooked for a little bit longer.
Oil and season them as instructed. Then put the chicken breasts into the air fryer skin-side down (or rounded-side-down) and cook for 15 minutes. Flip them over and cook until they reach 165 degrees Fahrenheit on an instant read thermometer, about 12-15 minutes more.
That's it! Enjoy!
Print