We're comparing Instant Pot Meatloaf and Air Fryer Meatloaf to give you all the deets you need to decide which one to make. The answer's easy – both of them!
Air Fryer Meatloaf manages to cook meatloaf quickly AND develop a crust. It's perfect for cooking a small meatloaf for four and only takes about half an hour.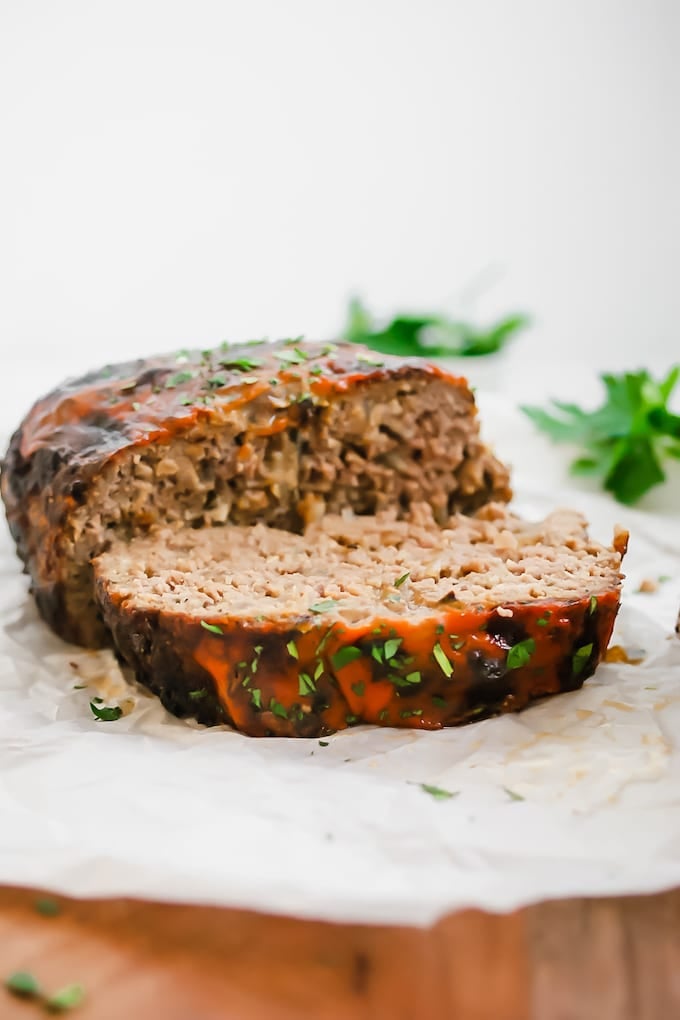 Video: Making Air Fryer Meatloaf
Tips For Air Fryer Meatloaf:
Make it smaller! Most of our meatloaf recipes are made with two pounds of ground beef, but that's way too much meatloaf for the air fryer; there simply isn't room! Also, a large meatloaf gets too darkened on the outside in the time it takes to cook all the way through in the air fryer. So make your meatloaf using 1 pound of ground beef. However, note that if your air fryer is large enough, you can do two 1 pound meatloafs side by side. Just make sure that there is space between the two loaves and around each of them so that the air can circulate properly.
Line the basket with foil, if you want to. We've read online that air fryer meatloaf requires you to line the basket with foil. There are two reasons given for this. One, you don't want all the juices to drop down into the bottom of the air fryer. Two, you don't want the meatloaf to stick to the air fryer basket. So for ease of removing the meatloaf and ease of cleanup, they say to line with foil. However, we found that not lining it with foil allowed the fat to drip down away from the loaf, which was truly a good thing. Second, using a silicon spatula and lifter to get under the loaf released any minor sticking.
Don't try to cook it too fast. There's something tempting about cooking things in an air fryer at high heat, but be warned, the meatloaf will burn! We found that bumping the heat up after the initial cooking still led to a burnt meatloaf, so keep it at 370 degrees Fahrenheit for the duration. Note that even having it at 370°F will lead to the glaze darkening a bit. But, all of our taste-testers found this to be quite delicious so don't worry at all if your loaf is a bit crisp.
Rest the loaf. After the meatloaf has finished cooked, let it rest on the counter in the uncovered air fryer basket for at least 5 minutes but ideally 10. This allows the juices in the loaf to redistribute and for the loaf to therefore firm up. After the resting time, transfer the meatloaf to a cutting board and you'll find that the rest time has made it much easier to slice.
Use a thermometer. The best way to know that a meatloaf is cooked through while not being overcooked is to use an instant read thermometer like this one to test for doneness. You want your meatloaf to reach 160°F right in the middle for it to be safe.
Mix everything but the meat first. You've probably heard people say before that you shouldn't overmix ground meat because it will get tough. But if you're not mixing it thoroughly, how do you know that all of the ingredients are properly dispersed? This technique is the best for that! Mix together all of the wet ingredients and the seasonings first. Then add in any breadcrumbs and give that a quick toss. Finally, add your ground meat. Mix until the wetness seems fairly evenly dispersed, knowing that that means that everything in that mixture is evenly dispersed.
And while the meatloaf is resting? Throw your side in the air fryer for a complete meal. We recommend broccoli. 😉
Podcast Episode On Air Frying Meatloaf
Listen to our editor-in-chief, Christine Pittman, briefly talk about how to make this recipe, with some great tips along the way, by clicking the play button below:
Listen to more Recipe of the Day episodes here.
Print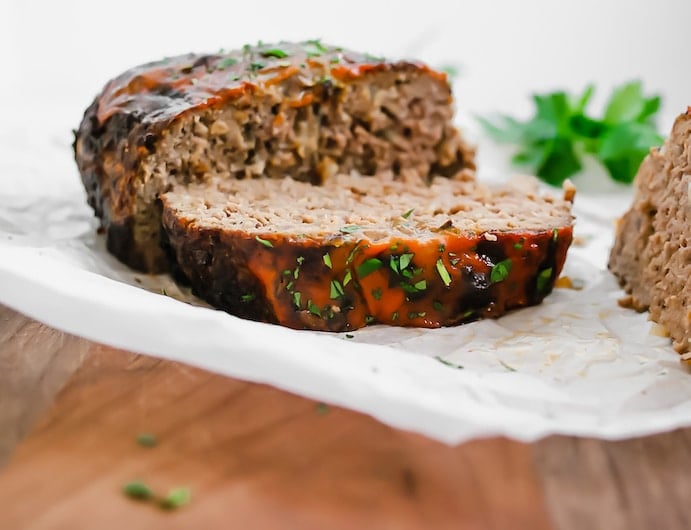 Air Fryer Meatloaf Recipe
Contributor: Christine Pittman
Air Fryer Meatloaf gives you a small meatloaf for four with amazing flavor and a great crust.
Author:

Prep Time:

10 minutes

Cook Time:

25 minutes

Total Time:

35 minutes

Yield:

4

servings

1

x

Category:

Entrée

Method:

Air Fryer

Cuisine:

American
2 Tbsp

. ketchup, divided

1 tsp

. Worcestershire sauce

1 tsp

. Italian seasoning

1/2 tsp

. garlic powder

1/2 tsp

. salt

1/4 tsp

. pepper

1

egg, lightly beaten

1/2

small onion, finely chopped

1/4

cup

dry breadcrumbs

1

lb

. lean ground beef

1 Tbsp

. yellow mustard
In a large bowl mix together 1 tablespoon of the ketchup, the Worcestershire sauce, Italian seasoning, garlic powder, salt, pepper, and egg. 
Mix in the onion and then the breadcrumbs. Once well combined, add in the ground beef.
Use your hands to evenly combine the meat with the egg mixture, being careful not to overmix since overmixing will make it tough.
Form meat into a 2 inches high 4×6 inch, loaf. Turn the air fryer to 370F and place the loaf into the air fryer.
Cook for 15 minutes at 370F.
Meanwhile, in a small bowl combine the remaining 1 tablespoon of ketchup and the mustard.
Remove meatloaf from oven and spread with mustard mixture.
Return meatloaf to air fryer and continue to bake at 370°F until an instant read thermometer inserted into the loaf reads 160F, about 8-10 more minutes.
Once meatloaf has reached 160F, remove air fryer basket from air fryer and let the loaf rest in the basket for 5-10 minutes.
Transfer the meatloaf to a cutting board and slice it into 3/4″ to 1″ slices.
Love this recipe? I'd appreciate it if you could scroll down and add a *5 star rating* to help others know they'll love it as well!
Photos are by Emily Dingmann, recipe and article by Christine Pittman.
This post originally appeared in February 2019 and was revised and republished in June 2023. This post contains Amazon affiliate links.