Let's face it. Meatloaf made with ground turkey or chicken sometimes gets a little dry and bland. We solved that problem and we know you'll love our best Turkey Meatloaf recipe.
This is a moist turkey meatloaf recipe requiring just one bowl and one sheet pan. Oven baked and ready in under an hour, this is a great meal for weeknight dinners. Plus, it's super simple to make and easy to make a double batch to feed a crowd.
Scroll down to read more about how it all comes together or click here to jump straight down to the recipe.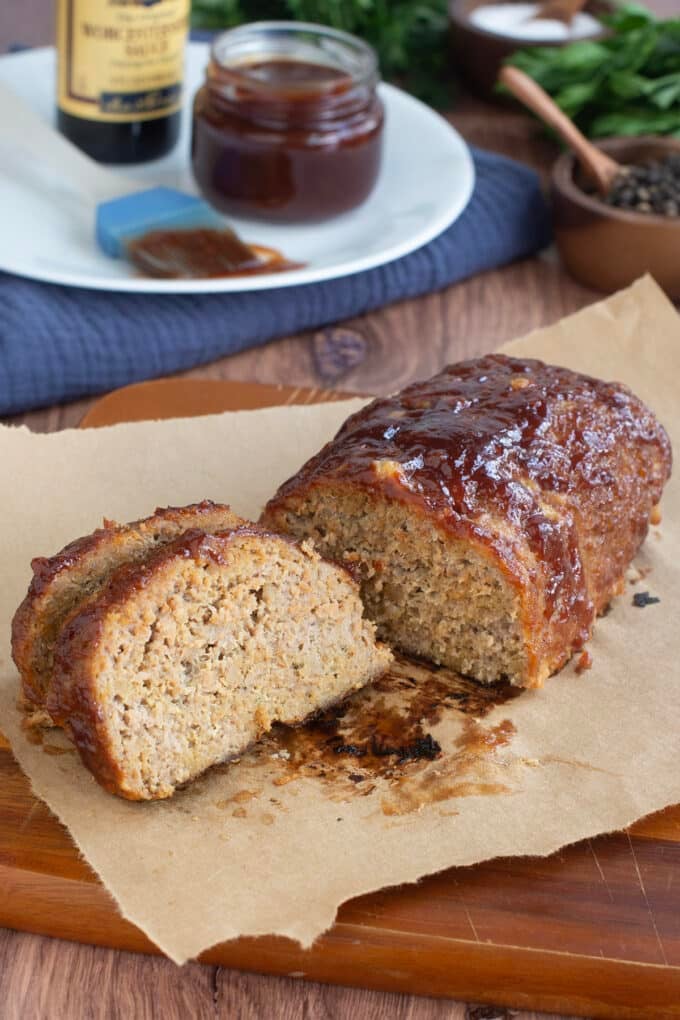 Making Meatloaf with Ground Turkey
If you're a meatloaf fan, then you'll love this turkey meatloaf recipe. Made in the traditional way, but with turkey as a substitute for ground beef, you'll be amazed at how juicy it is.
I love using turkey as a substitute for beef when I want a dinner that's a little lighter. Seriously, though, the hardest thing about making turkey meatloaf is how dry and bland it can be. There is nothing worse than dry meatloaf, and I promise you, this turkey meatloaf is anything but dry. And while it's nice and juicy, it won't fall apart on you.
You can also use ground turkey to make amazing Air Fryer Turkey Meatballs so make sure to check out that tasty recipe.
Ingredients For Turkey Meatloaf
Turkey can be a bit dry while also having trouble holding its shape, sometimes making creating a perfect turkey meatloaf to be a challenge. You don't want to use turkey breast for this recipe, t's too dry and will not make for a good meatloaf. You should use the 93/7 ground turkey meat, not the extra lean ground turkey breast.
Adding in the Worcestershire sauce gives the mixture moisture and a meaty flavor and the bread crumbs help hold everything together along with an egg.
I don't use chopped onion in my turkey meatloaf recipe because I find that little bits of things like that make it harder for the meat to hold together. Using onion and garlic powder mean that there is nothing to get in the way of the meat holding together, giving you nicer slices.

I like BBQ sauce as the sauce for this for its tang and the sweetness that darkens as it heats. If you don't have barbecue sauce, you can use 2 tablespoons ketchup mixed with 2 tablespoons mustard, and 1/2 teaspoon smoked paprika.
Should I Make Meatloaf In A Loaf Pan?
I always cook my meatloafs on a sheet pan instead of in a loaf pan. I find that when I use a loaf pan, the liquid and grease from the meat leaks out and doesn't really have anywhere to go, making it messy and making it hard to get the finished meatloaf out. Also, by doing it on the sheet pan, the sides get exposed to the heat and darken a bit, adding to that amazing flavor.

Use parchment paper or a silicone mat so that the meat loaf doesn't stick to your sheet pan.
How To Make The Perfect Easy Turkey Meatloaf
Combine all the ingredients together in one bowl, don't overmix!
Transfer mixture to a sheet pan and shape loaf (or loaves).
Spread half BBQ sauce on all sides.
Bake in a 350°F oven for 30 minutes, then bake at 450°F for 10 minutes with the remaining sauce.
The cooking is done in two stages, first at 350°F then at 450°F. The lower temperature lets the meatloaf cook almost all the way through at an even rate. Then the temperature increases for the last 10 minutes, during which time the last bit of sauce that you add gets a chance to darken a bit. If you'd like that sauce even darker, put the meatloaf under the broiler for a minute or two once it's done cooking.
Let the meatloaf rest for 10 minutes before slicing. Don't skip this step! It's necessary for the liquid inside to stop simmering and settle down, so that the meat can slice nicely. It also brings the temp up to the safe internal temperature of 165°F. Taking it out before 165°F means that it's juicier and not overcooked, but then you really do need to make sure that it gets up to temp during the resting. I advise testing again with an instant read thermometer before slicing to be safe.
This meatloaf is great served with our Classic Mashed Potatoes and easy enough to make any weeknight. If you're lucky enough to have leftovers, we recommend you enjoy a nice meatloaf sandwich for lunch.
Can I Double The Recipe?
Absolutely! The recipe as written below uses one pound of turkey and makes a nice sized meal for four people. However, I know many people enjoy having meatloaf leftovers (or need to feed more people). It's quite easy to double this turkey meatloaf recipe, just make it into two loafs and cook them on the same sheet pan. Leave a couple inches in between them so they cook properly, but there's no need to adjust the baking time.
Let any leftovers cool and then refrigerate in an airtight container for a few days.
If you love this recipe, try one of my other ground turkey recipes too. You'll love the Turkey Meatballs and Ground Turkey Tacos.
Podcast Episode: Making Turkey Meatloaf
Listen to me explain briefly about how to make this recipe, with some great tips along the way, by clicking the play button below:


Listen to more Recipe of the Day episodes here.
Print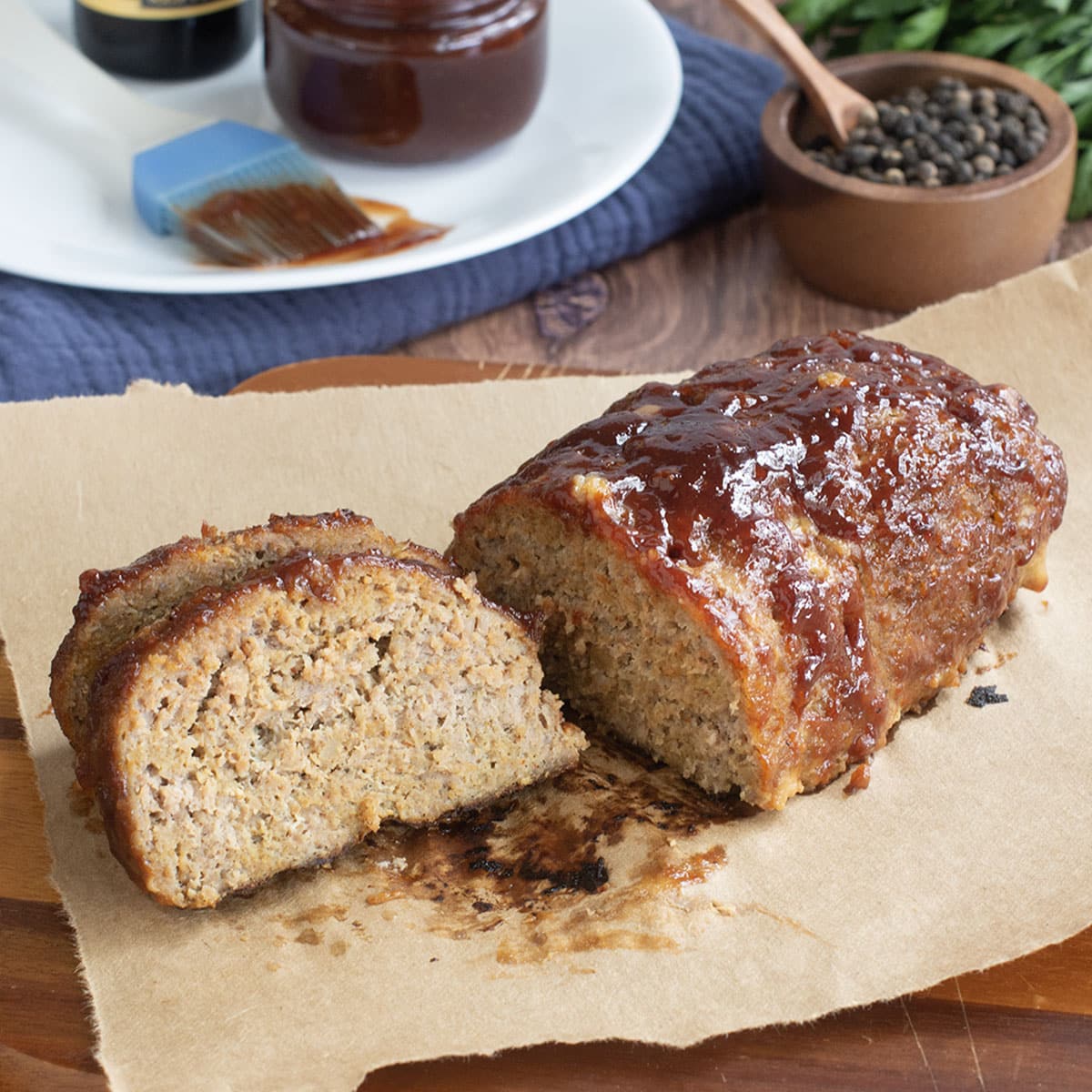 Turkey Meatloaf Recipe
Contributor: Christine Pittman
No need to worry about dry meatloaf with this turkey meatloaf recipe. This recipe can be doubled and cooked as two loaves with no additional time added.
Author:

Prep Time:

10 minutes

Cook Time:

40 minutes

Total Time:

50 minutes

Yield:

4

servings

1

x

Category:

Entrée

Method:

Baked

Cuisine:

American
1

large egg

2 tsp

. Worcestershire sauce

1/2 tsp

. salt

1/2 tsp

. chili powder

1/2 tsp

. garlic powder

1/2 tsp

. onion powder

1/4 tsp

. black pepper

1/4

cup

breadcrumbs

1

lb

. ground turkey (93/7)

4 Tbsp

. BBQ sauce, divided*
Preheat oven to 350°F.
In large bowl combine egg, Worcestershire, salt, chili powder, garlic powder, onion powder, black pepper, and breadcrumbs. Mix well.
Add turkey to bowl and mix just until combined being careful to not over mix.
Line a baking sheet with parchment paper. Transfer turkey mixture to parchment and shape into a 6inch by 3 inch loaf that's about 1 and ½ inches high. Spread all over the top, sides, and ends with 2 tablespoons of the BBQ sauce.
Bake for 30 minutes. Remove from oven and spread with remaining 2 tablespoons of sauce.
Return to oven and increase heat to 450°F. Bake until internal temperature is 160°F, about 8-10 more minutes.
Let rest for at least 10 minutes and until temperature has reached 165°F before slicing and serving.
Love this recipe? I'd appreciate it if you could scroll down and add a *5 star rating* to help others know they'll love it as well!
Notes
*You can substitute 2 Tbsp. ketchup mixed with 2 Tbsp. mustard, and ½ tsp. smoked paprika if you prefer.
This post originally appeared in February 2019 and was revised and republished in June 2023.