These air fryer turkey meatballs are ready to eat in twenty minutes and are perfect for spaghetti, meatball subs, and more.
I love to air fry meatballs because it's so convenient to have quick, hands-off cooking. For this recipe, we're making Air Fryer Turkey Meatballs with ground turkey, Italian seasoning, and other great flavors. Get all the tips you need to get perfectly browned meatballs that are tender and moist. No dry turkey here!
Scroll down to read more about how it all comes together or click here to jump straight down to the recipe.
Video: Making Air Fryer Turkey Meatballs
Why Cook Meatballs In The Air Fryer?
Well, if I was making a big batch of meatballs, I wouldn't use the air fryer. Either bake meatballs or pan-fry your meatballs instead.
But this air fryer meatball recipe makes 12 nice-sized meatballs from 1 pound of ground turkey, and they fit perfectly into the air fryer. So, if I'm making a small batch like this just for us for dinner, the air fryer is the best. It's hands-free as they cook, and they get nice and brown.
Type of Ground Turkey
Regular ground turkey has about 7% fat and is a mix of dark meat and light meat while ground turkey breast is just white meat and has only about 1% fat content. For this recipe, you definitely want to make sure you are using regular ground turkey so your meatballs are not dry.
Ground chicken can be used instead of turkey though. This recipe also works with lean ground beef, no changes needed.
Seasoning For Air Fryer Turkey Meatballs
This recipe has very similar ingredients to my popular Turkey Meatloaf recipe. The main difference is that instead of chili powder, we're using Italian Seasoning for our meatballs for more of a classic Italian flavor profile.
There isn't as much breadcrumbs in my meatball recipe as I've seen in others, but because we're using ground turkey we want to be sure not to dry out the meatballs. The Worcestershire sauce is there to add some color and lots of meaty flavor.
And of course, the meatballs won't be finished with BBQ sauce like the meatloaf. Feel free to toss them in marinara sauce though and serve with with pasta and Parmesan cheese!
How To Make Tender Meatballs
Whenever you're working with ground meat, you need to be careful to not smoosh it too much or handle it too much. That breaks up the shreds of meat and mashes them together, making it all denser and tougher.
So your goal is to work the turkey mixture as little as possible while still distributing the seasoning ingredients throughout.
Making Similarly Sized Meatballs
If you struggle with uneven meatballs, here's what to do. Divide the meat mixture into 4 equal portions and then make 3 meatballs from each portion to ensure evenly sized turkey meatballs.
Quick tip: Turn your kitchen faucet on running very slowly when you start rolling your meatballs. Moisten your hands after making every 2-3 balls. This helps the meat to not stick to your hands so that you can get smoother meatballs.
To that goal, I mix together all of the other ingredients first. Once they're well combined, I add the ground turkey on top and then mix with my hands. Since everything else is already well-mixed, as soon as it seems evenly distributed through the meat, I stop knowing that everything is mixed in well, but not over-mixed to where it would be tough.
These cook at 400°F in the air fryer until no longer pink inside and browned, flipping halfway through. It'll be 5 minutes first, then flip and cook 5 more minutes. Have a look and if you'd like them browner or if they're not fully cooked inside, do another 2-4 minutes and check again.
Can I Double The Recipe?
As mentioned, this makes 12 meatballs. If you'd like to make 24 instead, here's what to do.
Double the air fryer turkey meatball recipe below. If all 24 fit in your air fryer basket with some space between them for air to circulate, then go ahead and put them all in.
If they don't all fit in a single layer (they don't all fit in my air fryer), then cook the first 12 as instructed in the recipe. Then remove them to a plate and cover with aluminum foil. Cook the second batch of 12. Remove those from the air fryer and return the first batch to the basket. Cook that first batch for 3 minutes at 400°F. Then add back in the second batch and cook everything together for another 3 minutes. They will all be fully heated and brown and ready at the same time that way.
More Delicious Air Fryer Recipes
You can browse more fantastic ground turkey recipes from my collection, or try one of these other air fryer dinners.
Podcast Episode About Making Air Fryer Turkey Meatballs
Listen to me explain briefly about how to make this recipe, with some great tips along the way, by clicking the play button below:
Print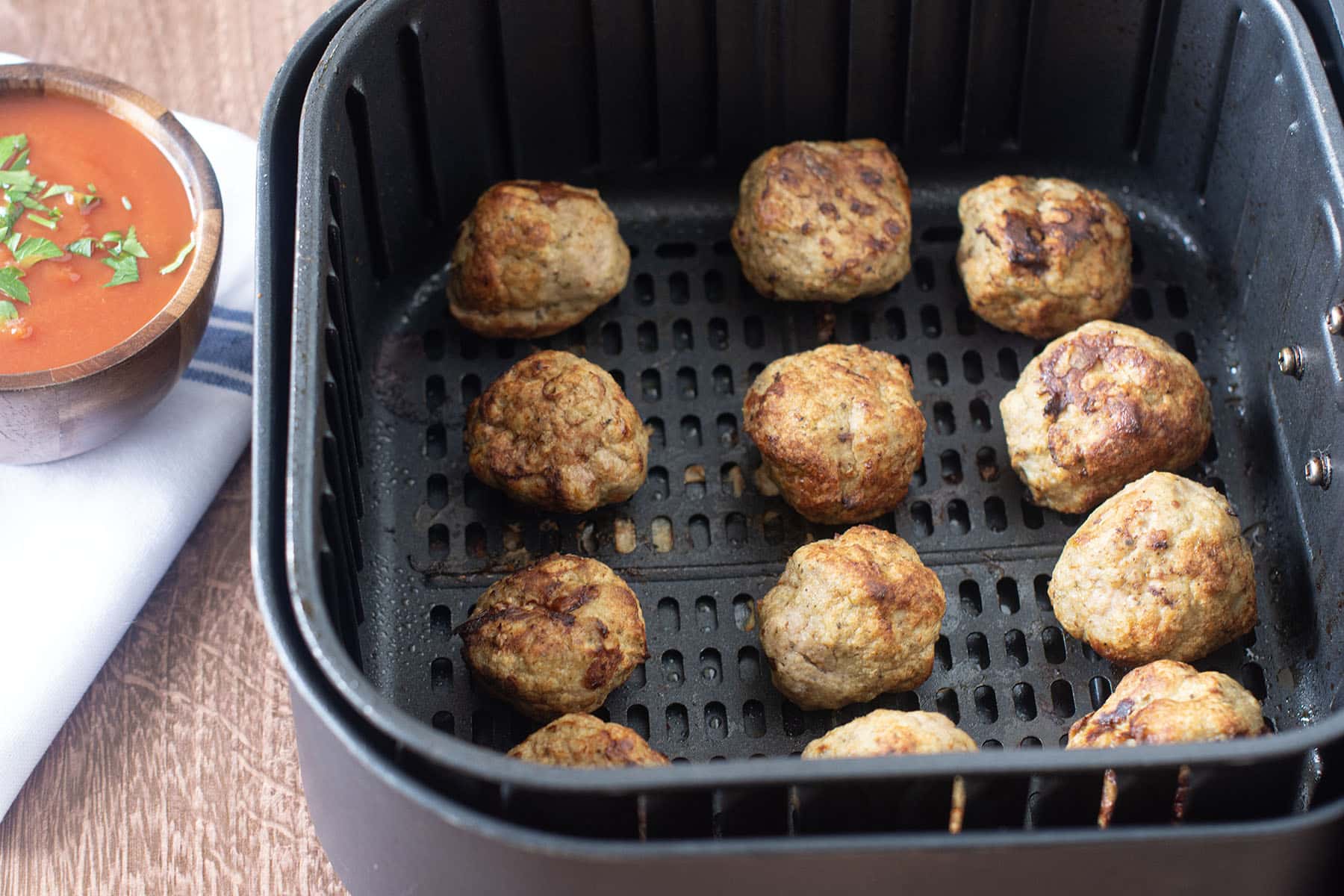 Air Fryer Turkey Meatballs Recipe
Contributor: Christine Pittman
These air fryer turkey meatballs are ready to eat in twenty minutes and are perfect for spaghetti, meatball subs, and more.
Author:

Prep Time:

10 minutes

Cook Time:

10 minutes

Total Time:

20 minutes

Yield:

2

servings

1

x

Category:

Entrée

Method:

Air Fryer

Cuisine:

Italian
1

large egg

2 tsp

. Worcestershire sauce

1/2

tsp. salt

1/2

tsp. Italian seasoning

1/2

tsp. garlic powder

1/2

tsp. onion powder

1/4

tsp. black pepper

1/4

cup breadcrumbs

1

lb

. ground turkey
Cooking spray
In a large bowl mix together the egg, Worcestershire, salt, Italian seasoning, garlic powder, onion powder, and black pepper. Stir in the breadcrumbs.
Add the ground turkey and use your hands to gently mix it all together, being careful to not overmix it.
Divide meat mixture into 4 portions and then make 3 meatballs out of each portion. Spray meatballs all over with cooking spray.
Arrange meatballs in the basket of the air fryer. Set the temperature to 400°F and cook for 5 minutes.
Flip the meatballs over and cook until no longer pink inside and well-browned outside, 5-8 more minutes.
Love this recipe? I'd appreciate it if you could scroll down and add a *5 star rating* to help others know they'll love it as well!