With this burger seasoning recipe, you'll know you have perfectly flavorful burgers each and every time.
Use this homemade seasoning blend for burgers that are perfectly seasoned and full of flavor. With onion and garlic powder, brown sugar, paprika, and more, we're using ingredients you probably already have in your pantry to make the best burger seasoning ever.
Note: Below you'll find a recipe for a full 1/2 cup (4 oz.) batch of burger seasoning. In addition, in case you're trying to make enough for one pound of meat, we've also given a recipe below that makes 2 tablespoons. We hope you find this helpful!
Scroll down to read more about how it all comes together or click here to jump straight down to the recipe.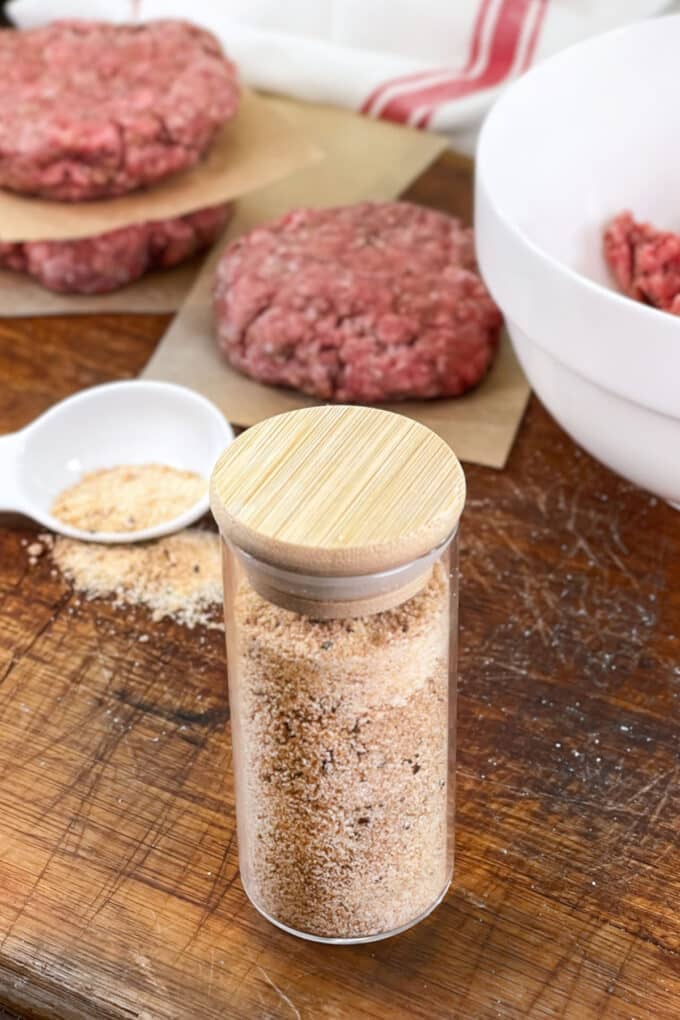 What Is Burger Seasoning?
Well, simply put, it's a blend of spices to season your hamburgers. I tested to find out what you need for the best burger seasoning to add flavor without completely overtaking the taste of ground beef.
My burger seasoning mix includes garlic and onion powders, brown sugar, salt and black pepper, along with a bit of paprika and cayenne pepper. You can keep this mix in an airtight jar in your pantry or cabinet so it's ready to use whenever you need it. Try this burger seasoning recipe in not only your burgers, but meatloaf, meatballs, chili, or turkey burgers too. It's so tasty that I'm sure you'll find lots of uses for it!
How Should I Season My Burgers?
To season your ground beef, mix two tablespoons of the homemade burger seasoning into one pound of ground beef. Be careful not to overmix, which can make the meat tough, just gently mix until the seasoning is combined, then shape your hamburger patties.
One great tip for not overmixing is to get out a big bowl and combine everything you're adding to your burger patties (seasoning, breadcrumbs, egg, etc.) other than the meat. Stir that well. Then add your meat and mix until just combined. Since your non-meat mixture was thoroughly mixed, as soon as the meat appears evenly mixed, you know that everything is evenly mixed and you can stop.
If you're not adding any other additional ingredients (like egg or breadcrumbs) to your burger patties, another way to avoid overmixing the meat is to sprinkle the seasoning on the outsides of the patties just before cooking. You therefore are taking the meat straight from the packaging and shaping it into burgers, which works it less than mixing in the seasoning.
How To Make A Small Batch Of Burger Seasoning
If you don't want to make enough of this hamburger seasoning to keep on hand, you can instead use this small batch recipe. This makes about two tablespoons of seasoning, which works great for a one pound package of ground beef.
To Make 2 Tablespoons of Burger Seasoning, Combine:
• 2 and 1/4 tsp. garlic powder
• 1 and 1/2 tsp. onion powder
• 1 and 1/2 tsp. brown sugar
• 3/4 tsp. salt
• 1/2 tsp. paprika
• 1/4 tsp. black pepper
• 1/8 tsp. cayenne
Podcast Episode About Burger Seasoning
Listen to me explain briefly about how to make this recipe, with some great tips along the way, by clicking the play button below:


Listen to more Recipe of the Day episodes here.
Print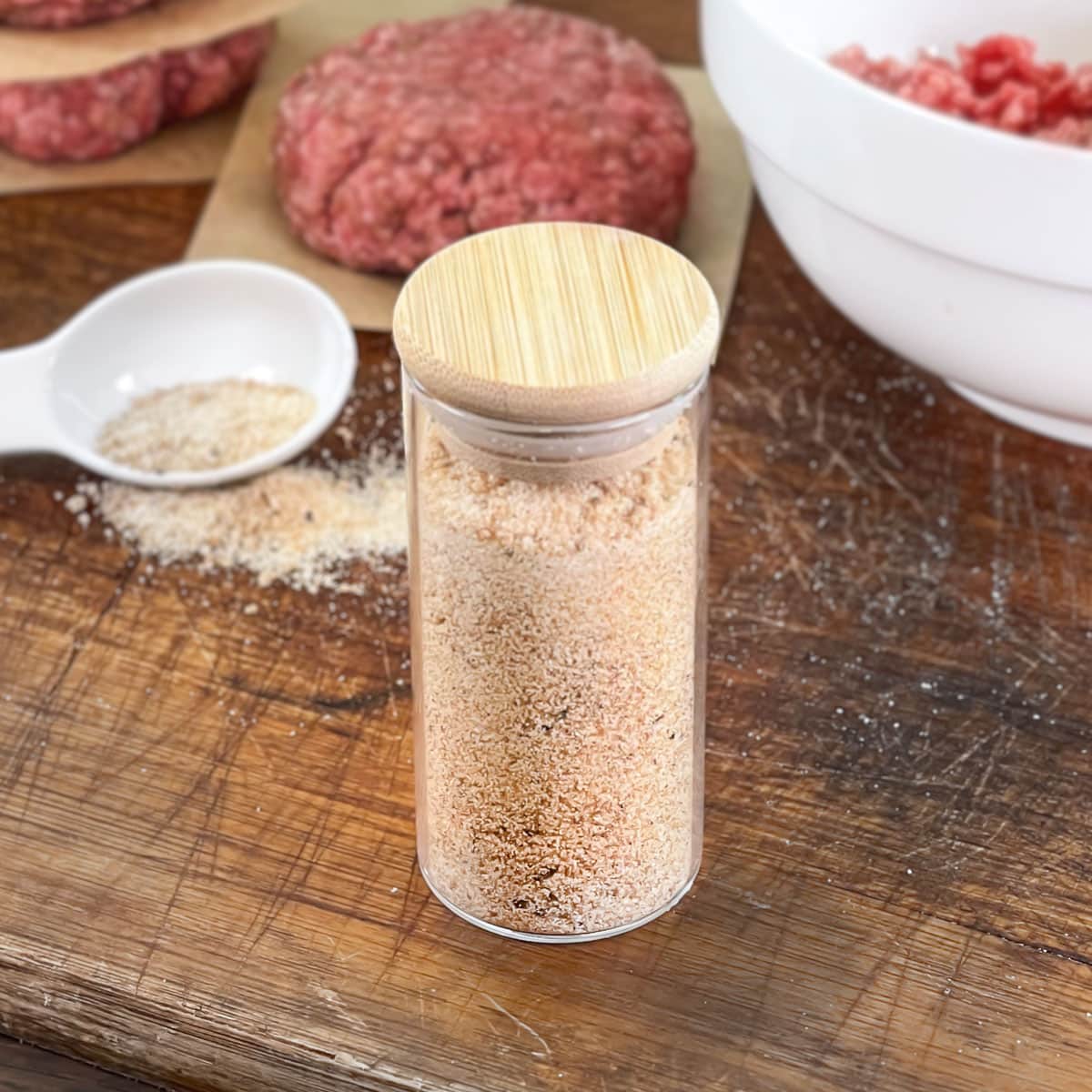 Burger Seasoning Recipe
Contributor: Christine Pittman
Recipe as written fits into a standard (4-oz.) spice jar, but can easily be doubled or tripled. Use 2 tablespoons of this seasoning blend for 1 pound of ground meat. 
Author:

Prep Time:

10 minutes

Cook Time:

0 minutes

Total Time:

10 minutes

Yield:

About

4 oz

. (

1/2 cup

)

1

x

Category:

Seasoning

Method:

Mix

Cuisine:

American
3 Tbsp

. garlic powder

2 Tbsp

. onion powder

2 Tbsp

. dark brown sugar

1 Tbsp

. salt

2 tsp

. paprika

1 tsp

. ground black pepper

1/2 tsp

. cayenne pepper (optional)
In a medium bowl whisk together garlic powder, onion powder, brown sugar, paprika, salt, pepper, and cayenne.

Transfer mixture to an air-tight container. Store up to 3 months in a cool, dry, dark, place.
Love this recipe? I'd appreciate it if you could scroll down and add a *5 star rating* to help others know they'll love it as well!