Santa Maria Seasoning is a flavorful spice blend originating in California, that is perfect for tri-tip steak as well as a variety of other grilled meats. You probably have the main ingredients already!
Note: Below you'll find a recipe for a full 1/2 cup (4 oz.) batch of this Santa Maria Tri-Tip Seasoning. In addition, in case you're trying to make a recipe that calls for Santa Maria seasoning and you just want to make a little bit, we've also given a recipe below that makes a small batch of just 2 tablespoons. We hope you find this helpful!
This homemade seasoning blend is perfect for making Santa Maria steak and other meats. It's a flavorful combination of herbs and spices that works great as a dry rub for grilling.
Scroll down to read more about how it all comes together or click here to jump straight down to the recipe.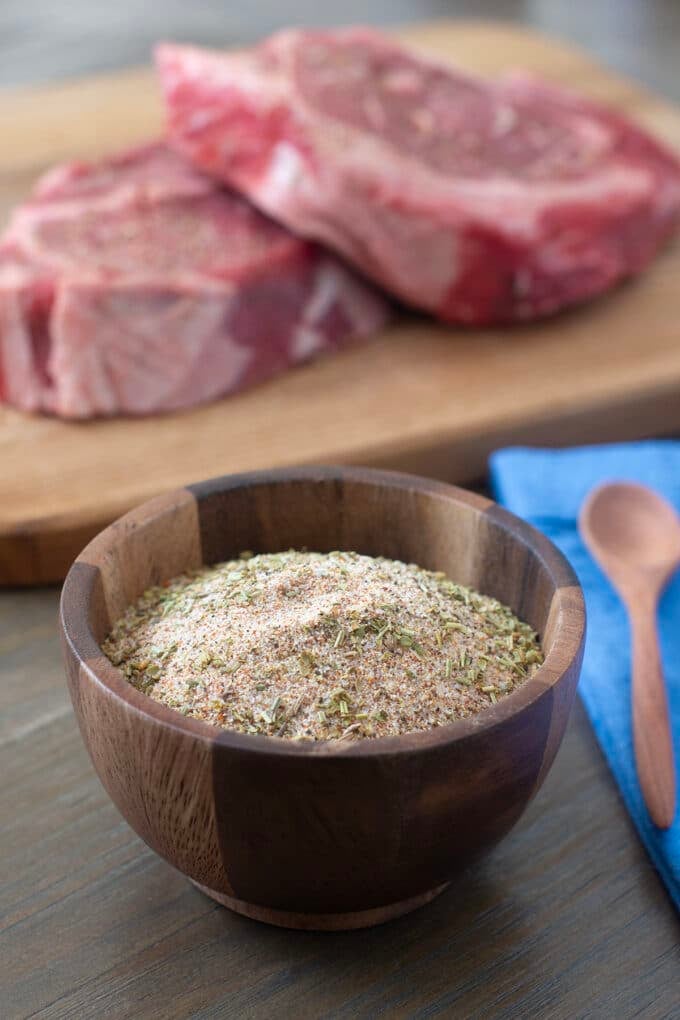 What Is Santa Maria Barbecue?
Santa Maria Seasoning comes from Santa Maria, California and from the style of BBQ that was made famous there. Santa Maria-style barbecue originated in the 1800s with ranchers cooking Spanish-inspired meats for their workers.
This type of barbecue was originally cooked in earthen pits over the hot coals of local oak. The most popular meat to prepare in this way is Tri-Tip roasts, though other kinds can be used. The traditional sides for Santa Maria barbecue are pinquito beans, salsa, fresh salad, and grilled French bread with butter.
What's In Santa Maria Seasoning?
The most traditional way to season meat for Santa Maria-style BBQ is just with salt, pepper, and garlic powder. I'm someone who often turns to just these three ingredients when cooking meat so I am totally on board with this.
If you want to measure this out, it's two parts salt, two parts garlic powder, and 1 part black pepper. So 2 teaspoons salt, 2 teaspoons garlic powder, 1 teaspoon black pepper.
Having said that, in researching Santa Maria BBQ, I've found that there are a lot of seasoning blends on the market, and recipes all over, that tend to add to that simple blend. The things that are usually added are onion powder, some herbs like oregano and rosemary, often a bit of heat in the form of cayenne, and then some kind of chili, often the sweeter Aleppo chili flakes or the sweet and smoky ancho chili powder. The recipe below is based on this research and has a delicious blend containing these extra ingredients.
What To Use For The Chili
If you have Aleppo chili flakes, absolutely use those. Otherwise, the same amount of ancho chili powder can be used. A good alternative to those is to blend smoked paprika with sugar (half of each). Or you can just go in with regular chili powder if that's what you have on hand.
Making A Small Batch
To make just 2 tablespoons of this spice blend, combine:
• 1 and ¼ tsp. salt
• 1 and ¼ tsp. garlic powder
• 1 and ¼ tsp. onion powder
• ¾ tsp. dry oregano
• ½ tsp. black pepper
• ½ tsp. dried rosemary
• ¼ tsp. Aleppo pepper flakes (see substitutions above or in recipe card below)
• ⅛ tsp. cayenne
To Add Spices Directly To What You're Cooking: To approximate the Santa Maria flavors on the fly, add equal amounts of salt, garlic powder, and onion powder. Then add about half of that amount of dry oregano, black pepper, and rosemary. Finish with a tiny bit of the pepper flakes and/or some cayenne.
How To Use Santa Maria Seasoning
The cut that is most often used in Santa Maria barbecue is the beef tri-tip. This cut of beef is sometimes called a tri-tip steak, but at 2-3 pounds per "steak" it's really more of a roast. It comes from the bottom sirloin and is delicious with this seasoning blend.
You can use it for all sorts of meat though. Try it on ribs, grilled pork, or chicken. You could even add some to chili or grilled veggies.
You'll get out your tri-tip or other cut of meat, rub it all over with this rub and then let it sit on there for awhile. Some people wrap it in plastic wrap and put it in the fridge. Others leave it unwrapped and put it on a rack set over a pan and put that into the fridge. I do the latter but honestly it's out of habit since I haven't tested which is best in this case.
I have definitely tested the timing though. As little as 30 minutes has an effect. But leaving it for as long as 12 hours will have the flavors penetrating more. Then you can cook it over a fire, if you can. Or follow one of these Tri-Tip recipes:
More Seasoning Blends You'll Love
If you love this Santa Maria tri-tip rub, try some of my other homemade seasoning blends. Here's some popular ones to get you started:
Podcast Episode About Making Santa Maria Seasoning
Listen to our editor, Christine Pittman, explain briefly about how to make this recipe, with some great tips along the way, by clicking the play button below:
Listen to more Recipe of the Day episodes here.
Print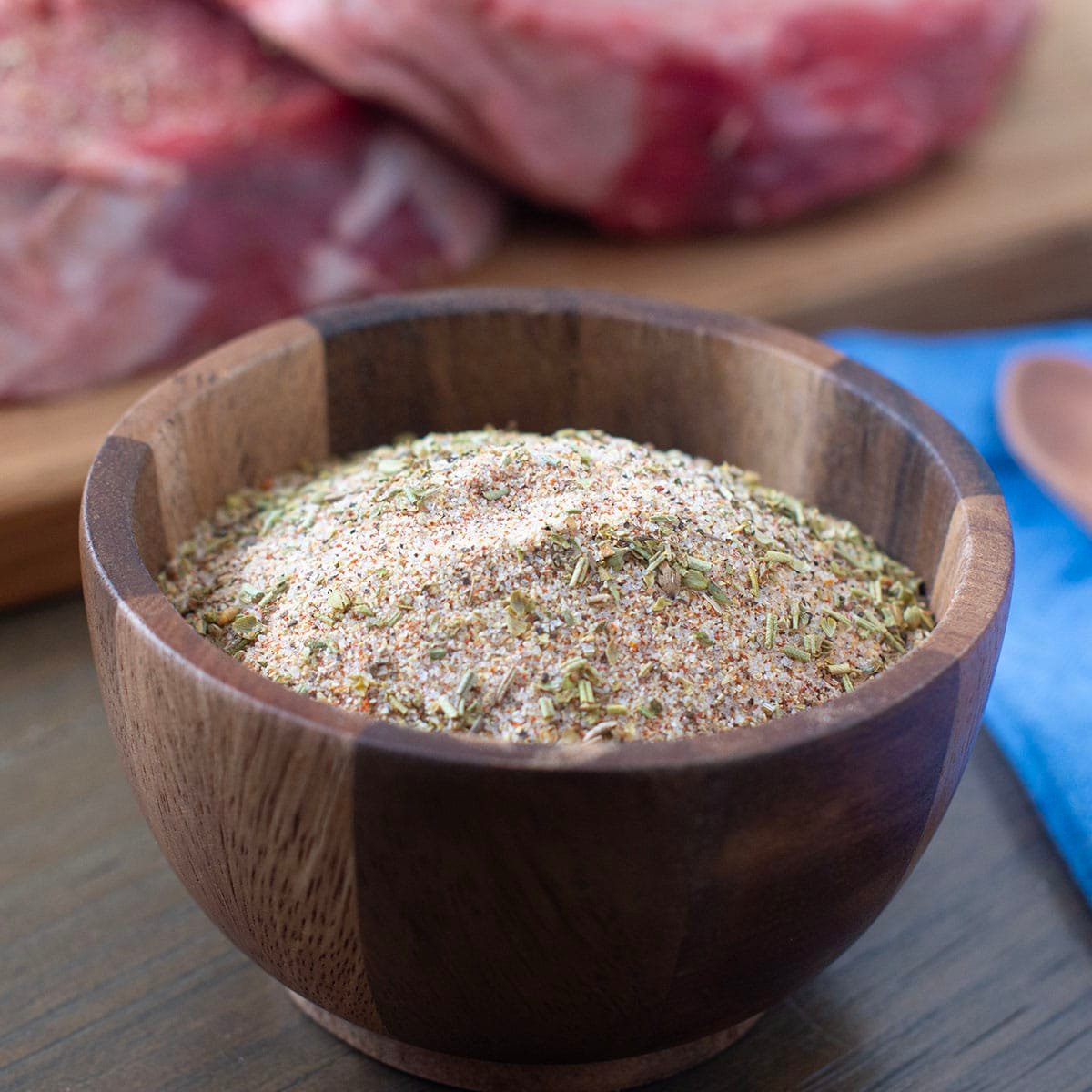 Santa Maria Seasoning Recipe
Contributor: Christine Pittman
Santa Maria Seasoning is a flavorful spice blend that's perfect for tri-tip steak as well as a variety of other grilled meats.
Author:

Prep Time:

5 minutes

Cook Time:

0 minutes

Total Time:

5 minutes

Yield:

About

4 oz

. (

1/2 cup

)

1

x

Category:

Spice Blend

Method:

Mix

Cuisine:

American
5 tsp

. salt

5 tsp

. garlic powder

5 tsp

. onion powder

1 Tbsp

. dry oregano

2 tsp

. black pepper

2 tsp

. dried rosemary

1

and

1/2

tsp. Aleppo chili flakes*

1/2

tsp. cayenne
In a medium bowl mix together all ingredients until well combined.
Transfer mixture to an air-tight container. Store up to 3 months in a cool, dry, dark, place.
Love this recipe? I'd appreciate it if you could scroll down and add a *5 star rating* to help others know they'll love it as well!
Notes
*Note: If you don't have Aleppo chili flakes, use the same amount of ancho chili powder, regular chili powder, or mix together 3/4 teaspoon smoked paprika with 3/4 teaspoon white sugar and use that.