This popular spice blend from Mexico is made with dried chilis and lime. It's a wonderful seasoning for homemade fajitas. And now, I've made it easy to make your own Tajin seasoning at home!
Note: Below you'll find a recipe for a full 1/2 cup (4oz.) batch of Tajin seasoning. In addition, in case you're trying to make a recipe that calls for Tajin seasoning and you just want to make a little bit, we've also given a recipe below that makes a small batch of just 2 tablespoons. We hope you find this helpful!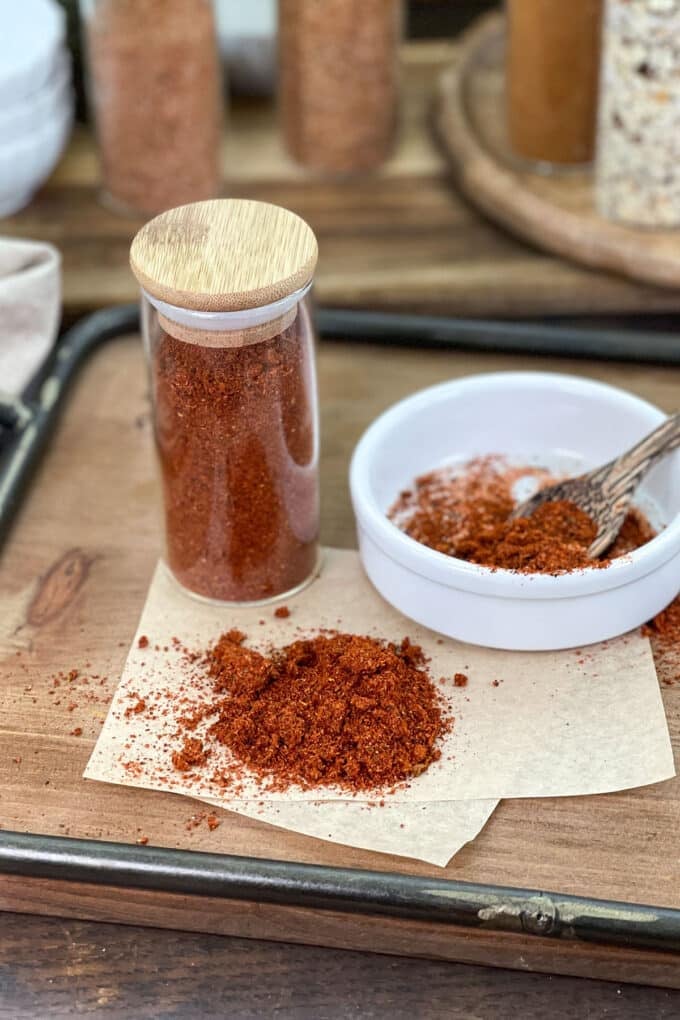 What Is Tajín Seasoning?
Tajin is a popular seasoning in Mexican cuisine made with a combination of three main flavor profiles: chili, lime, and salt. Pronounced "ta-heen," the Tajín Clásico spice blend is produced by the Mexican company of the same name, Tajín.
The chiles traditionally used in Tajin seasoning range from mild to hot, each with its own hint of smokiness, depending on how it was dried. The citrus flavor in the brand mix comes from dehydrated lime juice.
Because the dried chili peppers and dehydrated lime can be difficult to find in regular grocery stores, I created a blend that delivers all of the spicy, smoky chili flavor and punch of lime with easy-to-find ingredients.
Ingredients For Homemade Tajin Seasoning
For the lime flavor, I've added fresh lime zest. The salt in the recipe draws out the moisture and oils in the zest, perfuming the chiles in the process. The salt also preserves the freshly-grated zest and prevents bacteria from growing.
Most chili powders contain a variety of peppers, as well as garlic powder and other spices to round out the flavor. This variety helps the homemade Tajin taste like the store-bought. The addition of smoked paprika and ground chipotle adds more depth and complexity, while the salt and lime provide that tangy punch Tajin is known for.
After zesting the limes, I like to place the zest on a paper towel and let it dry out for a few minutes before adding it to the rest of the ingredients, which will help to keep it from clumping.
If you don't want to use lime zest in this blend, you can use a teaspoon of ground coriander to get that citrus note. If you don't have ground chipotle, you can use extra chili powder and smoked paprika to replace it.
Some other recipes I've seen also include garlic and onion powder in their versions, but I prefer it without. It's closer to the store-bought seasoning and allows you to use it in more ways.
How To Make Tajin Seasoning
To make your homemade spice blend, combine the chili powder, smoked paprika, ground chipotle, salt, and lime zest. After everything is well mixed, I'll often let it sit on the counter for a while longer so I can press out any clumps that may have formed.
Transfer the homemade Tajin to a glass jar or container and store it in a cool, dry, dark place for up to three months.
Making a Small Batch of Tajin Seasoning
If you want a full batch of Tajin Seasoning in your pantry that you can grab and use whenever, then scroll down to make the full recipe. However, if you just want a small batch to use right now in a recipe that calls for it, or, if you just want to know approximately how much of each ingredient to add directly to something that you're cooking, I have the info for you here.
Here is how to make 2 tablespoons of Tajin seasoning. Note that there is salt in this blend so you may not want to add any more salt in dishes you make that you add Tajin to.
To Make 2 Tablespoons of Tajin Seasoning, Combine:

• 2 and 1/4 tsp. chili powder
• 1 and 1/2 tsp. smoked paprika
• 3/4 tsp. ground chipotle
• 3/4 tsp. salt
• Zest from 3/4 of 1 lime

To Add Directly to the Food You're Cooking: Add chili powder as the main seasoning ingredient. Then add half as much smoked paprika, then half as much of that of ground chipotle and of salt. Then add a bit of lime zest or of ground coriander.
Using Tajin
My favorite way to enjoy this spicy, citrusy seasoning is to sprinkle it on slices of mango and pineapple. It's amazing on the rim of cocktails and mixed drinks, like a Bloody Mary or mango margarita. It's also great on popcorn, and of course, as a seasoning for steak, chicken, and shrimp. Tajin can also be used on all sorts of vegetables, try it on grilled corn!
I hope you share all the delicious uses you find for this homemade Tajin spice mix in the comments below.
Print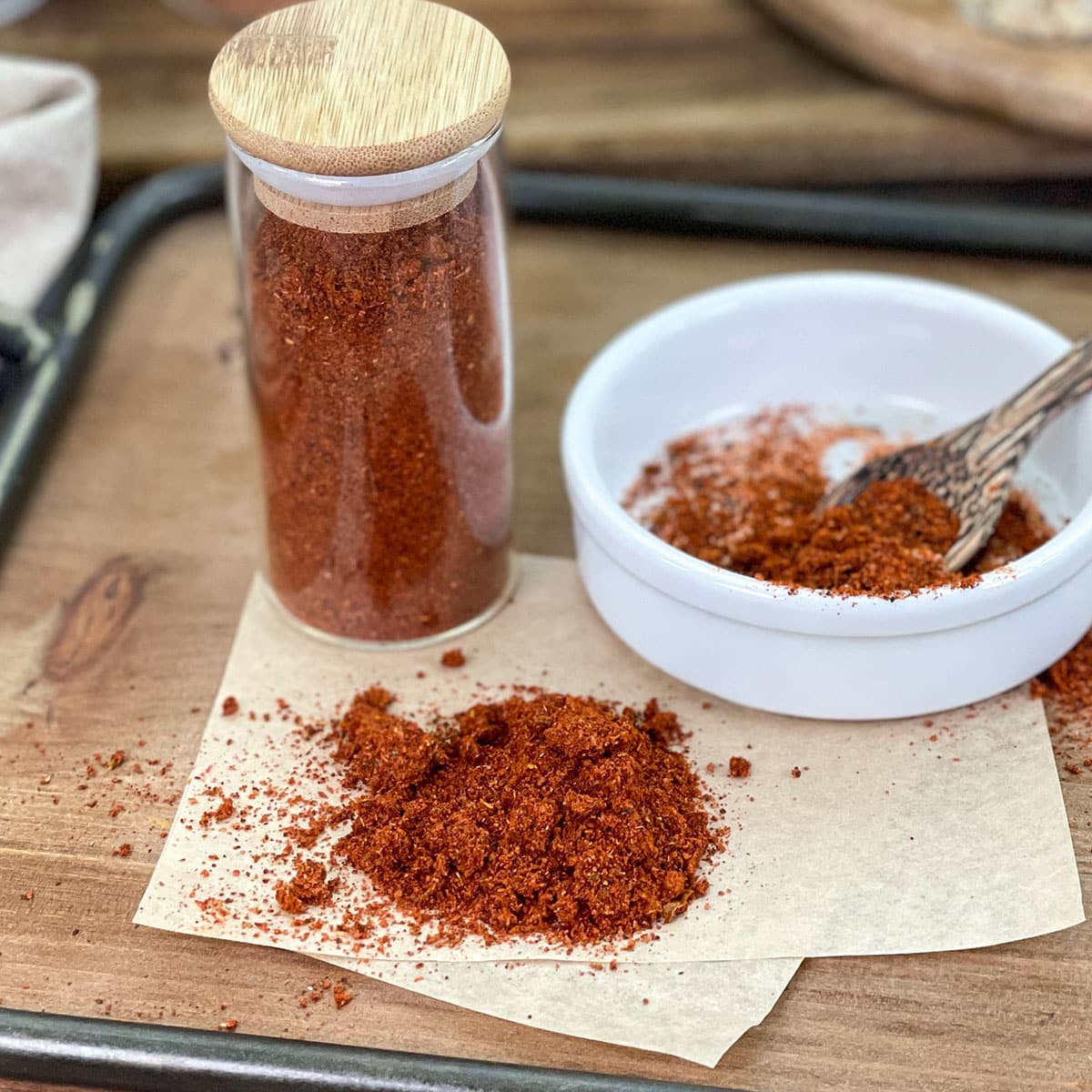 Tajin Seasoning
Contributor: Christine Pittman
Use Tajin on meats and veggies or sprinkled on fresh fruit or popcorn.
Fits into a standard (4-oz.) spice jar as written, recipe can be easily doubled or tripled.
Author:

Prep Time:

10 minutes

Cook Time:

0 minutes

Total Time:

10 minutes

Yield:

About

4 oz

. (

1/2 cup

)

1

x

Category:

Spice Blend

Method:

Mix

Cuisine:

Mexican
3 Tbsp

. chili powder

2 Tbsp

. smoked paprika

1 Tbsp

. ground chipotle

1 Tbsp

. salt

3

limes, zested
Instructions
In a medium bowl whisk together chili powder, paprika, ground chipotle, salt, and zest until well combined.

Transfer mixture to an air-tight container. Store up to 3 months in a cool, dry, dark, place.