This flavorful Mediterranean Eggplant Burger has the eggplant Parmesan tastes you love, plus delicious pesto as the condiment.
How To Cut The Eggplant
For this recipe, I wanted the eggplant slices to be the same size and shape of the bun. It's easier to eat that way than if you have long slices that are poking out of the bun. The only issue with this is that eggplants don't have an even width all the way though, and so rounds cut from especially the stem end can be too small. Also, some eggplants are quite thick, making for rounds that are bigger than the bun.
Eggplants that are of the right width are smaller eggplants. But, they don't yield enough slices. What I found was best was to use two smaller eggplants, and cut four 1/4 inch slices from each one, from the middle to the thicker end. If you can't get smaller eggplants, then use a medium-sized one, and cut all eight slices from there.
If using the two small eggplant, you will be able to cut some extra slices from each one, but they will be too small to use in the burgers. I recommend popping the extra eggplant into the air fryer like this, and making a nice little snack or side dish for another time.
Do I Need To Salt The Eggplant?
This is something you see addressed in many eggplant recipes. It's commonly thought that salting the eggplant pieces prior to cooking reduces the bitterness and draws out moisture. In many recipes, I've found that this extra step had basically no effect.
However in testing this burger recipe, I did discover that salting the eggplant improved the final result. The salt was able to season the eggplant a little deeper than just seasoning the surface, plus it started to soften the slices so that they cooked faster.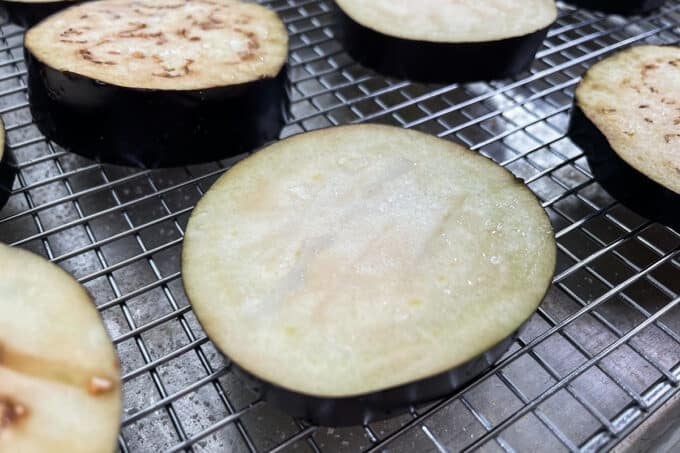 The salt also drew moisture to the surface, so that the flour of the breading stuck much better. So in this case, yes, salt the eggplant slices and let sit on a baking rack for half an hour before cooking.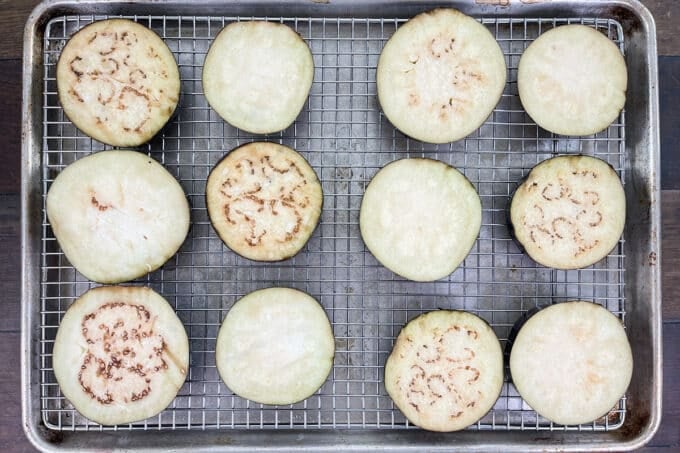 How To Cook Breaded Eggplant Slices
You can pan-fry or bake the breaded eggplant slices, but I found that I preferred the fried version. It has more flavor and stayed crispy longer so that you get that perfect bite every time.
First, we need to bread our salted eggplant slices. We're going to set up three shallow bowls with flour in the first, beaten eggs in the second, and Italian breadcrumbs and some Parmesan cheese in the final dish. Dip each eggplant slice into the bowls in that sequence to thoroughly coat them. Place the breaded slices back on the baking rack they were resting on while salted.
In a large non-stick skillet, heat your cooking oil over medium heat. Add half of the eggplant slices at a time and pan fry until eggplant is golden brown on the outside and soft in the middle, about 3 minutes each side. Transfer the cooked slices to a paper towel lined plate and repeat with the remaining eggplant.
Still prefer to try the baked version? Here's what to do:
If baking the eggplant, preheat oven to 400°F. Place baking sheet with rack and breaded eggplant into the oven. Spray the tops of the eggplant slices lightly with oil spray. Bake for 30 to 40 minutes or until eggplant is soft in the middle and the breading is golden brown.
Making Your Mediterranean Eggplant Burger
To put together your delicious eggplant burger, spread pesto on the bottom burger bun. Top with an eggplant slice, two slices of tomato, a second eggplant slice, and a couple slices of mozzarella. Add another spoonful of that flavorful pesto on top and then add the top of the bun. This veggie burger is slightly messy to eat, be warned, but it's sooo good.
If you're craving more great eggplant dishes, try this Air Fryer Eggplant Parmesan or Eggplant Bruschetta with grilled eggplant slices. And of course, you can find all our great vegetarian burger recipes on the category page. Enjoy! – Christine xo
Print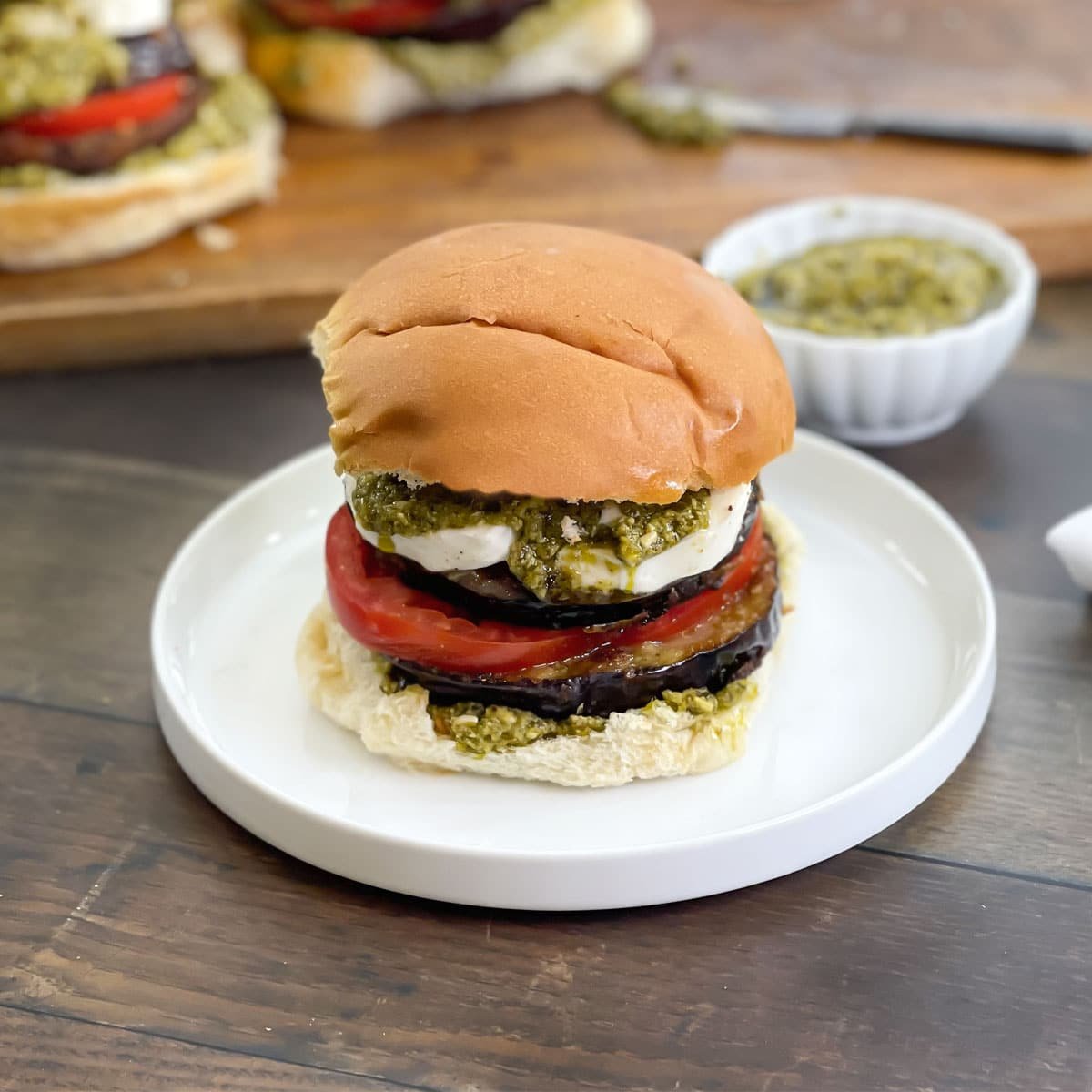 Mediterranean Eggplant Burger Recipe
Contributor: Christine Pittman
This flavorful Mediterranean Eggplant Burger has the eggplant Parmesan tastes you love, plus delicious pesto as the condiment.
Listen to learn how to make this recipe, along with some great tips from Christine:
Author:

Prep Time:

10 minutes

Rest Time:

30 minutes

Cook Time:

12 minutes

Total Time:

52 minutes

Yield:

4

servings

1

x

Category:

Entrée

Method:

Stovetop

Cuisine:

Mediterranean
2

small eggplants

1/2 tsp

. salt

1/2 cup

flour

2

eggs, beaten

1 cup

Italian-style breadcrumbs

1/4 cup

grated parmesan cheese

1/4 cup

cooking oil

1/2 cup

pesto

2

medium tomatoes, sliced thin

1

lb. fresh mozzarella, sliced thin

4

burger buns, split
Starting at the thickest end of one eggplant, trim off the end and then slice four 1/4-inch rounds. Repeat with the second eggplant. Remaining unsliced eggplant should be saved for another use.

Place wire rack onto a sheet pan. Place eggplant slices on wire rack. Sprinkle salt over both sides of eggplant. Let stand 30 minutes.

Meanwhile, in a shallow pan or bowl add flour. In a second shallow pan or bowl add the eggs. In a third shallow pan or bowl add the breadcrumbs and parmesan cheese.

Dip each slice of eggplant into the flour, shaking off excess. Dip the flour-coated eggplant slices into the egg, and then into the breadcrumbs. Place breaded eggplant slices onto the rack.

In a large nonstick skillet heat oil over medium heat. Add half of the eggplant slices; pan fry each side 3 minutes or until eggplant is soft in the middle and golden brown on the outside. Transfer cooked eggplant slices to a paper towel-lined plate. Repeat with remaining eggplant slices.

To build a burger, place 1 tablespoon of the pesto on the bottom half of one of the buns. Add one slice of the eggplant, two slices of tomato, another slice of eggplant, one or two slices of mozzarella, and another tablespoon of the pesto. Add the top of the bun. Repeat with remaining ingredients. Serve warm or at room temperature.
Love this recipe? I'd appreciate it if you could scroll down and add a *5 star rating* to help others know they'll love it as well!