Learn how to use the ingredients you already have on hand to make the best ever veggie burgers. Our Vegetarian Burger Topic is brought to you by Produce for Kids. Your healthy family resource for nutritious meals.
There's nothing more frustrating than wanting to make a veggie burger and realizing you're missing half the ingredients. With this easy formula, you can create your own awesome veggie burger recipe with whatever you have lying around! Feel free to use fresh or frozen vegetables and leftover grains from a previous dinner (or last night's takeout!) to make these burgers even easier.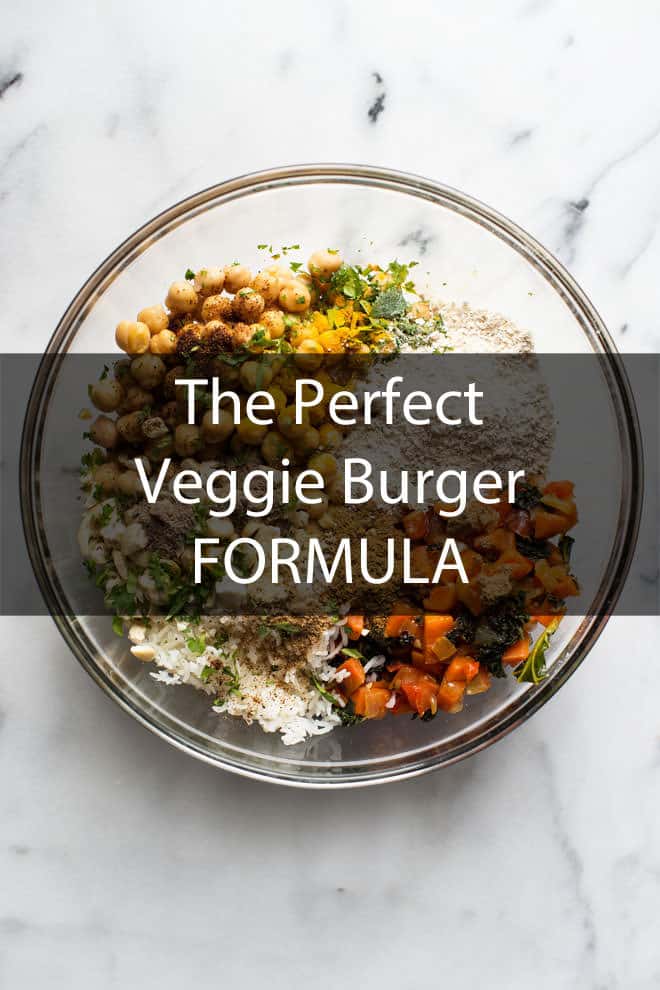 Want To Save This Recipe?
Enter your email address & I'll send this recipe straight to your inbox to save for later! Plus, you'll get new recipe ideas from me every week!
Video: How To Make Vegetarian Burgers
The Formula For Vegetarian Burgers
What you're going to do is build your burger mixture using the lists and amounts below. The formula is…
The Best Veggie Burger = Standard Ingredients + 2 Cups Chopped Soft Veggies + 1 Cup Cooked Grains + 1 and 1/2 Cups Cooked Legumes + 1/2 Cup Flavor/Texture Booster + 3 Tsp. Spices + 1/2 Cup Dry Base
Choose your ingredients from the lists below based on what you have and then follow the instructions to build your best veggie burger. Yay!
Can You Freeze Homemade Veggie Burgers?
Yes! These veggie burgers can be frozen for up to three months. I think it's best to cook them first, then freeze them so they can just be heated through from the freezer. Wrap them individually and then store in a zip-top freezer bag. The recipe as written makes 8 patties, so it's great to enjoy some right away and store the extras for an easy and delicious meal later on.
Frequently Asked Questions
How do I cook frozen veggie burgers?
If you cooked them before freezing, you can simply microwave the frozen patties for 30 seconds at a time until heated through.
You could also bake them in the oven straight from frozen. Bake at 350°F for 15-20 minutes, until heated through, flipping them halfway through. Or they can be cooked in a skillet on the stove over medium heat for 12-14 minutes, flipping every few minutes.
Why is there no egg as a binder?
I have found that they don't need it to hold together. If you'd prefer to use egg, use it in place of the reserved liquid from the legumes.
Print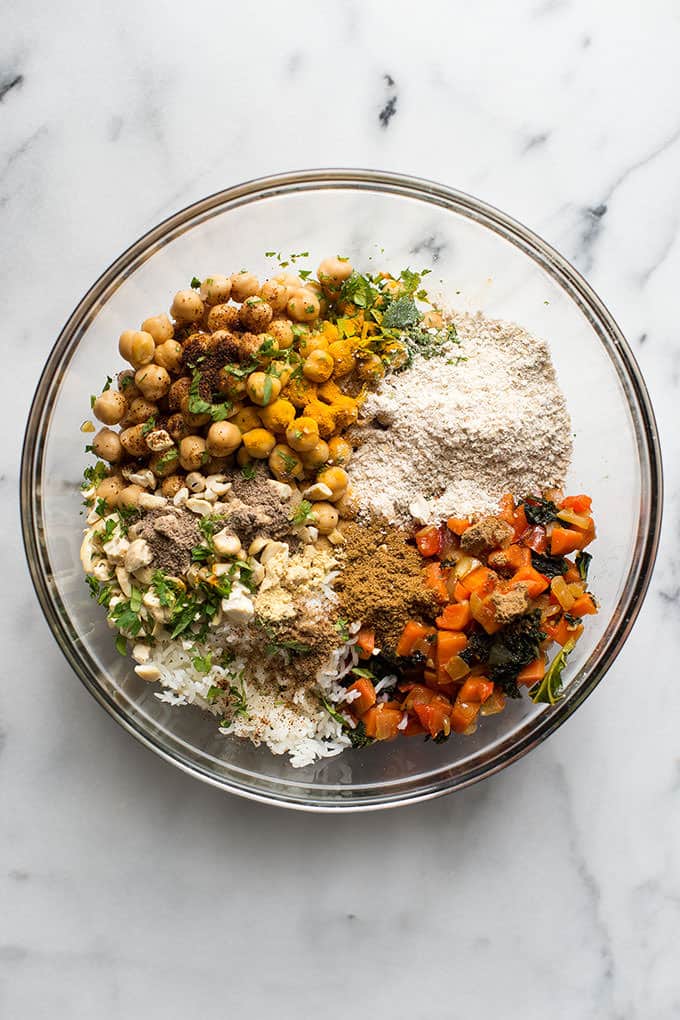 The Perfect Veggie Burger Formula
Contributor: Maria Siriano
Learn how to use the ingredients you already have on hand to make the best ever veggie burgers.
Listen to our editor, Christine Pittman, explain briefly how this veggie burger formula comes together, with great tips along the way, by clicking the play button below:
Author:

Prep Time:

5 minutes

Refrigerate:

30 minutes

Cook Time:

20 minutes

Total Time:

55 minutes

Yield:

8

burger patties

1

x

Category:

Entrée

Method:

Stovetop

Cuisine:

American
STANDARD INGREDIENTS
1

medium onion, diced

1

–

2

garlic cloves

1/2 teaspoon

salt
oil for cooking (e.g. olive oil, coconut oil, peanut oil)
2 CUPS COOKED VEGETABLES, FINELY DICED OR CHOPPED (PICK 1-3)
sweet potatoes
beets (golden or red)
carrots
mushrooms
spinach
kale
corn
squash
broccoli
cauliflower
artichokes
zucchini
bell peppers
1 CUP COOKED GRAINS (PICK 1)
millet
quinoa
bulgur
rice
buckwheat
1½ CUPS COOKED LEGUMES, LIQUID RESERVED (PICK 1-2)
canned beans (e.g. black, pinto, cannellini, kidney)
lentils (red or green)
chickpeas
soybeans
mung beans
adzuki beans
black eyed peas
½ CUP FLAVOR/TEXTURE BUILDERS (PICK 2)
fresh herbs, finely chopped (e.g. cilantro, basil, dill, parsley, thyme, sage, chives)
scallions, thinly sliced
chopped nuts (e.g. walnuts, almonds, pecans, cashews)
chopped sundried tomatoes
chopped olives
flax seeds
chia seeds
sesame seeds
mashed avocado
unsweetened nut butter (e.g. peanut, almond, cashew)
tahini
3 TEASPOONS SPICES (PICK 2-4)
cumin
chili powder
smoked paprika
cayenne powder
Italian seasoning
black pepper
fennel
oregano
curry powder
coriander
cinnamon
turmeric
citrus zest
½ CUP DRY BASE (PICK 1)
ground oats
cornmeal
bread crumbs
panko
almond meal*
Instructions
Heat 2 tablespoons of oil in a large skillet over medium-high heat. Add the onion, garlic, and salt and cook until the onion is translucent, 2-3 minutes. Add vegetables and cook until soft, 5-10 minutes.
Transfer the cooked vegetables to a food processor**. Add all remaining ingredients except the reserved bean liquid and frying oil. Pulse 5-10 times to combine. Don't overdo it; you don't want a paste!
Press the mixture between your fingers. If you can form a patty with it, you're good to go. If it's too crumbly, add the reserved bean liquid, 1 tablespoon at a time, until it sticks together. If the mixture is too wet, add more of the dry base ingredient, 1 tablespoon at a time, until you reach the right consistency. Taste the mixture and add salt to your taste.
Form the mixture into 8 patties (about ⅓ cup of the mixture each) and place on a baking sheet lined with parchment paper. Refrigerate the patties uncovered for 30 minutes. (Don't skip this step! Resting will help the patties stay together.)
When ready to cook, heat 1 tablespoon of oil in a large skillet over medium-high heat until shimmering. Cook 3-4 patties at a time until brown on one side, then flip and brown the other side. It should take about 3-4 minutes per side. Heat 1 tablespoon of oil in the pan before cooking each batch of burgers.
Serve immediately or cool and then wrap each burger in foil, place them in a freezer bag, and freeze for later.  Reheat in a dry pan on the stove, in the oven or in the microwave. (For more freezable meals click here).
Love this recipe? I'd appreciate it if you could scroll down and add a *5 star rating* to help others know they'll love it as well!
Notes
*We've heard from a reader that almond flour doesn't work in place of almond meal. We're doing testing now and once we know for sure, we will revise the recipe to reflect this issue. Until then, be sure you're using almond meal and not almond flour.
**You can also do this in a large bowl with a potato masher. Just make sure your veggies are cooked so they are soft enough to mash! Use a potato masher or large mixing spoon to mix and mash the ingredients together.
This post originally appeared in July 2016 and was revised and republished in October 2022.