French Onion Chicken
French Onion Chicken is a hardy protein- rich version of French Onion Soup. It's a great comfort food for weekends when you have a little more time to spend in the kitchen (caramelized onions – mmmmm!)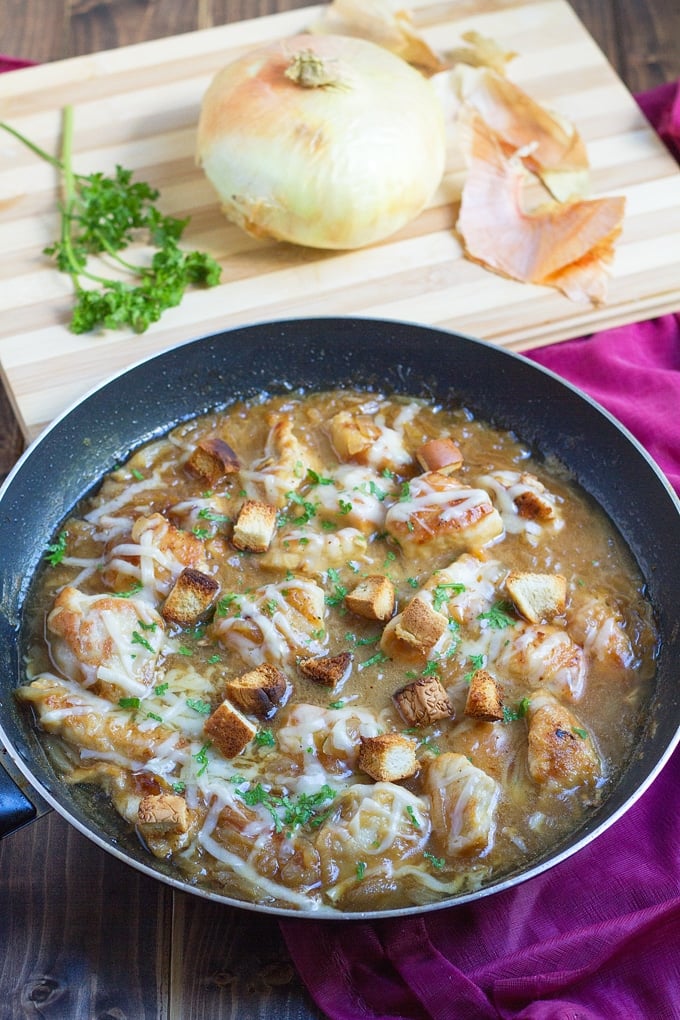 We have so many tasty flavorful chicken recipes that people love to make for busy weeknights such as our Chicken Enchilada Casserole or Slow Cooker Chicken Thighs. This chicken dish is one you might want to keep for the weekend since it requires more hands-on time, but it is well worth the effort.
French Onion Chicken is made with chicken breast and caramelized onions topped with melty gooey Gruyere cheese, crunchy croutons, and freshly chopped parsley. It's the kind of dish that makes you come back for "just one more bite."
What kind of onions should you use?
The most common onions used in many recipes, including this recipe, are yellow onions. They have the perfect flavor for casseroles, soups, and stews. You can also use Vidalia onions, which I used in this recipe. They are a varietal in the sweet onion family. However, yellow or sweet onions of any variety will give the dish a great flavor.
How do you caramelize onions?
Caramelization cooking of onions takes time, but trust me, it is worth it. It adds an extra layer of flavor.
First, you'll need to heat oil on the skillet, then add sliced onions. Cook the onion slices for a few minutes, stirring often but not all the time. We want the onion to become a little brown, but not burnt.
To caramelize onions you need to cook them slowly for about 30 minutes. Don't rush! Onions need time to cook properly to caramelize those sugars. You can check out our article on how to caramelize onions for more tips to the perfect caramelized batch of onions.
Tips For Making This Recipe
After the onions are caramelized, you'll toss cubed chicken breast in flour mixture and cook them for about 6-8 minutes until golden.
Then add beef broth and caramelized onions back to the skillet and cook until the sauce is reduced. Top it with Gruyere cheese and heat until melted and top with croutons just before serving.
How should you serve this dish?
French Onion Chicken can be served with rice or egg noodles or another grain such as cooked buckwheat, farro, or quinoa.
Print
French Onion Chicken
French Onion Chicken is a hardy protein- rich version of French Onion Soup. It's a great comfort food for weekends when you have a little more time to spend in the kitchen (caramelized onions – mmmmm!)
Author:
Prep Time: 20 minutes
Cook Time: 55 minutes
Total Time: 1 hour 15 minutes
Yield: 4 servings
Ingredients
2-3 large onions, sliced (about 5 cups)

5 Tbsp. oil, divided
1 Tbsp. water
1/4 tsp. salt, divided
1 lb. boneless skinless chicken breast, cut in 1 inch cubes
1/4 cup flour
1/4 tsp. garlic powder
1 and 1/2 cups beef broth
1 and 1/4 cups gruyere cheese
1/2 cup store-bought croutons
Instructions
Heat 3 tablespoons of oil on skillet. Add sliced onion and cook for 20 minutes on low-medium heat, stirring often.
Add water and 1/8 teaspoon of salt to onions. Sauté for an additional 10 minutes, stirring often.
Remove onion from the skillet and set aside.
Add the remaining 2 tablespoons of oil to the same skillet and heat.
In a medium bowl combine flour, garlic powder, and 1/8 teaspoon of salt. Toss the chicken in the seasoned flour.
Add chicken to the skillet and cook over medium-high heat on each side for about 6-8 minutes until golden.
Add beef broth and caramelized onions. Cook uncovered for 10-15 minutes until the sauce is reduced.
Add gruyere cheese. Cover and cook for 2 minutes until cheese is melted.
Top with croutons and serve immediately for best results.