Instant Pot Caramelized Onions are a thing but you need to know how to do it right so you don't end up with steamed onions instead.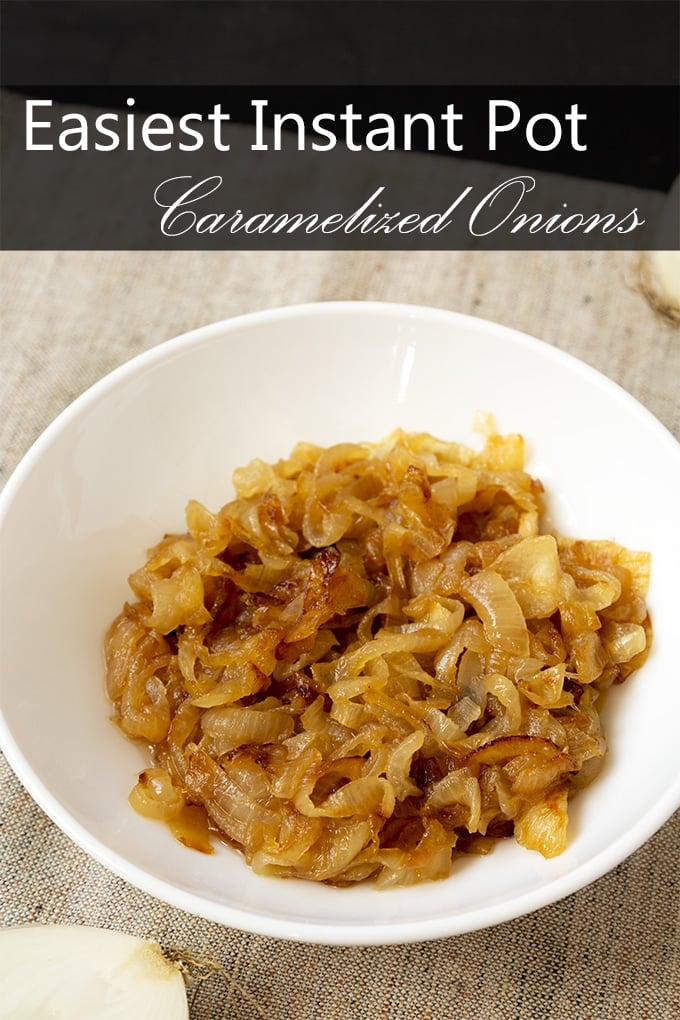 When I learned that we would be doing a whole series on onions, my first thought was about caramelized onions. So of course we have done a post on those, and on the difference between caramelized onions and sautéed onions too! But my mind went further. Are there other ways to caramelize onions?
I thought about the Instant Pot (here's the one I have) and started doing some research. But sadly, most of the recipes that I could find had really bad reviews on them. It was like people were proposing caramelizing onions in the Instant Pot, but nobody had mastered it yet.
Challenge accepted!
The issue is that caramelized onions really need direct heat, slowly, to brown them. But the Instant Pot is more about steaming so it's hard to attain that. In fact, you need to have at least 1 cup of water in your Instant Pot to make it work properly. That means you've got some soupy onions going on, not browning onions.
I decided that I would have to resort to using the Sauté function on the Instant Pot at some point in this process. It just wasn't going to brown anything when there's steam and pressure going on. But could I at least reduce the amount of time you need to be sautéing by using the pressure cooking function somehow?
I figured it out!
You start by putting beef stock into the Instant Pot topped by a steamer basket. (Note that you could use water here but I love the beefy oniony-sweet broth that you get in the end and there's no way I wouldn't use the beef stock here). Then you put sliced onions mixed with melted butter and salt into the steamer basket.
Set the Instant Pot for a ridiculously short amount of time. Just three minutes! And pressure cook them for that long, followed by a quick release.
After that, you're going to drain the onions (but save that liquid!!!) and put them back into the Instant Pot on sauté with a bit more butter, and two secret browning ingredients.
The two secret ingredients are brown sugar (to help with the sweetness and to get some browning started) and the tiniest bit of baking powder, which changes the chemistry and promotes browning (see more about this in our explanation of why we use baking powder when baking chicken wings – it makes the skin soooo crispy!!!). Sauté for about 10 minutes, not stirring often. And You. Are. Done.
These are really amazing and are ready in a fraction of the time of traditional stovetop caramelized onions. I hope you love this new method for making caramelized onions in the Instant Pot as much as I do.
Have a great day!
Christine xo
Print
Instant Pot Caramelized Onions
Contributor: Christine Pittman
Instant Pot Caramelized Onions are a thing but you need to know how to do it right so you don't end up with steamed onions instead.
Author:

Prep Time:

15 minutes

Cook Time:

30 minutes

Total Time:

45 minutes

Yield:

1

and ½ cups

1

x

Category:

Side Dish

Method:

Instant Pot

Cuisine:

American
3

lbs

. yellow onions, sliced 1/8

inch

1

cup

unsalted beef stock

1 tsp

. salt

3 Tbsp

. butter, melted

1 Tbsp

. brown sugar

1/4 tsp

. baking powder

1 Tbsp

. butter
Instructions
Measure the beef stock into the Instant Pot. Put a steamer basket on top of the liquid.
Add the sliced onions to the steamer basket. Sprinkle with the salt and drizzle with the melted butter. Toss it all gently with your hands.
Set the valve to Sealing and set the Instant Pot to pressure cook on high for 3 minutes. After it has finished the 3 minutes, do a quick release by turning the valve to Venting.
Once the steam has all escaped and the button has dropped down, remove the lid. Strain the onions through sieve with a bowl placed under it (so that you catch those delicious juices!). Note that the onions will be soft and tasty now. You can totally stop here. Or…
Sprinkle the onions with the brown sugar and baking powder. Toss gently.
Set the Instant Pot to Sauté on high. Add the unmelted butter. Once melted, add the onions. Pat them down.
Cook the onions without disturbing them. Every couple of minutes, scrape some up and see if there is browning underneath. If so, give them all a stir, being sure to scrape any brownings from the bottom.
Continue to cook and stir as directed until onions have reached desired color, about 10-12 minutes.